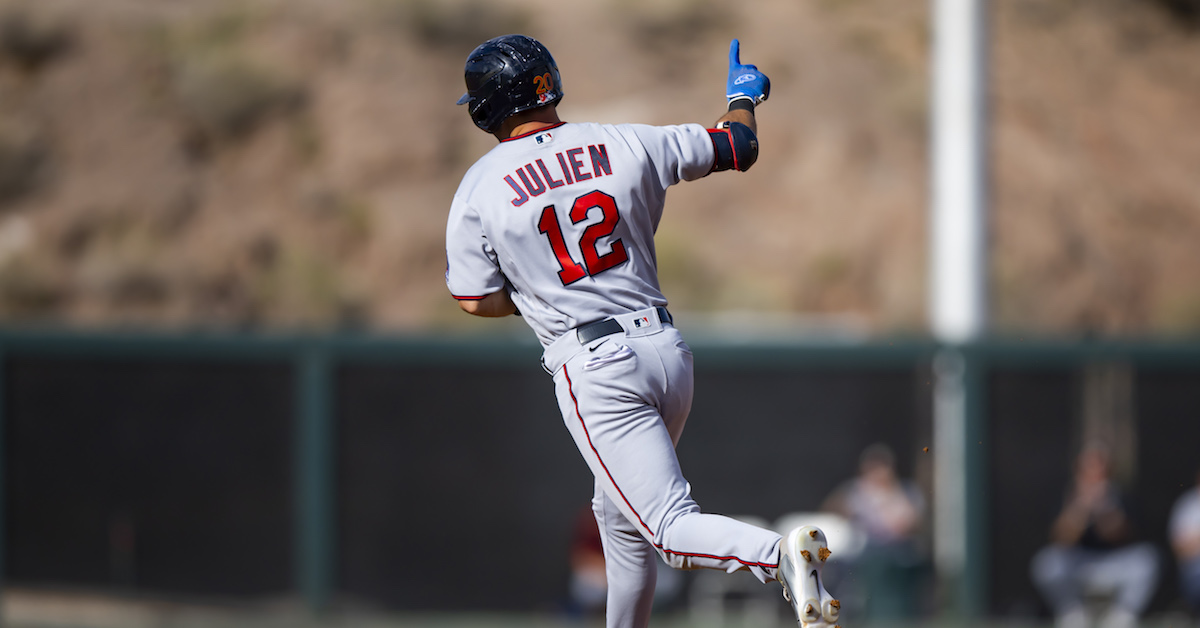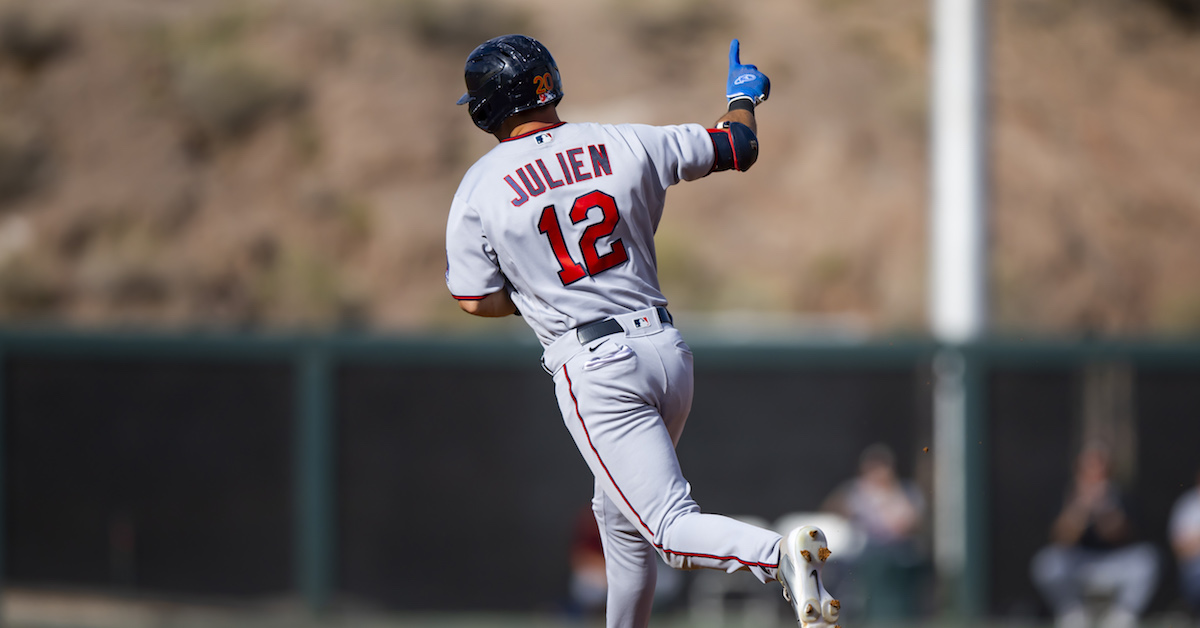 Last Tuesday's 40-man roster deadline led to the usual squall of transaction activity, with teams turning over portions of their rosters in an effort to make room for the incoming crop of young rookies. Often, teams with an overflow of viable big leaguers will try to get back what they can for some of those players via trade, but because we're talking about guys straddling the line between major league viability and Triple-A, those trades tend not to be big enough to warrant an entire post. Over the next few days, we'll endeavor to cover and analyze the moves made by each team, division by division. Readers can view this as the start of list season, as the players covered in this miniseries tend to be prospects who will get big league time in the next year. We'll spend more time discussing players who we think need scouting updates or who we haven't written about in the past. If you want additional detail on some of the more famous names you find below, pop over to The Board for a more thorough report.
The Future Value grades littered throughout these posts may be different than those on the 2022 in-season prospect lists on The Board to reflect our updated opinions, and may be subject to change during the offseason. New to our thinking on this subject and wondering what the FVs mean? Here's a quick rundown. Note that because we're talking about close-to-the-majors prospects across this entire exercise, the time and risk component is less present here and these FVs are what we think the players are right now.
Cleveland Guardians
Current 40-man Count: 39
Added Prospects: SS Angel Martinez (45 FV), MIRP Tim Herrin (40 FV), SP Joey Cantillo (40 FV)
External Additions: 2B Juan Brito (40+ FV), Ross Carver (35+ FV, not on 40-man)
For the second straight year, the Guardians were among the teams facing the biggest roster crunch. Last year, they turned over roughly a quarter of their roster on 40-man deadline day rather than make an elaborate trade. This year was a bit different, as the Guardians made three deals, starting by sending contact-dependent infielder Jose Fermin to the Cardinals for cash, well ahead of Tuesday's deadline. On deadline day, they sent Top 100 prospect Nolan Jones to Colorado in exchange for 21-year-old switch-hitting second baseman Juan Brito, who they immediately put on the 40-man. This was not a "kick the can down the road" trade, as Brito would have otherwise been Rule 5 eligible in December. The weakness of Cleveland's roster is currently first base and right field, assuming you don't think Oscar Gonzalez, one of pro baseball's least selective hitters, is a long-term answer. Conversely, the Guards' are fathoms deep on the middle infield, not just on the big league roster but in the upper minors. Jones, who I still like long-term more than I do postseason hero Gonzalez, had seemingly fallen behind other corner outfielders on the Cleveland depth chart, but this deal indicates that, in some combination, Cleveland is taking the under on Jones and/or covets Brito, who is likely to spend a developmental year on the 40-man like Brayan Rocchio, Jose Tena, and others did in 2022. Brito has plus hit tool projection, and even though he has 40-grade raw power right now (the high-end exit velocities are below average even for a player his age), the amount of contact he makes, his approach (just a 22% chase rate in 2023), and the consistency of the lift in his swing (there's a stark contrast between his 17 degree average launch angle and Jones' three degrees) all indicate he's going to actualize whatever raw power he grows into in games. Brito was stuffed pretty good on last year's Rockies list (complex-level players who earn a 40+ FV grade or better are rare, and you need only round him up one FV tier and round Jones down one for them both to be 45s), but that might require offseason adjustment, and his sudden proximity to the majors is a factor.
With some obvious holes — this team needs at least one middle-of-the-order slugger, as it can't have Owen Miller and Gabriel Arias as its primary first basemen if it wants to take another playoff step — and so many young middle infielder on the roster, a trade looms. Adding to that depth is shortstop Angel Martinez. Martinez is even younger than Brito and doesn't run 21 until January, though he's played two levels ahead of Brito and has already had some time at Double-A. Martinez's bat-to-ball feel is closer to average, but again, he was the age of a college sophomore in 2022 and reached Double-A. It feels like he's behind the Rocchio/Arias/Tena contingent for 2023 big league reps, but he could probably pass in an infield utility role immediately if Cleveland needed him to.
As always, the Guardians' ability to develop pitching tends to create tough decisions on the fringe of their roster. They traded 23-year-old righty Carlos Vargas to Arizona for 23-year-old righty Ross Carver, who reached Double-A in 2022 and who doesn't need to occupy a 40-man spot until after the '24 season. Vargas had no 2020 season, then had Tommy John in '21, which kept him out until June of this year, and while his arm strength returned (he sat 96-99 in the back half of the season), he has very little feel for location. Of course, Vargas just completed injury rehab and hadn't pitched for several years. Carver is a drop-and-drive righty with an uphill, low-90s fastball and a plus breaking ball. Dominant at High-A, he struggled after a promotion to Amarillo, but it's incredible that the 2021 20th rounder got there so quickly. He threw only 19 total innings at Dallas Baptist and gives Cleveland a pitching prospect with a deeper 40-man horizon who may just be scratching the surface, while Arizona rolls a short-term draft-and-dev success into high-ceiling help for their big league bullpen.
Ho hum, Cleveland also added two pitchers who enjoyed three-tick fastball velocity bumps in 2022. Joey Cantillo, who came over in the Mike Clevinger trade, was still sitting 87-91 upon his initial return from Tommy John late in 2021 and hadn't shown any improvement in this area since turning pro. His heater still played in the low-minors due to its angle and carry, but it hadn't been tested against upper-level hitters. Then his fastball averaged 92 mph in 2022 and generated slightly above-average whiff and chase rates at Double-A. In concert with his plus changeup, Cantillo now looks more like a long-term rotation piece in Cleveland, though probably not a star unless this velocity trend continues. Tim Herrin's fastball also picked up three notches this year, and he trampolined off a strong 2021 into a dominant '22 as a multi-inning reliever, at times working two to three innings. His fastball's angle makes it tough to get on top of, and Herrin mixes in a nasty slider and cutter that give him the repertoire depth to work all the way through a lineup.
A few notable relievers who weren't added. Nick Mikolajchak's stuff backed up a little bit in 2022, he lost a tick on his heater and his performance regressed against Triple-A hitters. Andrew Misiaszek's sneaky low-90s fastball puts him in an up/down relief bucket, enough to continue to project him as a big leaguer but making him perhaps not an imperative guy to protect. Nic Enright (sits 91 with ride, above average slider) and Trey Benton (sits 93, plus breaking ball) are of a similar ilk. High-profile former high school draftees Ethan Hankins (threw one inning coming off of TJ, I didn't see him during instructs and I can't find a scout who did either) and Lenny Torres (stuff was below average in the Fall League) were also passed over.
Chicago White Sox
Current 40-man Count: 35
Added Prospects: Bryan Ramos (45+ FV), Jose Rodriguez (45 FV)
External Additions: None
The White Sox outrighted reliever Kyle Crick and outfielder Adam Haseley off the roster, and declined second baseman Josh Harrison's club option prior to the deadline; Johnny Cueto, Elvis Andrus, José Abreu, and Vince Velasquez also all became free agents. Two of those vacated 40-man spots were filled by infielders Jose Rodriguez and Bryan Ramos, both of whom wrapped up their seasons at Double-A (Rodriguez spent all year there) as part of "Project Birmingham". The 21-year-old Rodriguez has had offensive success throughout his career despite a very aggressive approach caused by questionable breaking ball recognition. An incredible rotational athlete with a swing similar to Yuli Gurriel's, Rodriguez can shorten up to turn on down-and-in pitches with power, and his bat path helps him spray outer-third fastballs the other way for extra bases. The lack of breaking ball recognition causes Rodriguez to swing inside lots of sliders, even ones that finish on the outer half of the plate. This makes him somewhat volatile as a prospect even though he's on the cusp of the big leagues.
Ramos is similar in that his game is rough around the edges but he's always performed, only falling off late in the year after a promotion to Double-A, where he just didn't seem to have his legs. He'll likely remain just outside the Top 100 this offseason and spend 2023 in a developmental role on the 40-man.
After non-tendering several bench pieces (Adam Engel, Danny Mendick, Mark Payton), the Pale Hose not only have five 40-man spots to play with, but it's feasible they have internal candidates for the bench who haven't yet been put on the roster. Yolbert Sanchez, who maintained a tiny K-rate even after his promotion to Triple-A, could slot into one next year. Sheerly through experience and defensive competence, he's probably ahead of Ramos/Rodrigeuz on the depth chart, even though he wasn't added to the roster. The same could be said of 23-year-old Moises Castillo.
On the pitching side, we were surprised that Lane Ramsey, who was sitting 95 with a plus upper-80s slider by the end of the Fall League, was not added. Neither was Kade McClure, who amid a shift into a multi-inning relief role maintained good command over his four-pitch arsenal, including his above-average slider. Middle relief prospect Caleb Freeman spent a couple months on the IL and struggled to throw strikes when healthy.
Detroit Tigers
Current 40-man Count: 38
Added Prospects: SP Reese Olson (45+ FV), 2B Wenceel Perez (45 FV), CF Parker Meadows (40+ FV), 3B Andre Lipcius (40 FV), Brendan White (HM)
External Additions: 2B Andy Ibáñez, SP Sean Guenther (HM), OF Bligh Madris (HM)
Wow – nearly half of the Tigers' 40-man roster turned over this month. A slew of outrighted players — Josh Lester, former top Rule 5 pick Victor Reyes, Jermaine Palacios, upper-level sidearm reliever Luis Castillo, Bryan Garcia, Elvin Rodriguez, and former Phillies multi-million-dollar shortstop prospect Luis Garcia — all helped make room for a combination of added prospects and waiver claims. The Tigers claimed Andy Ibáñez (from the Rangers) and Sean Guenther (from the Marlins, later outrighted) prior to the deadline. Ibáñez is 30 and his contact skills make him a 1-WAR part-time infielder sort. Guenther missed 2022 recovering from surgery but looked like a solid, slider-oriented depth starter when healthy. Later the Tigers claimed Bligh Madris, a power-over-hit 27-year-old outfielder who has been passed around a few rosters this year, notably Pittsburgh (where he debuted) and Tampa Bay (most recently).
The prospect contingent here is led by Reese Olson, who spent all year at Double-A Erie, where he K'd 33% of opposing hitters and walked 7.5% across 120 IP. His slider and changeup are both quite nasty and if his fastball were more of a bat-misser, he'd be a lock to be a Top 100 prospect this offseason. He might be one anyway. Side-armer Brendan White has a low-90s fastball with natural cut and will likely be up and down in 2023 as a "look" reliever. Outfielder Parker Meadows had a statistical breakout and earned a spot. He's tooled up and still has room on his frame, though he's vulnerable to high velocity and is going to see plenty of it in the big leagues. Third baseman Andre Lipcius has generated good underlying contact and plate discipline data (an 80% contact rate and just a 20% chase rate), but his swing doesn't look like that of an impact big leaguer. He faced precious little big velocity and didn't perform well against it when he did (Synergy has Lipcius hitting .188 against fastballs 94 mph or greater in 2022); we're not likely to upgrade his FV this offseason. Wenceel Perez probably needs a fresh eval, however. He's become a squat, stocky, contact-oriented hitter who chokes up on the bat regardless of count; despite that, he easily set a career high in homers in 2022. Because he's trended down the defensive spectrum and is a second-base only defender, he's probably not a top 100 type, but he could be a second-division regular in the Cesar Hernandez mold (pre- and post- the homer-happy baseball, that is).
Kansas City Royals
Current 40-man Count: 40
Added Prospects: SP Alec Marsh (45+ FV), 2B/LF Samad Taylor (40 FV), CF Diego Hernandez (40 FV), C Freddy Fermin (35+ FV), SIRP Richard Lovelady (HM)
External Additions: None
The Royals have a full 40-man roster, clearing four roster spots via DFAs and filling all of them with internal prospects. Power-hitting Brent Rooker is starting to be passed around like a Quad-A type, as he is now on his third org in less than a year after being claimed by the Athletics. His departure made room for Diego Hernandez, a speedy outfielder who tends to chase. He only has a month above A-ball and is an unlikely 2023 contributor.
They also swapped out catching prospects, selecting plus catch-and-throw backstop Freddy Fermin's contract after a stellar season at Triple-A, rather than the more beleaguered Sebastian Rivero, who has been released. Gabe Speier was claimed off waivers by the Mariners, and Jake Brentz and Nathan Webb, who each struggled with command and injury in 2022, were bumped from the 40-man to make room for some additional pitching additions. Brentz has had shoulder and flexor tendon issues the last two years. Webb was sitting 95-98 in the Fall League, albeit with angle that causes his heater to play down. He has inked a deal with Pittsburgh.
They were replaced by high-ceiling righty Alec Marsh (who generated above-average whiff and chase rates on all three of his secondaries at Double- and Triple-A despite a downtick in his fastball velo and shaky command) and low-slot lefty Richard Lovelady, who was sitting just 87-90 late in 2022 but is poised to be a lefty-dousing part of the Royals' bullpen in 2023. They also purchased the contract of Samad Taylor, who had a great Fall League after coming over in the Whit Merrifield trade and whose speed bolsters his 2B/OF utility profile despite no expectation of real power. He makes for an interesting platoon fit with Kyle Isbel and Nicky Lopez.
Left off the 40-man was a cluster of pitchers for whom 2022 was a down year. Zach Haake and Charlie Neuweiler saw their command worsen as they advanced to the upper minors. Drew Parrish and Austin Cox both ended the year with mid-teen strikeout rates. Josh Dye failed to miss bats the way he needs to in order to capitalize on his funky delivery, and while Noah Murdock stayed healthy and was sitting in the mid-90s during the Fall League, he also put forth a career-high walk rate. Omar Hernandez and Wilmin Candelario had less impressive seasons that didn't warrant 40-man promotion, and Candelario wasn't even protected from the minor league Rule 5. Tyler Tolbert, Omar Florentino and Darryl Collins each put together promising seasons in 2022, but are likely still too far from big-league ready to be considered vulnerable. Despite being part of the Benitendi trade, T.J. Sikkema was left off the 40-man, though his 18.7% strikeout rate since joining Kansas City seems unlikely to turn any heads from other orgs in advance of the Rule 5.
Minnesota Twins
Current 40-man Count: 40
Added Prospects: LF Edouard Julien (50 FV), Matt Canterino (40+ FV), Brent Headrick (40 FV)
External Additions: Kyle Farmer, Alejandro Hidalgo (35+ FV, not on the 40-man)
The Twins started the day with three open spots on their 40-man roster. They outrighted Cody Stashak, and declined the options for Miguel Sanó, Dylan Bundy, and Chris Archer. Carlos Correa opted out, and Sandy Leon, Billy Hamilton, Aaron Sanchez, Gary Sanchez and Michael Fulmer all became free agents. No matter what position Edouard Julien ends up playing, his potentially elite feel for the strike zone and the power he's generating on contact will demand his bat be in the lineup every day. Left field might be the place his glove can best be hidden, and he projects there in a vacuum. Former top 100 prospect Matt Canterino has dealt with a number of injuries that culminated in an August Tommy John, keeping him out for all of 2023. He's protected from the Rule 5 and will be put on the 60-day IL at the earliest opportunity. Brent Headrick advances Minnesota's desire to have a big league staff full of guys whose fastballs punch above their weight, as he sits just 90-92 but his immense size and extension create tough-to-square angle on his heater. A cutter and changeup round out a repertoire that we think fits best in long relief, though Headrick is still starting for now and Bailey Ober has done just fine as a starter so far despite similar limitations.
The club also swapped fastball-centric relief prospect Casey Legumina (who they put on the 40-man prior to trading) for Kyle Farmer, who provides insurance in the event that the Twins can't add a shortstop in free agency and Royce Lewis isn't ready for the start of 2023. They traded Gio Urshela to Anaheim for Alejandro Hidalgo. Hidalgo's fastball was down about two ticks during 2022 regular season play (from the 93-94 range, to 91-92); he was shut down with a rotator cuff injury in June and did not pitch again until instructs in the fall. In an early-October outing in Tempe, he was only sitting 86-90, though his changeup looked better than it had before. Upon his initial arrival in the U.S., Hidalgo had precocious arm strength and a good breaking ball, but presently he's a tough-to-forecast prospect who highlights the volatility of young pitchers.