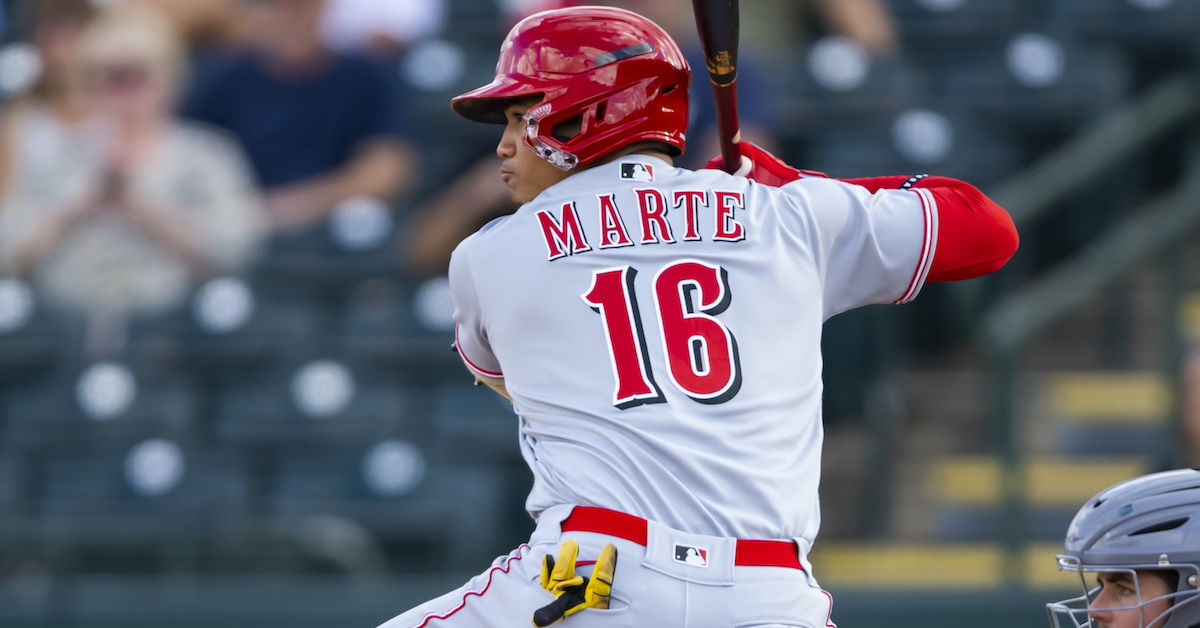 Last Tuesday's 40-man roster deadline led to the usual squall of transaction activity, with teams turning over portions of their rosters in an effort to make room for the incoming crop of young rookies. Often, teams with an overflow of viable big leaguers will try to get back what they can for some of those players via trade, but because we're talking about guys straddling the line between major league viability and Triple-A, those trades tend not to be big enough to warrant an entire post.
Over the next few days, we'll endeavor to cover and analyze the moves made by each team, division by division. Readers can view this as the start of list season, as the players covered in this miniseries tend to be prospects who will get big league time in the next year. We'll spend more time discussing players who we think need scouting updates or who we haven't written about in the past. If you want additional detail on some of the more famous names you find below, pop over to The Board for a more thorough report.
The Future Value grades littered throughout these posts may be different than those on the 2022 in-season prospect lists on The Board to reflect our updated opinions and may be subject to change during the offseason. New to our thinking on this subject and wondering what the FVs mean? Here's a quick rundown. Note that because we're talking about close-to-the-majors prospects across this entire exercise, the time and risk component is less present here and these FVs are what we think the players are right now.
Chicago Cubs
Current 40-man Count: 37
Added Prospects: OF Brennen Davis (45+ FV), OF Kevin Alcantara (50 FV), SP Ben Brown (45+ FV), MIRP Ryan Jensen (40+ FV)
External Additions: UTIL Miles Mastrobuoni (40 FV), 3B Rylan Bannon (40 FV)
Davis hit .191 during a regular season that was interrupted by lower back issues that popped up again after he had played in just five Fall League games. He struck out at a 30% clip during each of his last two extended stretches on the field, and the number of either severe or recurring injuries here are building up. But perhaps there's late hit tool growth here; the injuries and the pandemic have limited Davis' pro reps, after all. At this stage, though, we have both hit tool and injury red flags that justify a significant re-evaluation.
Alcantara has no experience above Low-A and is probably on track for a late 2024 debut if his promotions track at a typical pace, and his lever length will be tested at each new level.
I needed to perform a from-scratch evaluation of Brown, especially as he sustained his 94–96 mph fastball all the way through a season in which he blew past his previous career high for innings pitched. With two plus offerings — the riding fastball that creeps into the upper-90s and a power curveball — that look like they'd play in the back of the bullpen, Brown looks like a setup man from a stuff and command standpoint right now. But he also threw just shy of 30 combined innings from 2019 to '21 and may not be done developing. It's possible his arm action will shorten and his fastball locations will grow more consistent as a result (no guarantee, as you'll read a few lines from now), or that he'll tighten up feel for his tertiary, upper-80s slider. If either happens, he'll hit another gear.
Speaking of shorter arm actions, Jensen's has become more compact since 2021; based on video analysis, it appears the Cubs have also altered his position on the rubber. Discomfort with the changes might help explain the spike in his walk rate. It's possible this is a developmental speed bump that will smooth out over time, but his walk totals didn't really improve late in the 2022 season; the seed of a positive trend isn't evident. Jensen is a kitchen sink righty with a mid-90s sinker and a host of secondary pitches that are below-average in a vacuum and play closer to average in reality because he has such a big, unpredictable mix. Even if his strike-throwing remains inefficient, his ability to generate ground balls makes him especially well-suited to come out of the bullpen and get more than three outs. I'm betting on his athleticism and not ready to alter his grade despite the tough season.
Mastrobuoni adds even more positional versatility to a team that already has Christopher Morel and Zach McKinstry. Bannon, who was part of the Orioles' return from Los Angeles for Manny Machado, is now on his fourth org. He vacated the gargantuan shadow of Austin Riley and came to the Cubs via waivers. While Bannon lacks anything close to the typical amount of power found at third base, he has incredible plate discipline, which nurtures an otherwise vanilla offensive skillset. He's 26 and has hit well enough in the minors to deserve an extended big league look.
Cincinnati Reds
Current 40-man Count: 38
Added Prospects: SS Elly De La Cruz (60 FV), 3B Noelvi Marte (55 FV), SP Brandon Williamson (45 FV), SP Lyon Richardson (40+ FV), MIRP Levi Stoudt (40 FV)
External Additions: SIRP Casey Legumina (35+ FV, Kyle Farmer trade from MIN), SS Kevin Newman (trade from PIT)
De La Cruz has the range and flexibility to stay at shortstop, but he may not have the hands. Far too many fieldable grounders have gotten through him in the Dominican Winter League. He still projects to short and should be given every opportunity to stay there, but he may need to work for it. Marte's FV slides because his body is clearly maxed out and, barring a physical reset on par with what Julio Rodríguez did to become sleek and speedy again, he's a 3B-only prospect now. And while he's performed on paper thus far, he may need a swing change to get to all that power, as his bat path is not conducive to big in-game thump right now.
Williamson had uncharacteristic walk troubles in his first year with Cincinnati, and his slow curveball hasn't really played against upper-level foes. He was seen as having relief risk as an amateur and, while the Reds' rebuild gives him plenty of time to rebound, his forecast has to shift somewhat, though he still projects to be a good big league arm. Richardson had Tommy John surgery in September 2021 and missed all of '22; he was protected here to prevent a team from capitalizing on stashing him on the 60-day IL as he completes his rehab. Because he may be on a post-op innings limit, it would have been easy to put him in the bullpen as a way of keeping him on the big league roster and managing his innings at the same time.
Stoudt, a slider-heavy backend starter-type, is poised to become the first big leaguer from Lehigh since Matt McBride, only the second Mountain Hawk to crack the majors this century. Trading Farmer, meanwhile, means giving Jose Barrero ample opportunity to adjust to big league pitching in the window preceding the actual big league arrival of Elly and Noelvi. Barrero, who was returning from significant injury in 2022, is immensely talented but struggles to identify sliders. Legumina has a big league fastball: 93–96 with uphill angle that helps it play at the top of the zone. His slider has plus spin rates but, visually, it lacks consistent finish, and its results (both chase and whiff rates) are below average. If the Reds can develop that slider, then Legumina will stick in a middle-inning role. If not, he's still a fine option year up/down guy.
Milwaukee Brewers
Current 40-man Count: 36
Added Prospects: 1B Jon Singleton, Brice Turang (50 FV), SIRP Abner Uribe (45 FV), SIRP Cam Robinson (35+ FV)
External Additions: C Payton Henry (40 FV), SIRP Javy Guerra, Tyson Miller (35+ FV, waiver claim from TEX)
The foundation of Turang's skillset is his defense, and with Willy Adames (who is a 70-grade defender) ahead of him on the depth chart, it will probably take an injury for him to debut in 2023. He could platoon with Luis Urías, I suppose. Reacquiring Henry creates a crowded field of bat-first catchers on Milwaukee's 40-man: Victor Caratini, Alex Jackson, Mario Feliciano, and the powerful Henry, who was originally drafted by Milwaukee. Caratini is penciled in as the starter; the other three have at least one option year left (Henry has two) and will vie for backup duty in the spring.
The rest of Milwaukee's activity upgraded its bullpen. If Uribe can throw strikes like he did in the Fall League, he'll be a high-leverage weapon by the middle of the year. He sits 97–101, has a plus-plus upper-80s slider with vertical shape, and his fiery, Papelbon-esque on-mound demeanor is suited for big spots. Converted shortstop Guerra was a roster crunch casualty in Tampa Bay. While conversion arms that tend to pan out in a big way usually do so quickly, Guerra's on-mound athleticism and arm strength make him an exciting, high-ceiling dev project for Milwaukee. Robinson's cutter and curveball combo are undermined somewhat by poor command, and he's tracked as an up/down relief type for his entire prospect lifetime. Waiver claim Miller lowered his release point in 2022 and added lateral movement to his stuff. He has a bevy of different sinking, sweeping and cutting pitches and might assume the Brent Suter role now that he was lost off waivers to Colorado.
How good might Singleton be? The former Phillies and Astros top prospect clubbed 24 bombs and walked at a 20% clip in his first affiliated action since 2017. His BP sessions are the stuff of legend, and at a whopping 91.5 mph, he was top 25 in average minor league exit velocity last year. He also had one of the 50 lowest chase rates in the minors, but his uppercut hack makes him extremely vulnerable to in-zone swing-and-miss. He'll be one of the 2023 season's cooler stories if he can outduel Rowdy Tellez for whatever 1B/DH and bench weapon at-bats the Brewers have up for grabs.
I've been high on Felix Valerio because of his contact skills, but he had a terrible year and isn't a viable big league infield defender right now. That his production dried up all of a sudden after years of exceptional performance is disconcerting, and he will be one of the tougher players to grade on the Brewers list. I don't think he's getting taken in the Rule 5. It's more likely Carlos Rodriguez gets taken for his speed and defense as an extra outfielder, perhaps by a team that's needy in center.
On the pitching side, Victor Castaneda and his splitter had a good year on the surface but a FIP close to 5.00. He remains a depth starter prospect to me but wasn't an imperative 40-man addition. Converted third baseman Lucas Erceg has a big arm but didn't throw enough strikes to warrant a 40-man spot this year, his second as a full-time pitcher.
Pittsburgh Pirates
Current 40-man Count: 40
Added Prospects: C Endy Rodriguez (55 FV), SP Mike Burrows (45+ FV), SIRP Colin Selby (40+ FV), 3B Jared Triolo (40+ FV)
External Additions: 1B Ji-Man Choi, LF Ryan Vilade (35+ FV), SIRP Dauri Moreta (35+ FV)
Whether he catches exclusively or ends up roving, Rodriguez's contact skills and rotational verve should make him an impact everyday player. Burrows' fastball carry and changeup are both plus and he's similar to the Cubs' Ben Brown in that he looks like, at worst, an impact reliever (I'm scared of his delivery and injury history) with a shot to start. Selby looked incredible in Arizona at the Fall League, sitting 96–99 with a nasty mid-80s curveball. The results on both pitches during the regular season were a bit more generic than you might guess given the visual explosiveness of his stuff, so I have him projected as a third bullpen banana rather than a setup man or closer (antiquated terms at this point, but you catch my drift).
Triolo is a very good contact hitter whose bat-to-ball skill is aided by his great feel for the zone. His swing is a little odd, but it works for him. He tracks pitches well, his footwork is simple and keeps him on time, and he has good plate coverage despite a bucket stride. The high-end power component is not there, but that isn't something Ke'Bryan Hayes is bringing, either. It's possible one of Hayes and Triolo, who are both good defenders, could play shortstop if Oneil Cruz never shores up his hands there.
Choi's addition puts three Korean players on the Pirates' 40-man, and the club has a couple more in the minors. Vilade was once in the top 100 consideration, but he hasn't hit for power in games as he's fallen down the defensive spectrum (just 12 combined home runs across multiple seasons in Albuquerque!) and, despite his contact skill, I don't think I'd have used a 40-man spot on him. Maybe the change of scenery will do him good via a swing change.
St. Louis Cardinals
Current 40-man Count: 37
Added Prospects: SP Connor Thomas (35+ FV), OF Moises Gomez (35+ FV)
External Additions: 2B Jose Fermin (35+ FV)
Not much to go over here as St. Louis was relatively inactive. Thomas is a classic pitchability lefty with a good slider whose upper-80s fastballs (sink, ride, and cut depending on what he wants to do) limit his ceiling. He's a great depth option for 2023 with a long-term backend rotation forecast. Gomez is Jon Singleton without the platoon advantage or feel for the zone. He has 70-grade raw power but ran a 66% contact rate in 2022. Hang a breaking ball and Gomez will bang it, but Jordan Walker is a superior option already, in my opinion.
St. Louis took advantage of Cleveland's crunch by adding Fermin in a trade for cash. His ultra-compact swing makes him one of the toughest hitters in the minors to strike out, but his overall lack of athleticism makes it tough to find a defensive home for him, and he lacks the power of a corner player. He's a fine depth option in the event something happens to either Tommy Edman or Brendan Donovan.