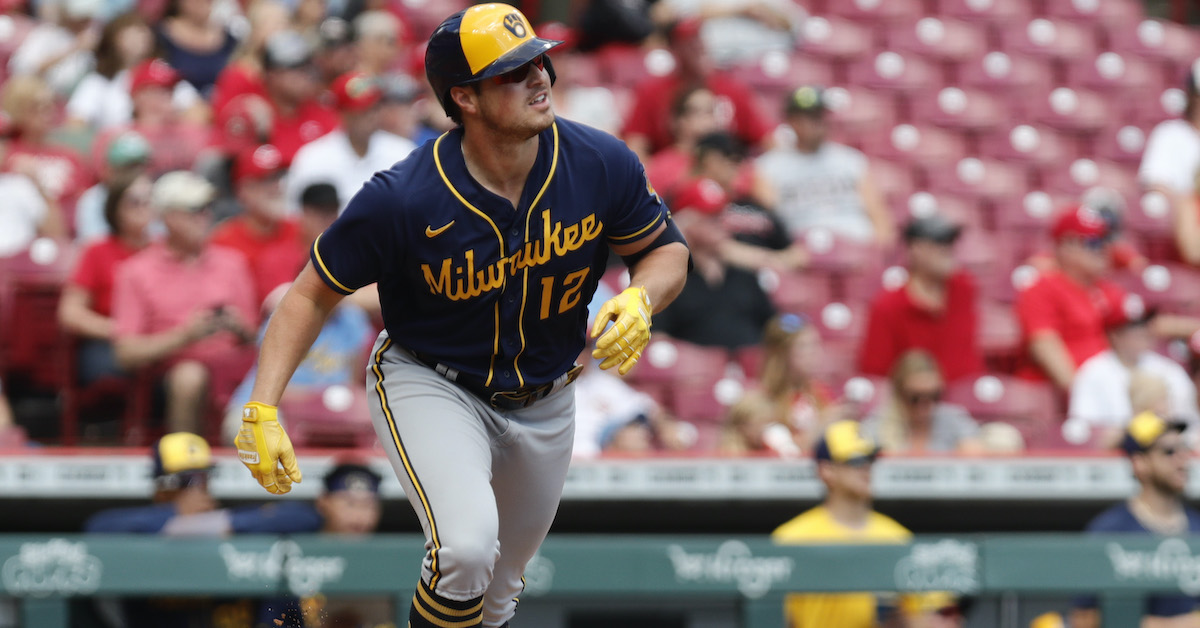 Hunter Renfroe was probably getting tired of Milwaukee anyway. After spending the first four years of his career in San Diego, he will join his fifth team in five years as the Brewers sent the 30-year-old outfielder to the Angels in exchange for pitchers Janson Junk, Elvis Peguero, and Adam Seminaris.
Starting with the Los Angeles side of the deal: the Angels know what they're getting in Renfroe. He's a bat-first corner outfielder who relies on power to make up for what he lacks in on-base ability. After a poor showing in 2020, he bounced back with a 113 wRC+ in '21 and posted a nearly identical season in '22, good for a 124 wRC+ in the tougher offensive environment. He hit 60 home runs between the two seasons and posted a .315 on base percentage in both. He's projected to make $11.2 million in arbitration this year, then move on to yet another team in 2024 as a free agent.
Hunter Renfroe – 2022 Stats, 2023 Steamer Projection
| Season | G | PA | HR | AVG | OBP | SLG | wOBA | wRC+ | WAR |
| --- | --- | --- | --- | --- | --- | --- | --- | --- | --- |
| 2022 | 125 | 522 | 29 | .255 | .315 | .492 | .347 | 124 | 2.5 |
| 2023 | 131 | 567 | 30 | .241 | .305 | .470 | .334 | 117 | 2.0 |
Renfroe owns a career wRC+ of 136 against lefties versus 97 against righties and has often been viewed as a platoon candidate. He improved his wRC+ to 120 against righties in 2022, however, after putting up 101 wRC+ in 2021. And while his defense isn't to OAA's liking, DRS and UZR both tend to rate him right around average, and his excellent arm helps to make up for what he lacks in range. He'll slot into the outfield next to Mike Trout and Taylor Ward. Steamer projects the trio for 10.3 WAR — a big improvement after Los Angeles got just 0.3 WAR from its left fielders last year, good for 27th in the league. Even though Steamer expects Renfroe to take a step back next year, his projection of 2.0 WAR would patch a significant hole.
As it stands today, the Angels' RosterResource depth chart shows a starting lineup where all nine hitters are projected for a wRC+ of at least 100. I actually started typing out a sentence with the words, "If the Angels could get full, healthy seasons from Mike Trout and Anthony Rendon," but I didn't know how to finish it. That just seems like asking for too much. No one is ready to pencil them in as contenders for the AL West just yet.
(For what it's worth, over the course of Renfroe's career, many have noted his uncanny physical resemblance to Trout. If this is the Angels' attempt to create a roster full of Mike Trouts, then they're off to a pretty good start.)
After signing free agent Tyler Anderson and trading for Renfroe and shortstop Gio Urshela, the Angels have added roughly $33 million to their 2023 payroll in the past week. It currently stands at $192 million, and The Athletic's Ken Rosenthal seems inclined to believe that they're not done yet.
In acquiring their new left fielder, the Angels traded away three young pitchers who were ninth, 25th, and 36th on the team's prospect rankings on The Board. The Angels are not exactly dealing from a place of strength, as their bullpen was worth just 1.7 WAR in 2022, 25th in the league.
As for the Brewers, trading away your team's best qualified hitter is not normally recognized as a pathway to success, especially for a team in that barely missed out on the postseason last year and needs every win it can get. In last year's write-up of the trade that brought Renfroe to Milwaukee, Eric Longenhagen noted that he would help shore up the lineup against left-handed pitching. Unfortunately, the Brewers still finished 22nd in the league against lefties in 2022 with a 92 wRC+. We'll see soon enough whether they intend to use the money they saved to find another right-handed bat.
One possibility for the Brewers in terms of a replacement is to promote from within. In his writeup, Eric assumed Renfroe would stick with the club in 2023, barring unexpectedly quick development from outfield prospects Joe Gray Jr. or Joey Wiemer. Well, Wiemer was promoted to Triple-A Nashville and posted a 132 wRC+ there over the last 43 games of the season. He was joined there by Sal Frelick, who put up a 155 wRC+ in his 46 games. Between incumbent Tyrone Taylor, Wiemer, Frelick, and Esteury Ruiz, whom the club added in the Josh Hader trade, the Brewers have options if they'd rather avoid free agency or another trade.
That seems to be the plan, per Milwaukee general manager Matt Arnold, who told the Milwaukee Journal Sentinel that trading Renfroe "gives a lot of guys opportunities here. The number of guys that are in the mix… is still to be determined." He continued, "But we're excited about this group and feel really good about the outfielders we have going into the 2023 season." Steamer shares that optimism, though it doesn't see a bat the caliber of Renfroe's.
Brewers Outfielders – 2023 Steamer Projections
| Player | G | PA | HR | AVG | OBP | SLG | wOBA | wRC+ | WAR |
| --- | --- | --- | --- | --- | --- | --- | --- | --- | --- |
| Tyrone Taylor | 113 | 490 | 19 | .233 | .292 | .420 | 0.310 | 99 | 1.3 |
| Esteury Ruiz | 83 | 357 | 9 | .245 | .323 | .396 | 0.317 | 104 | 1.3 |
| Joey Wiemer | 34 | 147 | 6 | .235 | .303 | .424 | 0.316 | 103 | 0.4 |
| Sal Frelick | 34 | 147 | 3 | .276 | .337 | .414 | 0.328 | 111 | 0.6 |
Arnold also revealed that he expected all three pitchers the Brewers received to impact the big league roster next season. (As a disclaimer, if it sounds like I suddenly became much smarter in the next section, that's because Eric shared his notes with me.)
Junk is the oldest of the trio at 26. The right-hander made two starts and three appearances with the Angels last year and has two remaining option years. Over 73.2 innings at Triple-A, he posted a 4.64 ERA and 4.34 FIP. He sits in the low 90s with his four-seamer and relies heavily on a low-80s slider. Eric puts a 50 rating on both pitches and a 40 on his curveball. Junk's fastball has 83rd percentile spin, and though that translates to only slightly above-average rise, it does play best up high. Alex Eisert also wrote about Junk's penchant for high sliders just a few weeks ago. He doesn't get many chases or whiffs but runs a low walk rate and features 60 command. After rating him as a 40+ FV prospect last year, Eric views him as closer to 40 now.
Peguero struggled in 17.1 big league innings, posting a 7.27 ERA and a 5.59 FIP with a 21.1% home run rate on flyballs. The 25-year-old excelled in 44.1 innings with Triple-A Salt Lake, though, putting up a 2.84 ERA and 3.34 FIP. Peguero also relies on his slider, throwing it 62.7% of the time at the major league level in 2022. The pitch averages 91 mph, right at the top of the leaderboard next to names like Jacob deGrom, Edwin Díaz and Emmanuel Clase. The difference is that his slider earns whiffs around 30% of the time, whereas theirs are in the 40s and 50s.
Peguero's other pitch is a sinker, and although it sits 95–97 mph, he throws it from a low arm slot, and it ran a 42.3% hard hit rate this year. The pitch had a below-average whiff rate of 9.8%, and Eric confirmed that it didn't get many whiffs in the minors either. The result is that despite all this velocity, Peguero's strikeout rate was a well-below-average 15.6% in 2022, though it was considerably better in the minors.
Seminaris is 24, and he's the only one of the three pitchers who hasn't seen any time in the big leagues. He was promoted twice in 2022, throwing more than 30 innings each in High-A, Double-A, and Triple-A. Seminaris sits 88–89 and tops out at 92. The left-hander has been starting in the minors and could end up as either a back-end starter or a long reliever. Although his walk rate doubled from 5% to 10% once he was promoted to Double-A, Seminaris has a track record of strike-throwing, and Eric feels confident that it will return to earth. He doesn't have any plus pitches but mixes five of them: 58% fastballs (both four and two-seam), along with 14% each of sliders, changeups, and curveballs.
Eric views all three pitchers as high-probability big leaguers. With Milwaukee's track record for pitching development, it's understandable that the team would be happy to add three depth pieces and get to work on trying to unlock something extra.
There are plenty of ifs on both sides of this deal. If the Angels are willing to spend even more money to shore up their bullpen, then there's no reason not add some more thump to the lineup. The Brewers may believe in their young outfield prospects in the long-term, but they'll likely need to spend the money they just saved on a bat if they don't want to take a step back in 2023.