This story appears in SLAM 239. Get your copy here.
Reggie Miller's hands extending like prayer over Penny Hardaway and the wings of an angel; Bill Russell against the backdrop of the Milky Way; Kobe in Crayola contemplation. These are a few of the images in the collaged work of artist Bradley Ward. Born in Houston, TX, he says he grew up as a huge Hakeem Olajuwon fan. His first heartbreak came at the Rockets' expense, when John Stockton hit "that shot" over Charles Barkley at the buzzer in Game 6 of the Western Conference Finals in 1997.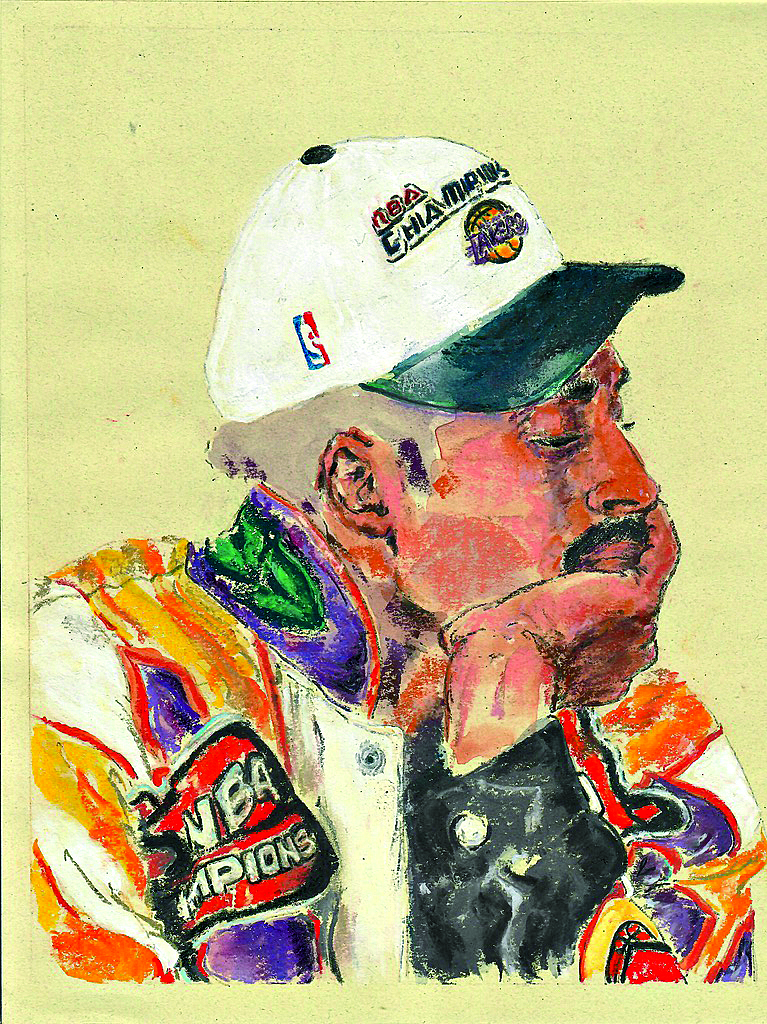 Ward and his older sister played basketball "religiously," but his sister was the notable athlete of the two. She was "like the Michael Jordan or Cheryl Miller" of the family, he says. So, in his senior year of high school he decided to focus on something that could get him noticed: his artwork. 
He received a BFA from Texas Southern and an MFA from Pratt Institute in Brooklyn, where a professor asked him to make something from his own experience. That assignment reminded him of an idea he had in undergrad after seeing a photograph from the iconic Walter Iooss of a David Robinson rebound in a Spurs vs Lakers game. It showed Robinson looking up at the rim, captured in light, which reminded Ward of a sketch in his Tumblr feed of King David. "It was the same exact composition," he recalls.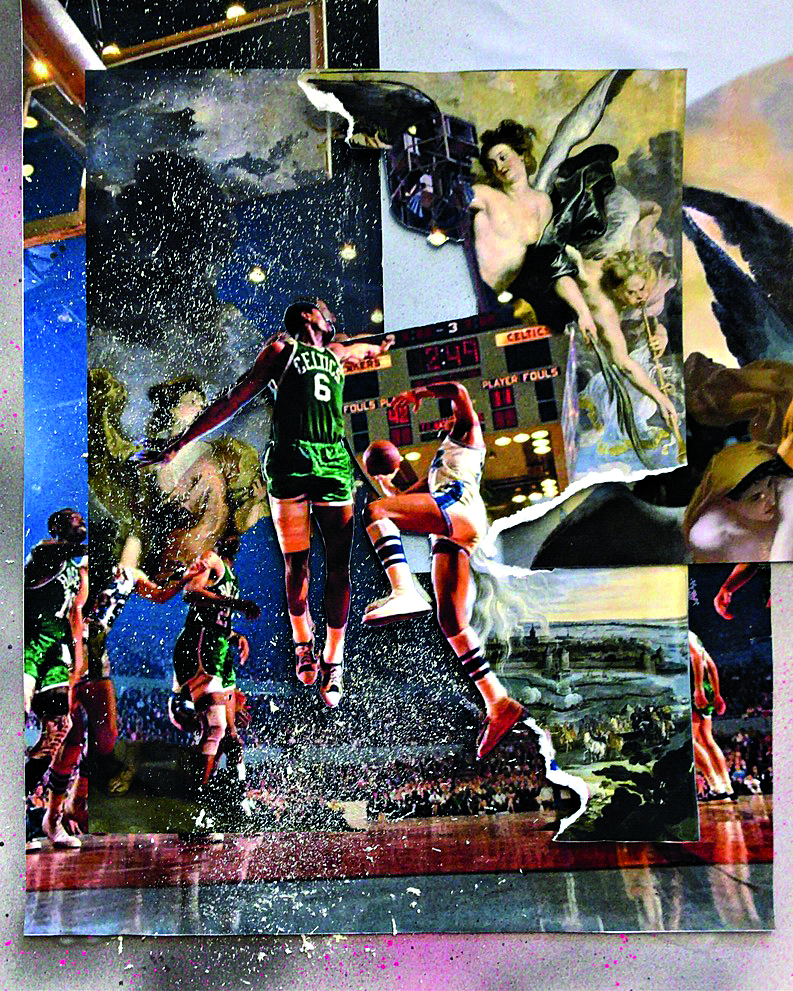 He began meshing Western canonical paintings like Caravaggio's "Calling of St. Matthew" with NBA photos of LeBron James shooting a free-throw in the Finals. This mixing got Ward thinking, "we have long since preserved and revered these images of white bodies, but here we have Black bodies, in real time, doing the same thing." For Ward, it was Arthur Jafa and the collage work of Lorna Simpson that made him consider "who gets to tell the history" and wrestle with ideas of ownership, agency and what contemporary art can be about.
In the studio, while sourcing an image, Ward listens to hip-hop initially. Sampling is, of course, an artistic tool central to both hip-hop cultural production and African Diasporic practice, a way to pay homage to one's history and referencing what came before. Like Kobe perfecting MJ's fadeaway.
Once Ward begins to manipulate the image, drawing on top or around it, editing in photoshop or by hand, he switches the playlist, like a DJ, to something "much softer." Earth, Wind & Fire, Sade, Luther Vandross or The O'Jays are his go-tos. The "softer" side functions both as a complement to the boom bap, but also as a space of deeper reflection. "When I first started out, I wanted to highlight the idea of agency and ingenuity. And now what I'm trying to do is show these moments of fraternal intimacy."
In his artwork, Ward represents the kinship and camaraderie of being on a team, of working with a group toward a common goal, of winning but also forging bonds in the fire of blood, sweat and tears. He wants to uplift and honor the "small quotidian moment" of hoops, like Jerry Stackhouse touching the head of Rasheed Wallace, as if they are brothers.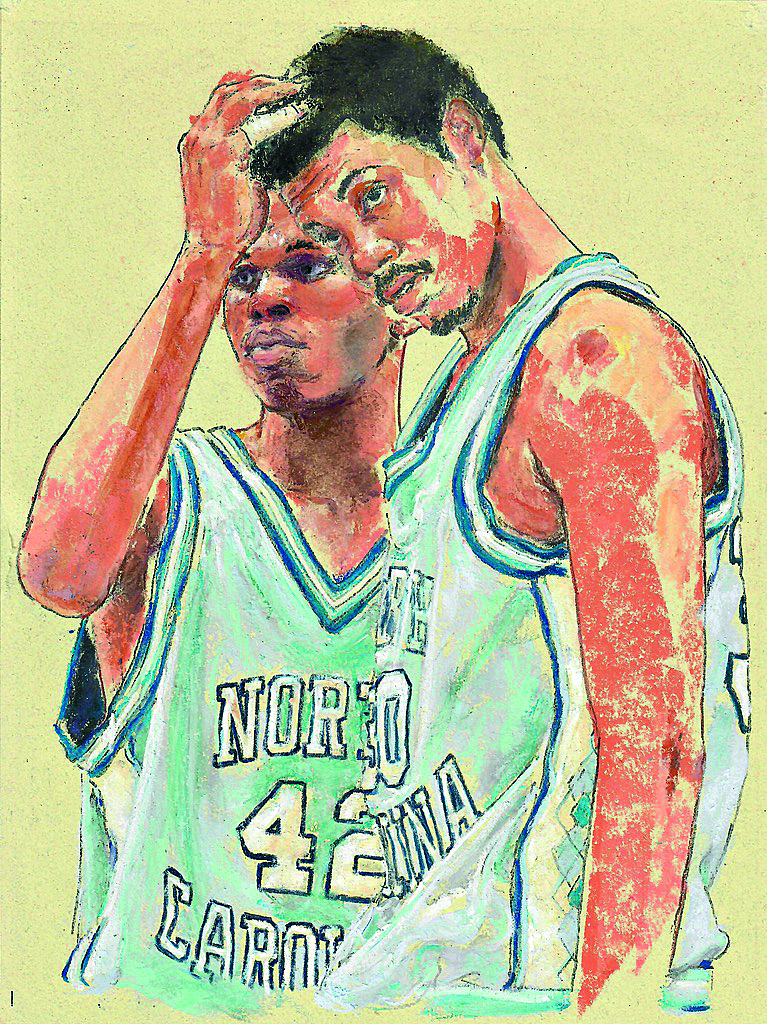 ---
For more information on the artistry of Bradley Ward visit his website and on IG, @brvdley.