I guess if you're a hitter, there are some pitchers you just see well. Maybe you aren't fooled by their signature breaking ball or their arm slot is one you happen to be comfortable with. In the case of Austin Meadows, maybe he was able to homer twice in as many at-bats against Angels reliever Ben Rowen on Tuesday because he just likes facing submarine-tossing right handers. Then again, maybe it's just because Rowen threw him two pitches that looked like this:
A couple of pitches like those can turn a hitter's night around quickly; for Meadows, it turned an 0-for-3 evening entering the seventh inning into his best game of the year. Even before those two at-bats, though, he had already been having a sneaky-good season. His .208/.323/.462 batting line through 127 plate appearances amounts to a 127 wRC+; he has seven home runs. If you look at his Statcast metrics, he's been even better. Meadows is in the 86th percentile in xwOBA, despite clocking in at just the 69th percentile in wOBA.
Considering the way Meadows performed last year, seeing those numbers has to be a huge relief for Tampa Bay. After breaking out in his first full season with the Rays to the tune of a 143 wRC+ and 4.1 WAR in 2019, Meadows was below replacement level last year, hitting just .205/.296/.371 with four homers, for a wRC+ of 87 in 152 plate appearances. And while there were inherent sample size issues for everyone in 2020, nothing really suggested he was simply getting unlucky. His strikeout rate climbed more than 10 points over the previous season, his ISO dropped by more than 100 points, and he plummeted into single-digit percentile rankings in xwOBA, xBA and xSLG. There were several possible explanations for his struggles — lingering effects from his bout with COVID-19, an oblique injury that ended his season prematurely, the general upheaval to daily routines caused by the pandemic — but there was still uncertainty surrounding what he might contribute in 2021.
There was, however, some optimism when Meadows arrived in spring training having shed a few pounds and looking more comfortable at the plate. That optimism has been rewarded so far. Meadows' strikeout and ISO rates have returned to near their 2019 levels, while his 12.6% walk rate is a career high. Meadows was already an exceptional hitter two years ago, and once his BABIP climbs up from its ludicrously low current level, there's a case to be made that he might be even better now.
If you're like me, you might see all of this information and expect that, once you dig deeper, you'll find that Meadows developed a bunch of bad habits last year that he didn't previously have, and that he's corrected since. But that isn't necessarily the case. It's not that Meadows is doing the same things he was in 2020. It's that there are some areas in which his tendencies are similar to what they were in 2020, some areas in which they're similar to 2019, and some that are unique just to this season.
Take, for example, his power numbers. If last year's issues were mechanical in nature, you might have seen a coinciding spike in groundball rate, or a dip in his ability to pull the ball. But neither of those things happened.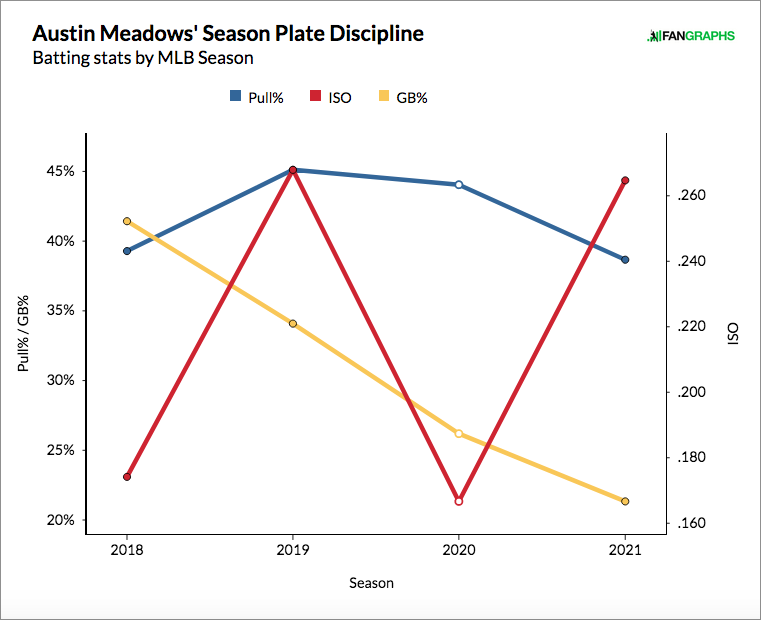 His groundball rates have gone down every year and his pull rates didn't dip until this year, which I think would usually translate to pretty steady power numbers. Instead, they're all over the place, and the confusion doesn't stop there. If you think the lapse in power may have been caused by a decline in how hard he was hitting his air balls, you'd be wrong. If you're wondering if he simply swung under too many pitches last year, you'd be right, but I still have bad news for you, because he's doing the exact same thing this year, and yet he's producing much better numbers, both real and expected.
In the end, though, the biggest thing that hurt Meadows in 2020 wasn't his power getting zapped — it was the fact that he struck out 33% of the time. But when it comes to evaluating what caused the leap in strikeouts, we again run into some confusion. While there was an increase in both Meadows' chase and whiff rates, his chase rate bump was only modest, and his whiff rate has remained just as high this year. He's just been punished for it less often.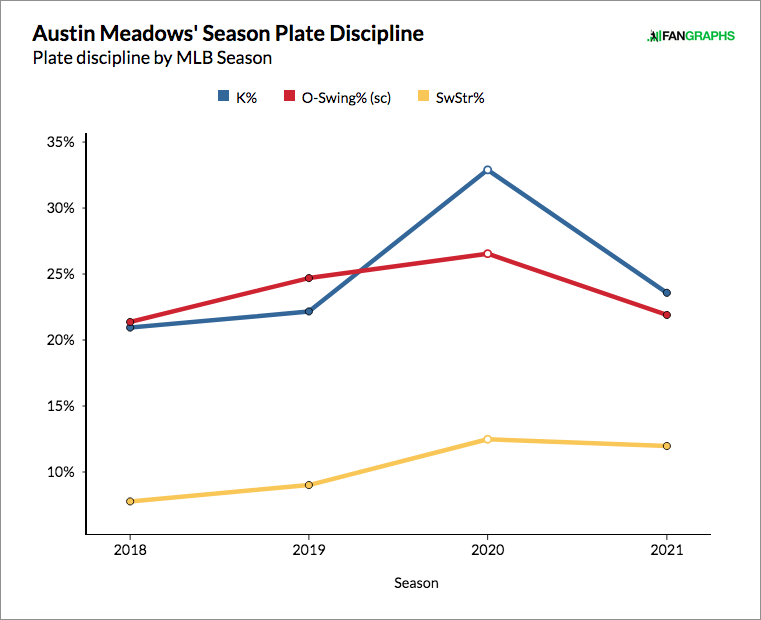 If we look deeper into Meadows' swing tendencies, though, we do find one of the rare instances in which 2020 was an outlier for him. In 2018-19, Meadows only swung at the first pitch of an at-bat about 17% of the time, which helped him maintain one of the lowest first-pitch strike rates in baseball. In 2020, he suddenly swung at nearly 25% of first pitches, which significantly raised his rate of first pitch strikes. This may have simply been his way of trying to rush himself out of his slump, as his first-pitch strike rate continued to rise for much of the seasons.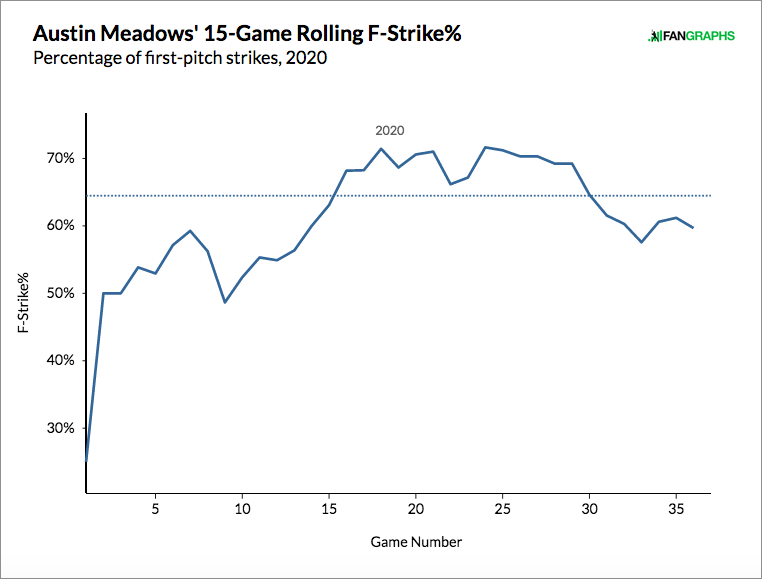 Whatever the reason for this change in approach, the consequences appear to have been severe. All of those first-pitch strikes meant that Meadows was behind in the count more often than normal, and falling behind was often a death knell. When swinging from behind in the count, Meadows went a whopping 3-for-40 (.075) with 26 strikeouts last year. Compare that with when he went 50-for-188 (.266) in those situations in 2019, or this season, when he's started out 8-for-32 (.250). It's hard to know exactly what caused him problems — some video research doesn't seem to show him choking up, or doing anything else differently after falling behind, and he didn't seem to any other year, either. He just couldn't find a way to fight back once he was in a hole.
Fortunately for Meadows, those problems haven't returned this season. Not only is he performing better when behind in the count, he's also getting to that situation less often than ever. Meadows has dropped his first pitch swing rate to just 15% this year, helping him once again achieve one of the lowest first pitch strike rates in the majors. Being more selective early in the count sets him up to be more selective late, which means more pressure on the opposing pitcher.
I don't know anyone who was panicking over Meadows' value after 36 bad games spent fighting off illness and injury during a bizarre 2020 season, but if there were any of those folks, there shouldn't be now. His sky-high fly ball rate may make it difficult for his BABIP to return to the league average, but it should finish considerably higher than .208, and if his improved plate discipline sticks around, that should make for a very strong on-base rate. Throw in power that looks every bit as impressive as it was when he hit 33 homers two years ago and you have a truly lethal top-of-the-lineup force. We may never be able to definitively say what caused Meadows to struggle so much in 2020. But the longer he performs like this, the less we'll have to worry about it.