Nikola Jokic is not of this world.
Fine, let's put it this way: This version of Denver Nuggets do-all frontman Nikola Jokic is playing like the best basketball player in the world right now.
 The skills, stats and eyeballs all pass the same test; at 6-11 and 26 years old, Jokic has become the most uniquely skilled player in the Association today. Because despite his fun-loving Joker persona and unheralded path to the NBA via the 41st pick in the 2014 Draft out of Sombor, Serbia, Jokic is both the League's frontrunner for MVP (as of this writing, which we now know he's taken the crown) and perhaps its most unsolvable matchup equation.
If he does take home the MVP crown, he'll be the lowest-drafted player in NBA history to claim the honors, and the first in Nuggets team history. Still, how the Joker ascended from quiet second-round pick into one of the most unguardable players on Earth, and fearless leader of those Nuggets, well, that's another thing.
 "He's an algorithm," Nuggets President of Basketball Operations Tim Connelly tells us. "The game's going at half speed for him…he's impossible to guard."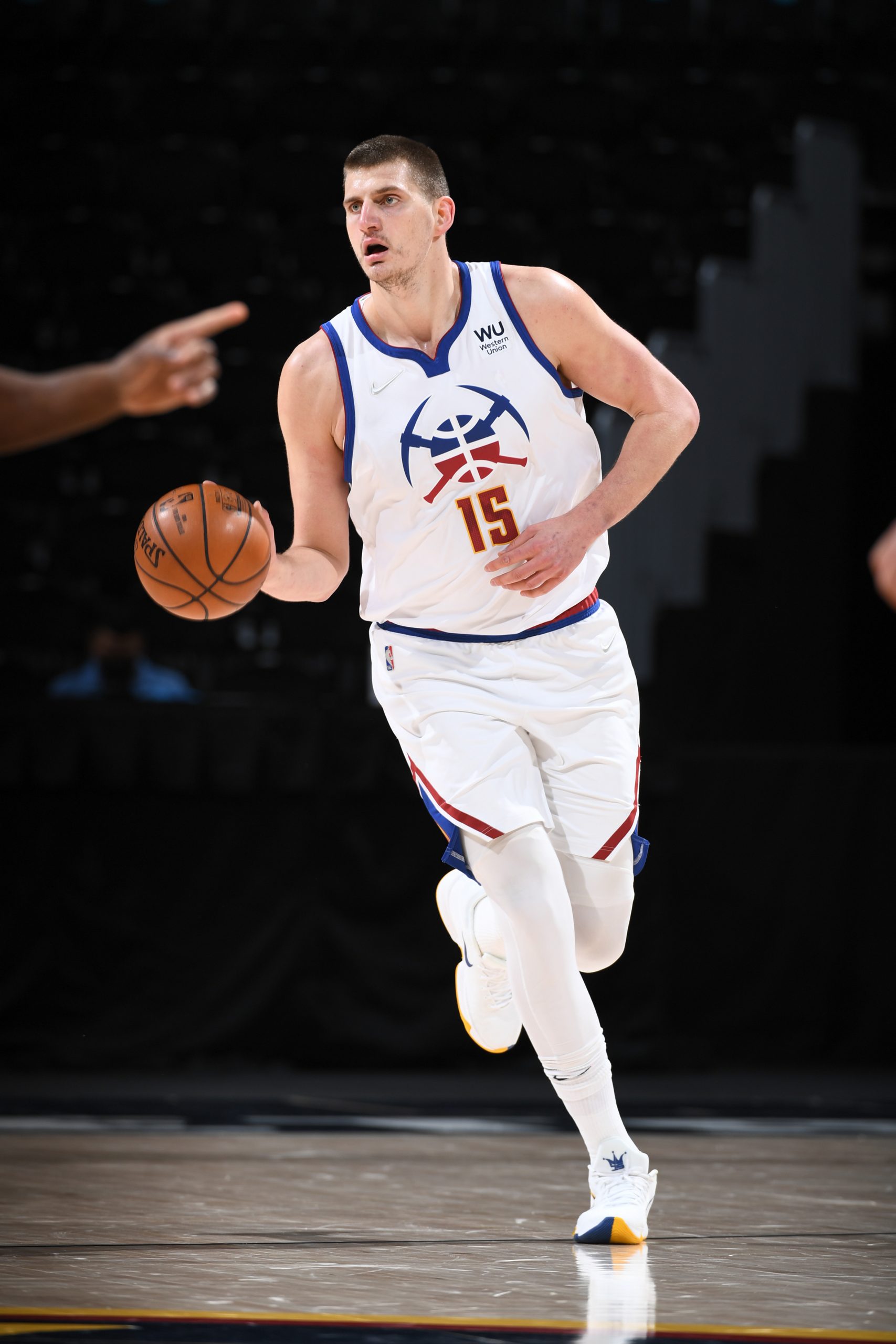 Jokic is a problem, alright, one that 29 other teams are routinely left scratching their collective heads on just how exactly it is you stop this guy.
 That's because while Nikola has been busy dissecting the game at half speed for the better part of six seasons, the rest of the League is still trying to adjust to his pace. Which, as is well-documented by now, is not exactly in the express lane. For an era built on extreme athleticism and fast-twitch quickness, it seems only fitting that one of its most statistically efficient players approaches the game from a far different vantage point. In fact, as this mag went to print, Jokic was working with the fifth highest total box plus/minus score for a season of all time. The only guys ahead of him? Stephen Curry ('16), Michael Jordan ('88, '91) and LeBron James ('09); not exactly the easiest group to crack.
 "I think just because you are slow, it's going to give you more options," Jokic told Dwyane Wade and the NBA on TNT in-studio crew after a win against Portland in February. "The game is so fast, but when you slow it down, then you kind of slow everybody down and that's not their rhythm. If you can just freeze them, then they're playing in my rhythm."
 Brilliant. It's also clear just how easy the game is for Joker right now—and even easier to take for granted just how often and successfully he makes the right play, every play. And because he processes the game on a near molecular level, opposing defenses have found there aren't a whole lot of ways to limit him. Leave him open on the perimeter or uncovered on the roll? He'll bury the jumper (good for 42 percent from deep through 57 games). Press up or double? He can see over the defense and pick you apart with passing. Let him get down on the block 1-on-1? It's a wrap.
 "I think people overlook the way he's dominating the game so easily, night to night. I just don't think he gets enough credit for what he does and the way he plays, the way he sees the game," Nuggets star guard Jamal Murray told reporters in February. "He's never trying to force it, always trying to make the right play and keep everybody happy. It's a lot of fun." 
 "I just think it looks like that," laughs Jokic, as to why it seems like he's never forcing game action. "Sometimes I just maybe know what's going to happen. Maybe know where [defenders are] coming from, like if they're going to double me. Sometimes I just go aggressive and force it. Maybe it doesn't look like I'm forcing it, but I'm forcing it. To me, it's just playing basketball."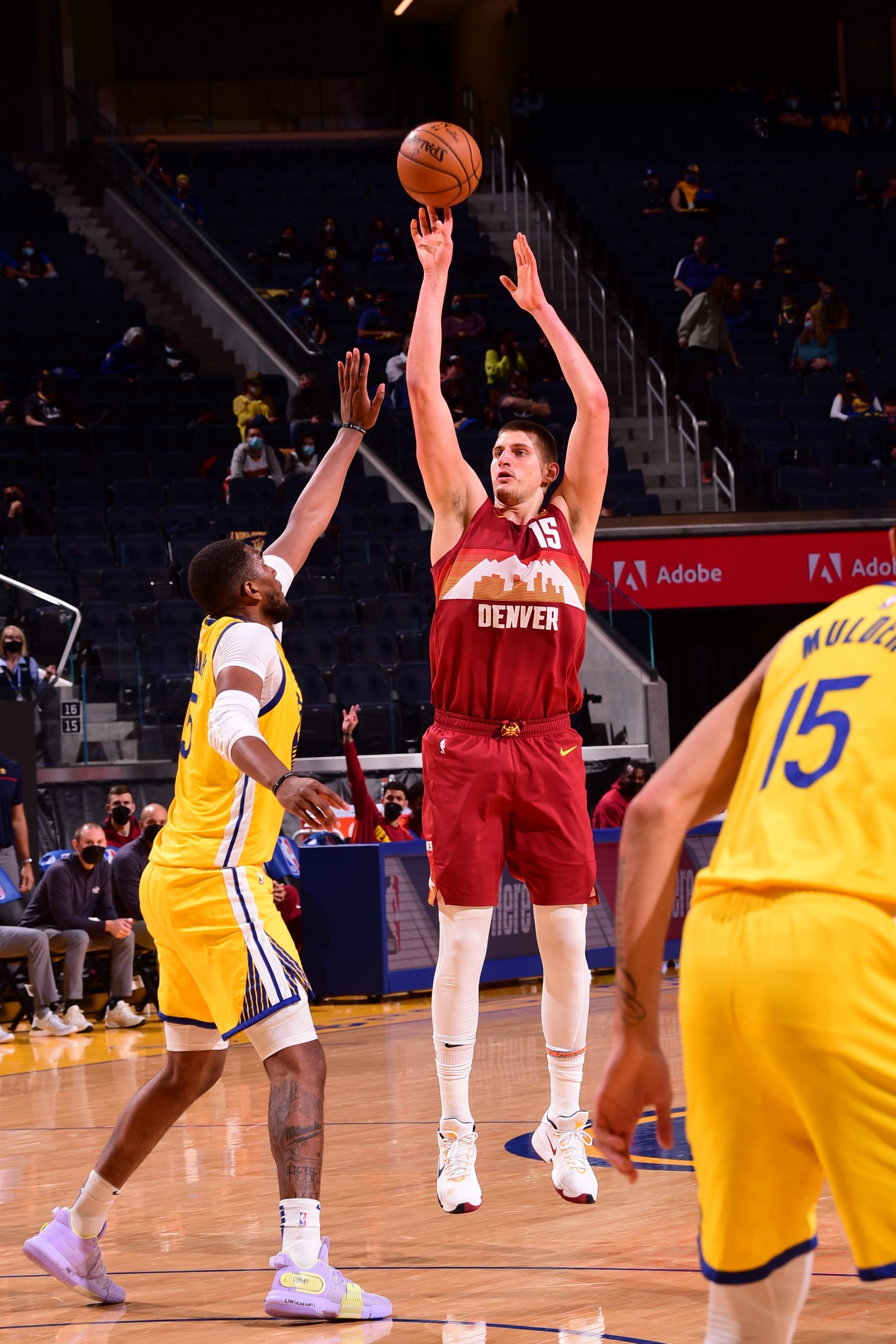 That's actually a good way of putting it, because in a season largely shaped by injuries, infrequent rest and strict safety protocols League-wide, Jokic hasn't missed a game. He's also doing so while playing the third highest total minutes in the NBA. Hell, despite a shortened offseason made even shorter after Denver's postseason run to the Western Conference Finals in the Orlando bubble last fall—done while overcoming two 3-1 series deficits in the process—that's just about all Jokic has done, just play basketball.
 But to say that Jokic is the probable MVP mainly due to injuries of other superstar players does a disservice to just how good he's been.
 He's had a 50-ball this season. An 18-assist game. Fifteen triple-doubles, and career highs across the board with 26.2 points, 10.9 boards, 8.6 assists and 1.4 steals a game—all as both Denver's center and its main ballhandler, through which almost everything on offense flows. In fact, the Nuggets local broadcast crew threw up an in-game graphic that showed how Nikola led Denver in nearly every conceivable stat worth recording. According to Jokic, both he and the Nuggets play at their best when they're having fun, and that's exactly what they've done with him at the helm. When the ball is popping, cutters are moving and Jokic is dealing, everyone in Denver eats on game day.
 "He has to have fun," Connelly says. "He's going to play with intensity, but [we tell him to] take chances, do funky things. Don't play in a box. Have a bad turnover here or there; he's an artist, man. He's like a jazz player, he's not playing classical music. [Coach Michael Malone] and his staff have done a great job. We want him to be this guy."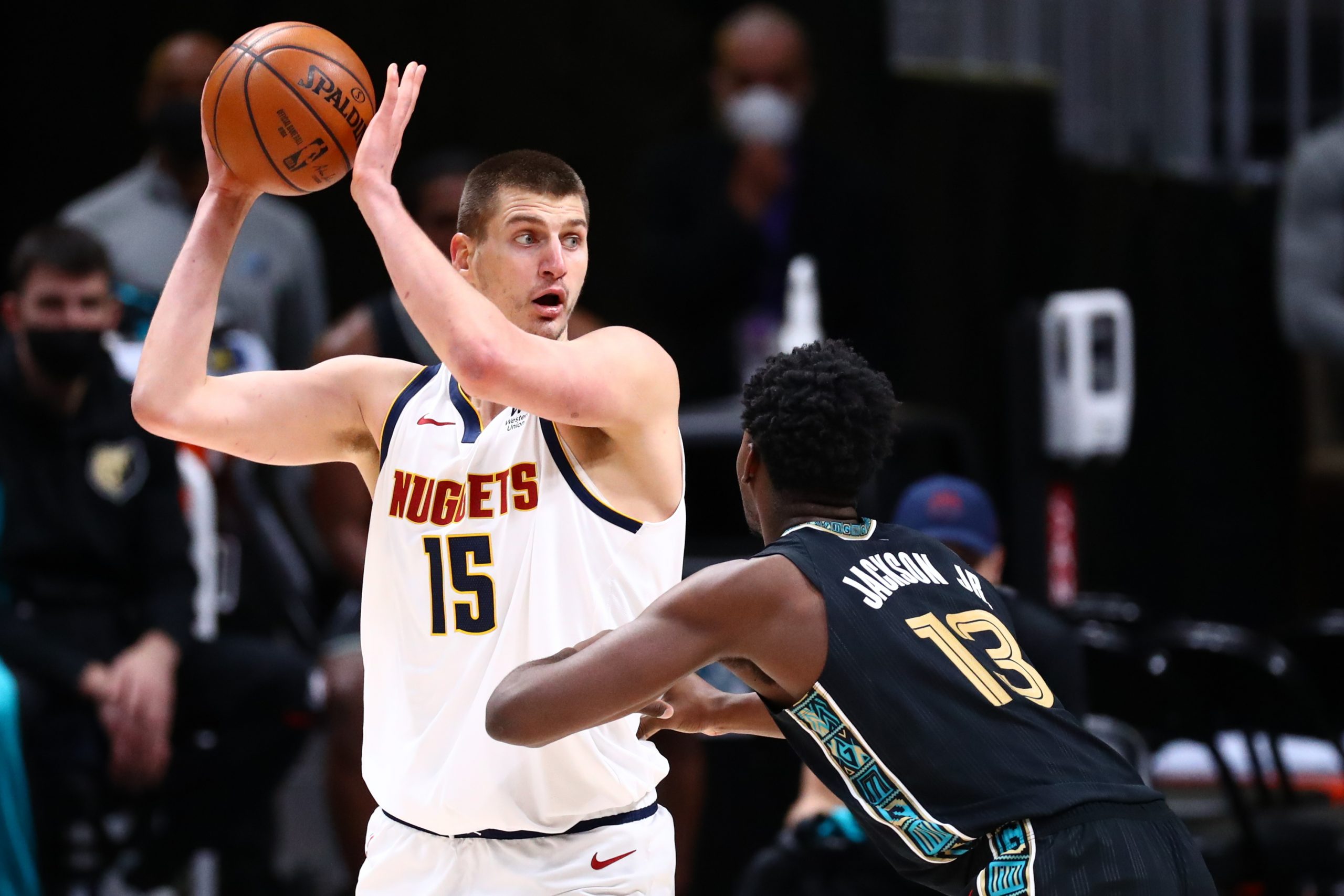 Ahh, but therein lies the conundrum of the modern pro athlete and marketer; Joker is not loud about his prowess. He's not on social media or proclaiming he's the rightful MVP from a media scrum. "I've been an underdog my whole life, to be honest," he says, after dropping 17, 10 and 11 in a win over Miami. "I'm kind of used to it; it's a normal position for me."
 "I think he got [to Denver] wide-eyed; he wasn't some Serbian wunderkind, he wasn't a prodigy," Connelly adds. "So, he had pretty modest expectations. I remember the first year we met after the season, Yo, what do you think? He's like, I can't believe how well I played, I'm shocked I can play at this level. So, I think [he's got] that kind of modesty mixed with an unbelievably fierce competitive freak between the lines."
 Jokic is an anomaly; a basketball savant who regularly turns garbage into gold. It's where the true genius of his game lies, in the little details that would otherwise pass by most players and fans. His use of leverage, touch and timing is on another planet, and his game oozes with creativity. Plays normally destined for turnovers actually become opportunities for him to attack. Take what was supposed to be a simple give-and-go between Jokic and guard PJ Dozier against the Detroit Pistons in early April. As Dozier looked to dump it down to Jokic with a blind wrap around pass on the baseline, the ball was tipped, sending it flying in the opposite direction. In the span of a nanosecond, Jokic water polo-flipped it to himself and into the basket, never needing to properly gather the ball with two hands. It was the stuff of basement mini hoop lore, and yet, just another footnote in Nikola's night.
And before you fall prey to old and tired narratives of defense and athleticism, watch the man play this season. Yes, Jokic is not an elite shot blocker or making a push for the All-Defensive team, but he's not exactly getting roasted on that end either. As of this writing, the Joker was top 10 in both rebounds per game and total steals, thanks to his long arms and extremely active hands. He's also ranked fifth in the NBA in total defensive plus/minus on the season, pairing nicely with his ranking of first League-wide in offensive plus/minus. The Nuggets have partnered him with two hyper-athletic big wings in Michael Porter Jr and Aaron Gordon, filling in the front court around him with size to allow Joker more freedom outside of the paint. Malone no longer needs to hide Jokic on defense because he's actually been pretty good on defense.
He's also got 36 dunks and counting through 57 games, up from 26 in the prior two seasons combined. I know this because the Nuggets broadcast team keeps a very loud running counter every time he throws one down, followed promptly by screams to "put him in the Dunk Contest!" When asked about leveling up his aerial game and the potential of challenging Gordon, a three-time Dunk Contest veteran, he gave a very Joker-esque response.
"I don't know, it just seems like I'm dunking more—well, I am dunking more, that's a fact. I'm just trying to be aggressive," says Jokic. He pauses and laughs sarcastically, "…and yeah, I think I'm a much better dunker than Aaron Gordon."
Jokes aside, it's no secret that Denver asks a lot of their point-center. They count on him to control the pace and flow of an entire game from the tip to its final shot. That formula will surely be tested to its limits this postseason, where Denver will now be without the aforementioned Murray, who's recovering from a season-ending ACL tear suffered in early April. And in the Western Conference, that will be no small feat; good teams will most certainly get bounced in the first round. Joker will be sure to stay focused.
"To be honest, I think my life is not really creative," he laughs. "All my creativity goes to basketball."
 Compared to the majority of the League, that creative process can appear slow. Yet, few can overwhelm an opponent, or a stat sheet, quite as quickly as Nikola.
 Relentlessly imaginative, effortlessly composed and entirely clutch, this is the Nikola Jokic experience in 2021. And in the end, what it all adds up to this season is actually quite clear—that despite both the injury woes and stellar play of his fellow All-Stars across the League, in the opinion of this writer, Jokic is very much the deserving MVP.
 Guess some algorithms are easy to solve after all.
—
Get your copy of SLAM 232, available now.
Photos via Getty Images.
88