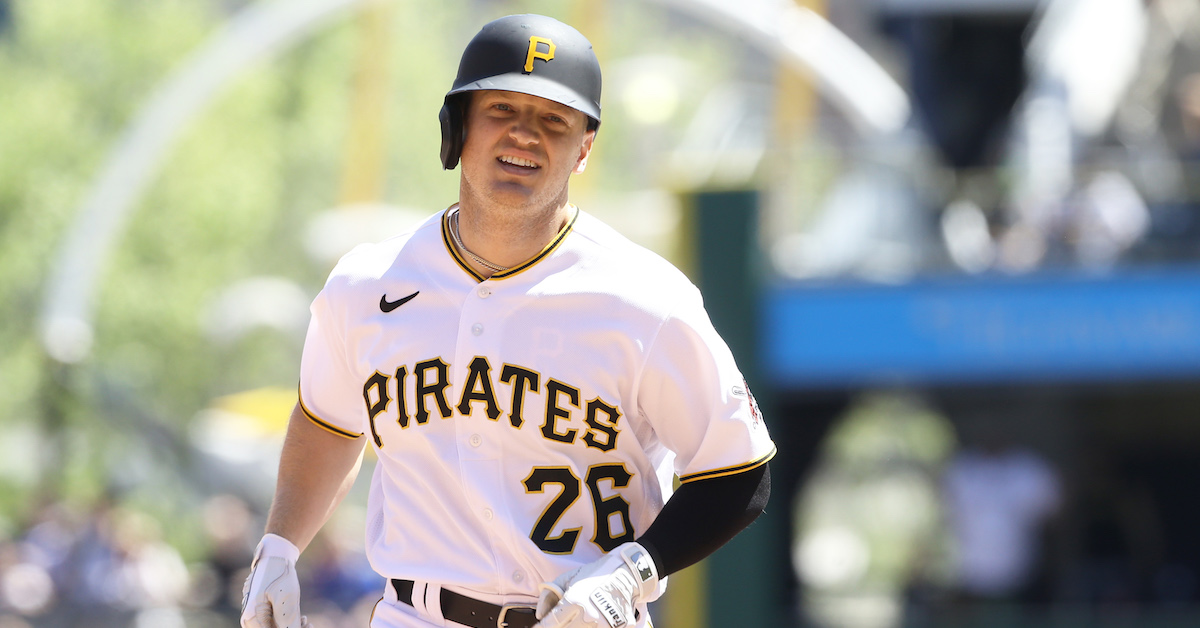 Josh VanMeter was in the news earlier this month for being put in an unfortunate position. A 27-year-old infielder with the Pittsburgh Pirates, VanMeter moved behind the plate in the eighth inning of a tie game when the team was forced to employ an emergency catcher. It didn't go particularly well. Wearing the Tools of Ignorance for the first time since he was 14 years old, the Ossian, Indiana native took a foul tip off the mask, and Pittsburgh pitchers surrendered seven runs in his lone inning of unscheduled action.
There is more to VanMeter than his ill-fated notoriety. A 2013 fifth-round pick by the San Diego Padres who broke into the big leagues with the Cincinnati Reds in 2019, and who has since played for the Arizona Diamondbacks and now the Pirates, VanMeter is a bona fide hitting nerd.
In the latest installment of our Talks Hitting series, VanMeter sat down during a recent series at PNC Park to discuss the art and science of the craft.
———
David Laurila: You're a hitting nerd…
Josh VanMeter: "I am. It all started back in 2016 when I was with the Padres. I was in the Cal League and having a pretty good year, then got promoted to Double-A San Antonio about halfway through. I had a hitting coach there named Johnny Washington — he's the assistant with the Cubs now — and I'll never forget. I was a guy who hit a lot of groundballs and would occasionally clip some homers, but I was super steep. Within a week, Johnny — who I still love to this day — was like, 'Man, that ain't gonna work.' I was like, 'What do you mean it ain't gonna work?' I was 21 and had been having some success. But he was right. That half season I was in Double-A, I really struggled.
"That was when I started to dig into the mechanics of the swing, and how the body works. I started making some big swing changes. Ever since then, man, I've just been… not obsessed, but very interested in the swing."
Laurila: What were the changes?
VanMeter: "The biggest change was with my path — getting the path to work on that upward arc. Again, I'd been a guy who was really steep into the zone, so it was a lot of path work, and getting my body to move and sequence in the right way."
Laurila: Are you trying to hit fly balls?
VanMeter: "I am. Before I started making these changes, it was just 'hit the ball.' I was just trying to square the ball up — barrel the ball up — so I really had to overcook it to try to really hit the ball in the air. I hate hitting the ball on the ground, especially in today's game where the shift is so prevalent. If you hit a ball on the ground, it's an out almost every single time. So yeah, I'm always trying to hit the ball in the air."
Laurila: Is having your contact point out front a big part of that?
VanMeter: "That definitely plays into it. When I hit the ball the other way, when the contact point is deeper, it's on a lower trajectory. When I catch the ball out front, the ball is going to go in the air more. So, yes, that is a huge aspect to it."
Laurila: You're trying to hit the ball in the air, but at the same time, you're presumably not trying to hit home runs…
VanMeter: "That's the conundrum in the hitting world, right? You're not trying to hit home runs — home runs should be the byproduct of picking the right pitch and putting on a good swing — but… when you talk about angles in your practice work, I'm trying to stay anywhere from 17 to the 24-25-ish range. That's because in the game, it's going to speed up and you're typically going to hit the ball higher than that. So, in practice, you would think more doubles in the gap, which turn into home runs in the game."
Laurila: Can you elaborate on speeding up and hitting the ball higher?
VanMeter: "The game moves at a different pace. When you're in the cage, you're in a controlled environment. Whether it's flips, or even machine work… like, if you hit popups in the cage, those are either going to be foul balls, or you're going to hit them even higher in the game, just because the game speeds up and your misses are going to be more… how should I say it? More projected, I guess. Your moves are always bigger in the game, right? In the cage, you can control pretty much every aspect of the swing. In the game, you're just in compete mode. Basically, you take what you do in the cage and, as [Pirates hitting coach Andy Haines] calls it, kind of go into that blackout mode once you're in the box."
Laurila: It's impossible to translate the cage to the batter's box…
VanMeter: "Impossible is strong — I think anything is possible — but it's very hard to replicate game speed. Even machines. Machines are kind of the craze in the hitting world right now, and a machine doesn't even replicate game speed, because there's no arm. The timing aspect is really, really hard. You can train velocity, but when it comes to the timing aspect, I don't believe that you can replicate game speed."
Laurila: You're 5-foot-11 and 180 pounds. I just saw you drive a few balls out in batting practice, but at the same time, you don't profile as a guy who is going to hit that many home runs. Is that fair?
VanMeter: "I think if you look at my time in Triple-A as an everyday player, I feel I'd be capable of hitting 20 to 25 home runs. Granted, it's hard to predict that. But I think the power is there. For anybody, regardless of their size or stature… there are a number of small guys that hit a lot of home runs. Alex Bregman isn't that big. Jose Altuve. Jonathan India, with the Reds, is a guy I think can hit for a lot of power, and he's not that big of a guy. If you get the body to move in sequence, and efficiently, it's amazing how far the ball will go."
Laurila: Do you study hitters?
VanMeter: "I watch a lot of hitters. For sure. And you try to study, but at the end of the day, it's hard to replicate somebody else. Everybody is their own hitter. Everybody has their own individuality. But I do try to take certain things from certain guys.
"The poster boy would be Barry Bonds. I think he has the greatest swing to ever play the game. The way he moved, and the way that he was so in control of his body. Mookie Betts is another great example. You want to talk about a smaller guy who can hit for a lot of power, the way his body works… and Trea Turner is another guy I'm fascinated with. I played with Trea. A lot of people like Mike Trout. He's got some some different things going on his swing, but he's the best hitter in the game. Charlie Blackmon is another one that I like to watch. There are so many guys, man. The list goes on and on."
Laurila: What is an example of something you look for when you watch hitters?
VanMeter: "A lot of it is the forward move. How do guys control their forward move to be on time, and put themselves in the best position possible to be successful? The reason I like Barry Bonds so much is that his forward move was so controlled. The path just played from there."
Laurila: How would you describe your load and timing mechanism?
VanMeter: "Load and timing kind of go together. I think you want to have as little of a move back as possible; you want to eliminate the sway back to go forward. And when you're talking about a forward move, it's really just making a move on the pitcher. [Texas Rangers hitting coach] Donnie Ecker has a great analogy for that.
"In baseball, you have two moving pieces coming together at contact. The pitcher is coming at you, and the hitter has to be going at the pitcher. The timing… as the pitcher's arm starts to come through that window, that's when the hitter wants to be making that forward move. It's a collision course. Hitting is a collision course activity. The hitter doesn't just sit back, and spin and swing. There has to be a forward momentum from the hitter.
"I pick my foot up off the ground when the pitcher's leg starts to come down the slope. For other guys, it might be a hand break. It might be the top of the leg lift. It's each hitter's own determination of when they need to start. Some guys are just going to go forward. Other guys are going to pick up, hang, and then go forward. Other guys are going to go back a little to go forward. The thing with the swing is that there's no one way to do it. There is no cookie-cutter way to hit."?
Laurila: Do you train a swing, or you train to hit?
VanMeter: "That's a great question. Over the last couple of years, there has been this big hysteria with getting your A-swing off as many times as you can. But when you watch a major league baseball game, how many times do guys get hits on swings that are not their A-swing? Sometimes it is 'out front and get the barrel there,' or it might be 'late, get the barrel there.' So, to answer your question, you should train to hit, not to get your best swing off. Granted, do you need to have a good swing mechanically to be successful? In my opinion, yeah, you do. But the adjustability of your swing is more important than just the A-swing. I feel you have to train variability, train adjustability, and hope that it shows up on the field."
Laurila: How much can you train adjustability within a controlled environment? As you said earlier, hitting is different at game speed.
VanMeter: "That's a great point. I think you can train adjustability. Donnie Ecker has this thing he calls 'chaos training,' typically with a machine. We would have our eyes closed, and when he said 'go' you would open your eyes and start your move as he was dropping the ball. Sometimes you're going to be late, sometimes you're going to be early, and you have to figure out a way to get your best swing off.
"We do a lot of things with machines where… for instance, a guy will put [a ball] in, and it's either a fastball or a curveball. There are also machines that you can put sequences into — you don't know what's going to come out. That's another good way to train adjustability. Again, that's important. Training one swing all the time can box you in a little bit."
Laurila: Watching the team taking batting practice, I saw both machines and live arms.
VanMeter: "That's another variability [training approach]. With the arm, you get that sense of timing with it coming through the window. With the machine, you don't get that. It's hard to figure out the timing off the machine, because it's coming out of a black hole. Right? In a game, you always have an arm coming through. But I do think it's a good mix. While you don't get the sense of timing with a machine, it will give you more velo, and you can get some ride that you can manipulate."
Laurila: What about the way an individual hitter's body works? That plays into the swing.
VanMeter: "There are always limitations to certain people's bodies, and for me, I broke my left ankle. That's my back leg. The dorsiflexion of my ankle is really limited — my ankle is kind of locked in — so I have to create cheat codes to figure out how to stay in my backside.
"Part of [how to address limitations] can be figured out in the training room. A lot of people do the FMS [Functional Movement Screen] testing to figure out how mobile they are, how their joints move, how elastic they are. A lot of hitting can be… not figured out, but you can get better sequencing from the weight room and the training room. That's an aspect that gets taken for granted a little bit. Everybody wants to figure it out in the cage, but you can change patterns in the weight room and the training room."
Laurila: How do you go about training your back side?
VanMeter: "There are a lot of things. Working in a linear motion… I guess the poster boy for this would be Justin Turner — kind of the Doug Latta concepts of hitting. You're training the Ferris wheel, north to south with the bat, where a lot of guys think they're on the merry-go-round with the east to west. You want to train north to south, and get the energy going back through the middle of the field. I think that's the easiest way to describe it.
"Man, just getting the backside to work through the middle of the field where… I mean, everybody thinks it's a rotational sport. But if you get going east to west, now you're in and out of the zone. You're topping balls, you're hitting flares the other way, you're top-spinning balls. Working from the backside is just really getting the backside through the middle of the field without the front side taking over and yanking you out of the zone."
Laurila: How concerned are you with exit velocity?
VanMeter: "It's important. I think exit velocity is more important than launch angle. If you hit the ball hard, you give yourself greater chance to be successful. I think hitting the ball hard is the most important thing in this game."
Laurila: Last question: What goes into exit velocity?
VanMeter: "It's a mix. It's efficiency, barrel awareness, strength, elasticity, athleticism… if you look at Mookie Betts and Trea Turner, they're not the biggest guys. But their moves are elastic. There is athleticism in their swings. They consistently get the barrel to the ball. Those things make them great hitters."
——
Earlier "Talks Hitting" interviews can found through these links: Jo Adell, Jeff Albert, Greg Allen, Nolan Arenado, Aaron Bates, Bo Bichette, Cavan Biggio, JJ Bleday, Bobby Bradley, Jay Bruce, Matt Chapman, Michael Chavis, Jacob Cruz, Nelson Cruz, Paul DeJong, Josh Donaldson, Rick Eckstein, Drew Ferguson, Justin Foscue, Michael Fransoso, Joey Gallo, Devlin Granberg, Andy Haines, Mitch Haniger, Robert Hassell III, Rhys Hoskins, Tim Hyers, Josh Jung, Jimmy Kerr, Trevor Larnach, Doug Latta, Evan Longoria, Michael Lorenzen, Gavin Lux, Dave Magadan, Trey Mancini, Edgar Martinez, Don Mattingly, Ryan Mountcastle, Cedric Mullins, Daniel Murphy, Brent Rooker,, Drew Saylor, Fernando Tatis Jr., Justin Turner, Mark Trumbo, Robert Van Scoyoc, Zac Veen, Mark Vientos, Luke Voit, Jordan Westburg, Jesse Winker, Nick Yorke.