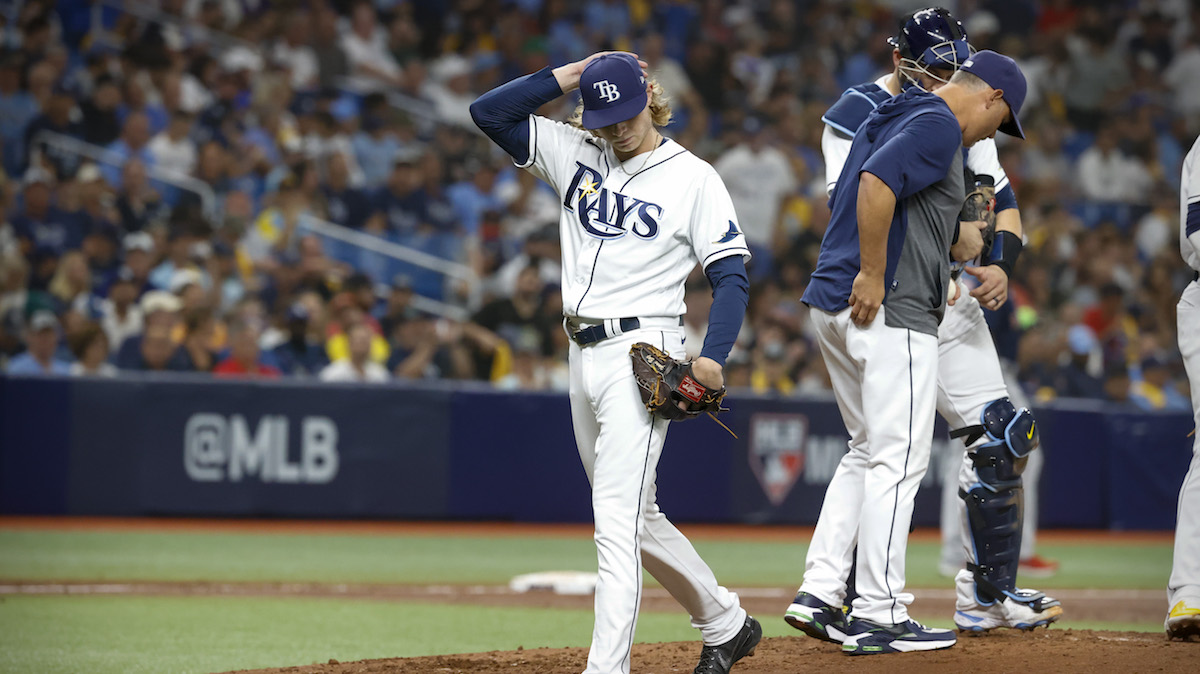 Injuries are always unwelcome, but the pumpkin spice season is perhaps the most unfortunate time of year to lose a player to one. A surprise malady at this point in the season can shut a player out of some, if not all, of the postseason, and with no ability to make trades and playoff eligibility freezing at the beginning of September, it's especially challenging to fill holes on the big league roster. This weekend featured some particularly bad injury news for playoff teams, as a number of players who can't be easily replaced saw their postseason outlook take a turn for the worse.
Let's take stock of what these injuries might mean come October, beginning with the Tampa Bay Rays, who got the worst bit of news. Shane Baz needs Tommy John surgery, and since we're so late in the season, 2023 is off the table for his return as well. Until this setback, Baz's recovery from his most recent elbow problem seemed to be going well, and the team had held out hope that they'd be able to get him up to speed enough to at least pitch in relief. With Baz out, the Rays will have to rely more on Tyler Glasnow, who is expected to be activated on Wednesday in his return from a Tommy John surgery of his own.
The bad news in Tampa didn't stop with Baz. Brandon Lowe's back problems have ended his 2022 season early. While (hopefully) not as significant as Baz's injury, Lowe has struggled with back pain for most of the season and recently had a cortisone injection. As with Baz, the hope had been to get him back on the roster in time for the playoffs. Even with his struggles this year, which were due in large part to the aforementioned injury, ZiPS still thinks Lowe's bat has the most upside of nearly anyone on the team, and the Rays will take a small but significant hit in the postseason projections in his absence. Without Baz and Lowe, ZiPS thinks of the Rays as a .547 team rather than a .553 one, with their solid depth keeping things from being far worse. The full version of ZiPS projects Lowe's primary replacement, Jonathan Aranda, at a 105 wRC+ for the rest of the season, a significant bump from his 90 wRC+ projection before the season.
Speaking of teams with good depth, the Los Angeles Dodgers also semi-officially lost another couple of pitchers over the weekend. Dustin May was placed on the IL on Saturday due to back pain and now won't be eligible to return until the NLDS, not that the Dodgers actually need him for the regular season, of course. Blake Treinen, out since April due to a shoulder capsule tear, has also been ruled out for the regular season, and a return in the postseason is not guaranteed. Manager Dave Roberts described Treinen as "just not bouncing back the way any of us would have hoped," which doesn't exactly make me feel optimistic. Without Treinen to push Craig Kimbrel off the closer role, the Dodgers are now doing it themselves, going to a committee approach with their deep 'pen.
Shifting to the National League East, Spencer Strider, an almost ironclad lock to be one of the top two finishers in the NL Rookie of the Year race this year, had a setback of his own and was placed on the IL on Saturday with a sore oblique. Initially sore after his start last Sunday, his next start had been pushed back a few days, but after additional pain when trying to throw on Friday, the Braves put him on the IL. Unlike many of the other injuries here, the effects are significant in the regular season as well, with the Braves only a game and a half behind the Mets in baseball's only compelling divisional race remaining. Strider would have gotten one of his remaining starts against the Mets in a series the Braves can't afford to lose if they hope to flip the top of the standings. The team has been noncommittal about what this might mean for his postseason availability, though manager Brian Snitker expressed concern on Saturday.
If there's a silver lining, ZiPS is quite optimistic about Kyle Muller, one of the likely recipients of playing time in Strider's absence. While Muller didn't show it in his two big league starts earlier this season, he's coming off an impressive minor league campaign that ZiPS translates as being league-average starter quality. A 3.41 ERA in Triple-A isn't usually socks-being-knocked-off territory, especially when it's the International League rather than the Pacific Coast League, but it's been a huge offensive year in the minors. International League teams are averaging five runs a game, which is still lighter than the 5.8 runs per game scored in the PCL. So those numbers are better than a first glance would indicate, and Muller's knocked off half his minor league walk rate from 2019 and '21.
Going back to the American League, the Mariners placed Julio Rodríguez on the IL before Friday's game, though this appears to be a precautionary measure after he was pulled in the first inning of the team's Thursday contest against the A's. Seattle has played quite underwhelming baseball over the last couple of weeks and was already dealing with Eugenio Suárez's fractured finger, but with the tiebreaker over the Baltimore Orioles in the Wild Card race, the team's right not to panic over a de facto five-game lead with only 10 games remaining. ZiPS has the Mariners at a 99.5% chance of making the playoffs with a healthy Rodríguez and a 99.4% chance with Jarred Kelenic in the lineup instead. And hey, Kelenic has had four extra-base hits in four games for a 1.194 OPS! Sure, it's just four games, but it has been the best four-game stretch of his disappointing major-league career so far. Losing Rodríguez for the entire playoffs, on the other hand, would knock a sizable chunk off the team's projected World Series probability, from 7.6% to 4.9%.
With the latest injuries changing up the depth charts, here are the updated ZiPS World Series probabilities as of Monday morning:
ZiPS World Series Probabilities
| Team | WS Win% |
| --- | --- |
| New York Mets | 17.7% |
| Los Angeles Dodgers | 15.4% |
| New York Yankees | 15.0% |
| Houston Astros | 10.3% |
| Atlanta Braves | 8.0% |
| St. Louis Cardinals | 7.8% |
| Seattle Mariners | 7.6% |
| Toronto Blue Jays | 4.4% |
| Philadelphia Phillies | 4.4% |
| Tampa Bay Rays | 3.3% |
| Cleveland Guardians | 3.0% |
| San Diego Padres | 2.0% |
| Milwaukee Brewers | 1.1% |
| Baltimore Orioles | 0.1% |
| Chicago White Sox | <0.1% |
| Minnesota Twins | <0.1% |
| San Francisco Giants | <0.1% |
| Boston Red Sox | 0.0% |
| Kansas City Royals | 0.0% |
| Detroit Tigers | 0.0% |
| Los Angeles Angels | 0.0% |
| Texas Rangers | 0.0% |
| Oakland A's | 0.0% |
| Miami Marlins | 0.0% |
| Washington Nationals | 0.0% |
| Chicago Cubs | 0.0% |
| Cincinnati Reds | 0.0% |
| Pittsburgh Pirates | 0.0% |
| Arizona Diamondbacks | 0.0% |
| Colorado Rockies | 0.0% |
Yup, the Mets.