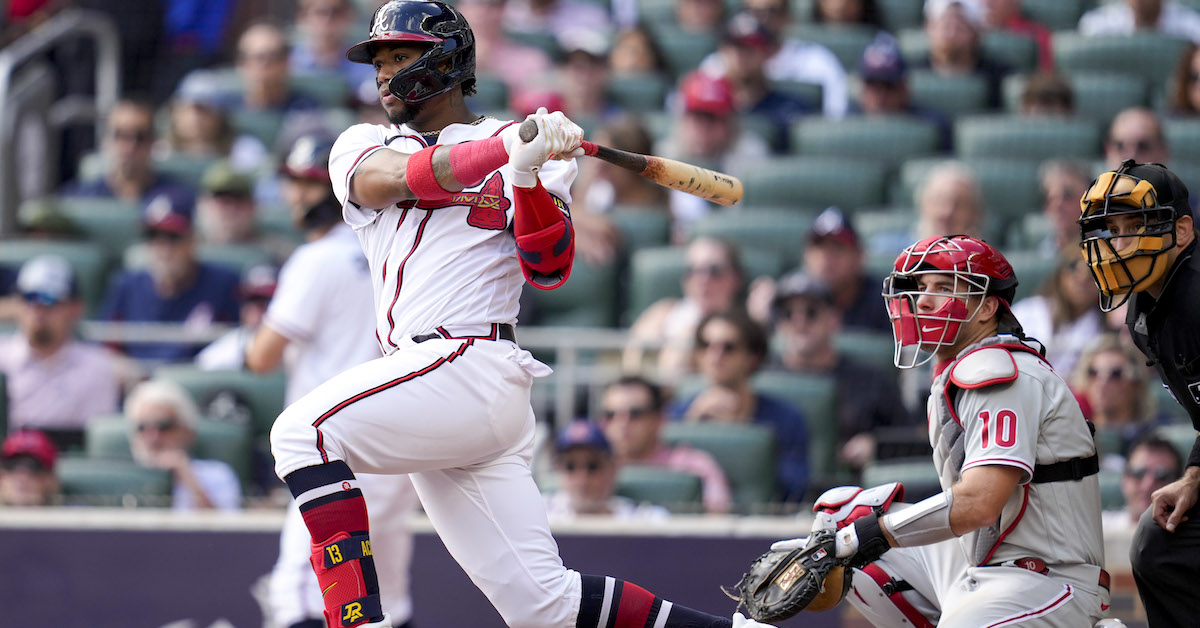 How do you explain a fall in performance from a superstar player in their age-24 season? It's hard to make any concrete conclusions, but there are always certain observations that can help us understand what happened, and when it comes to Ronald Acuña Jr., many of us are eager to know. In the first four seasons of his career, he was undeniably one of the best players in baseball, and in the last two, albeit both shortened for different reasons, his power had begun to take off. In 2020 and '21, before he tore his ACL, he maintained an ISO above .300.
Oh yeah, about that ACL. It's not a common injury in baseball, so we don't have much history to go off, but there is no denying its impact on Acuña's swing and athleticism. Depending on the stage of your career and sport you play, an ACL tear can impact you differently. When it came to Acuña, a special athlete, I thought there would be an immediate bounce back. Perhaps that was an unfair assessment. This is a major injury for such an explosive player, and it's understandable that it would take time to recover and get the necessary level of proprioception back. That's not to say he wasn't successful in 2022; he put up three months with a 130 wRC+ or better and ended at 114 overall. But that isn't close to his pre-2022 career mark of 140. I'm confident he can get back to that point. How? He'll have to reignite his ability to keep the ball off the ground and in the air.
Sorry to simplify things so much. It's a personal pet peeve of mine to say a hitter just needs to stop hitting so many groundballs; it's such an obvious suggestion for any hitter or swing type. But it's the case here. From 2019 to '21, Acuña didn't have a ground ball rate above 38%; in '22, that figure skyrocketed to 47.7%. That was a career high, 5.4 percentage points higher than his rookie season. Even in the months where he was stellar, it wasn't because he returned to his previous batted ball profile; he only had one month all year with a groundball rate under 42%.
So what was behind all the worm burners? Here's a table of Acuña's average vertical bat angle (VBA) by year:
Acuña Jr. VBA by Year
| Year | VBA |
| --- | --- |
| 2018 | 35 |
| 2019 | 38.5 |
| 2020 | 37.1 |
| 2021 | 35.8 |
| 2022 | 32.8 |
Last season was a career low for Acuña in this department by at least three degrees; on average, when he made contact, the angle of his barrel was three to five degrees flatter than when he was putting up ISOs in the .300s. If you're flatter at impact, odds are your barrel is in a sub-optimal position to square up the bottom third of the baseball. With Acuña's entry into the hitting zone being so vertical, he has to turn his barrel over much more than the average hitter.
It's hard to understand what I mean by that with only words, so let's turn to the video. The first two swings are from 2021, and the next two are from '22.
April 2021
May 2021
June 2022
July 2022
To get a representative sample of swings, I filtered down my Savant search to only fastballs in the bottom third of the zone, and of the four I chose, all were low-to-mid 90s. Basically, none of those pitches have plus velocity that would overwhelm Acuña, and yet he seemed like the pitches got on top of him quickly. I already knew this before going into my video deep dive from watching him during the year, but the bat comb he developed (maybe unintentionally) completely altered his entry into the hitting zone. Take a second to go back and watch the clips again. Upon starting his swings in 2022, Acuña immediately tips his barrel flatter. After that, he enters his usual loading pattern, but because of this initial bat tip, he wraps just slightly more, and the barrel has a flatter entry than usual for him.
A good visual cue for the difference in entry is by looking at where his hands end up when he plants his stride foot. The yellow batting gloves and accessories make it easy on the eyes to see that his hands were higher in 2021, allowing for a steep entry into the zone. That doesn't work for many hitters, but it does for Acuña. It's actually remarkable: Acuña's unicorn trait that separates him from his peers is that he can swing the bat more like a golf club than any other hitter in baseball.
When I think about a perfect baseball bat path, I think of Ken Griffey Jr.'s Swingman logo. It highlights what you would expect a 100% efficient pat path to look like. If you take the path on the logo and tilt it by about 10 degrees, you get closer to what Acuña's would look like. It's much steeper, but he is still able to barrel up pitches at different heights. It's weird to say this, but when Acuña swings closer to Griffey Jr.'s Swingman logo, you get this year's results. It's a wonderful example of how hitters differ from one another — beautiful, really. Heading into 2023, I wouldn't be surprised if he fixed this part of his swing.
One piece I haven't addressed yet is whether this was some sort of a compensation Acuña made during his recovery. If that's the case, it makes me even more confident that he will return to form. With more time comes even better health, and assuming his body is feeling 100% again, he should be able to make this adjustment with some time in the cage after looking at video from his season.
There are good hitters, there are great hitters, and then there are special hitters. Acuña is as special as they come. That doesn't just go away when you're 24 years old and still hitting the ball harder than 98% of the league. I'm excited for his bounce back, and you should be, too.