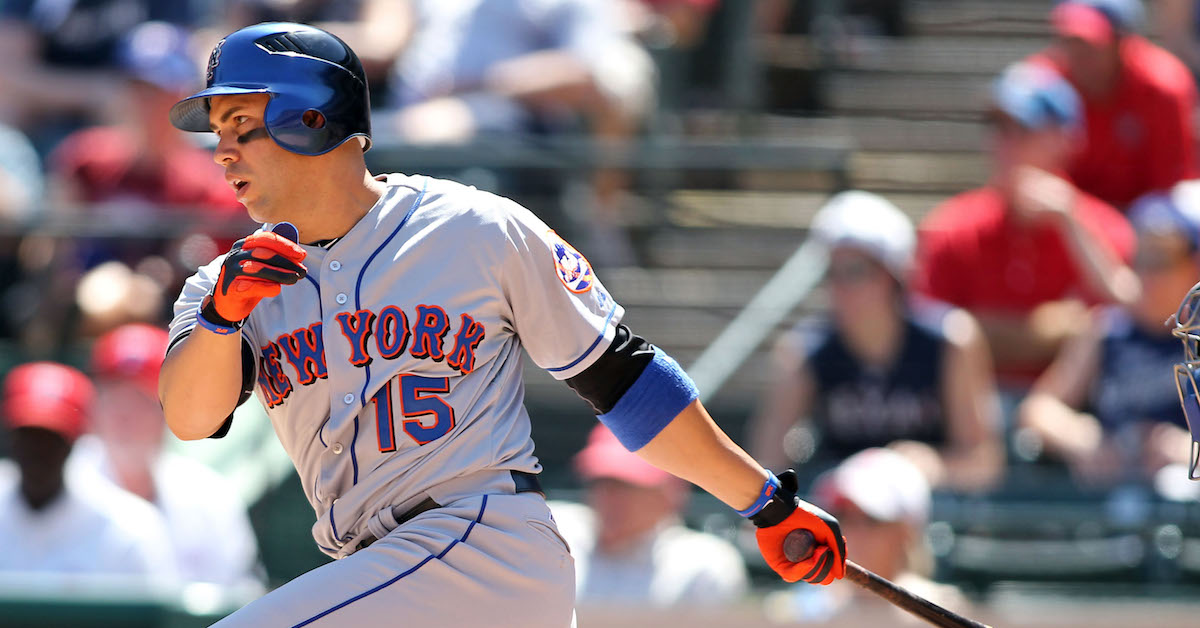 If you were waiting for a time when the discussion around the BBWAA's annual Hall of Fame voting didn't center around Barry Bonds, Roger Clemens, and Curt Schilling, then I have good news: After 10 years of increasingly polarized debate, they all fell short of the 75% needed for election and have run out of eligibility on the ballot. They're now candidates on the Contemporary Baseball Era Committee ballot — a problem for another day — but they're not part of the 28-man slate unveiled by the Hall on Monday. That's not to say that this ballot is devoid of controversial figures, or that debates about character are a thing of the past, but we can finally move beyond the cast that hit the 2013 ballot and spent 10 years monopolizing discussions and draining some of the fun out of the whole process.
The 2023 ballot doesn't come without controversy, particularly in relation to the top newcomer, Carlos Beltrán. A nine-time All-Star and three-time Gold Glove winner who racked up 2,745 hits, 435 homers, and 312 steals, he's got numbers to appease traditionalists, and likewise, he checks the advanced stat boxes by ranking eighth in WAR and ninth in JAWS among center fielders, thanks in no small part to the extra value he provided on the bases and in the field. For all of that, Beltrán is the player most closely identified with the Astros' illegal sign stealing scandal, less because his own performance benefited (his 2017 season was below replacement level) than because The Athletic's reporting and commissioner Rob Manfred's subsequent report placed him at the center of the efforts to decode opposing catchers' signs using the team's video replay system.
Whether that is an offense grave enough to cost Beltrán a chance at Cooperstown is a matter for debate; his involvement in the matter already cost him his job as the Mets manager before he oversaw a single game. He returned to baseball this past year as a broadcaster for the YES Network, though no team has considered him for an in-uniform job since he left the Mets.
There will be time enough to consider that question and several others over the next six weeks as I profile all 28 candidates, either at length or in brief, examining their cases in light of my Jaffe WAR Score (JAWS) system, which I've used to break down Hall of Fame ballots in an annual tradition that's almost old enough to drink. The series debuted at Baseball Prospectus (2004-12), then moved to SI.com (2013-18), which provided me an opportunity to go into greater depth on each candidate; in 2018, I brought the series to FanGraphs.
Today I'll offer a quick look at the biggest questions attached to this year's election cycle, but first…
The Basics
To be eligible for election to the Hall of Fame via the BBWAA ballot, a candidate must have played in the majors for parts of 10 years (one game is sufficient to be counted as a year in this context), have been out of the majors for five years (the minors or foreign leagues don't count), and then have been nominated by two members of the BBWAA's six-member screening committee. Since the balloting is titled with respect to induction year, not the year of release, that means that this year's newcomers last appeared in the majors in 2017. Each new candidate has 10 years of eligibility on the ballot, a reduction from the 15-year period that was in effect for several decades. The last candidate grandfathered into getting the full 15 years was Lee Smith, whose eligibility expired in 2017; Jeff Kent, who's now in his 10th and final year, is the last candidate to have his tenure reduced mid-run.
To be elected, a candidate must receive at least 75% of the ballots cast, and in this case, they don't round up; 74.9% won't cut it. Likewise, candidates who don't receive at least 5% of the vote fall off the ballot and can then only be considered for election by what's now called the Contemporary Baseball Era Committee, an entirely separate process — but not until what would have been their 10-year run of eligibility expires.
The voters, each of whom has been an active BBWAA member for 10 years and is no more than 10 years removed from active coverage, can list as many as 10 candidates on their ballots, a number that's become a point of contention in recent years given the high volume of qualified candidates. In 2015, the Hall tabled a BBWAA proposal to expand to 12 slots (I was on the committee that recommended the change). Last year, the seventh since the Hall purged the rolls of voters more than 10 years removed from coverage, 394 ballots were cast, the fewest of any cycle since 2015, the final cycle before the cutdowns. That's a reduction of 28% over seven years.
Ballots must be postmarked by December 31 (yes, the BBWAA still does this by mail). Voters may still reveal their ballots prior to the announcement, as 52% of voters did last year; you can track the reported ballots via Ryan Thibodaux's Ballot Tracker if you want. Voters can also check a box on the ballot to authorize the publication of their choices via the BBWAA's website two weeks after the election results are revealed; between that outlet and the Tracker, 78.4% of voters revealed their ballots in 2022, about six points below the record of 84.1% from '20.
The results will be announced on MLB Network on January 24. Any players elected will join any honorees elected via the Contemporary Baseball ballot, whose results will be announced on December 4, for the Induction Ceremony scheduled for July 23, 2023 on the grounds of the Clark Sports Center in Cooperstown, New York.
Are you ever going to tell us who else is on the ballot?
The ballot released on Monday includes 14 holdovers from last year's slate, and 14 newcomers, noted in italics:
Bobby Abreu, Bronson Arroyo, Carlos Beltrán, Mark Buehrle, Matt Cain, R.A. Dickey, Jacoby Ellsbury, Andre Ethier, J.J. Hardy, Todd Helton, Torii Hunter, Andruw Jones, Jeff Kent, John Lackey, Mike Napoli, Jhonny Peralta, Andy Pettitte, Manny Ramirez, Alex Rodriguez, Francisco Rodríguez, Scott Rolen, Jimmy Rollins, Gary Sheffield, Huston Street, Omar Vizquel, Billy Wagner, Jered Weaver, and Jayson Werth.
Are there any other newcomers who have a chance at election besides Beltran?
Probably not. Of the seven new position players, none of the others besides Beltran reached 2,000 hits, and none even came close, with Peralta (1,746) the only one within 500 of that mark. If you've followed my work, you know that until Tony Oliva was elected last year via the Golden Days Era Committee ballot, no player from the post-1960 expansion era with fewer than 2,000 hits made it into the Hall, and there isn't a second one waiting in the wings here.
The situation is similar among the starting pitchers. Lackey's 188 career wins is a respectable total, but no starter with fewer than 200 has been elected since Sandy Koufax in 1972, and Lackey, with his career 3.92 ERA and lack of Cy Young awards, is no Koufax, to put it lightly. That said, it's worth pointing out that the 32.8-WAR gap between Beltran (70.1) and Lackey (37.3) is barely half as large as last year's 62.3-WAR gap between the top two newcomers, Alex Rodriguez (117.6) and David Ortiz (55.3) — and yet it was the latter who was elected, more on which below.
The one other newcomer who in theory at least has a shot at eventual election is Francisco Rodríguez. K-Rod was the Angels' secret weapon out of the bullpen when they won the 2002 World Series, and he went on to become one of the top relievers in the game, making four All-Star teams, topping 40 saves six times, and leading the league in saves three times. He's fourth on the all-time list with 437 saves, behind Mariano Rivera, Trevor Hoffman, and Smith, all of whom are enshrined, and he has more saves than the Hall's five other relievers, not to mention Wagner, who appears more likely than not to gain entry some day. Rodríguez does not fare as well as Wagner, last year's one-and-dones Joe Nathan and Jonathan Papelbon, or five of the eight enshrinees in R-JAWS. Off the field, he incurred multiple criminal charges, including a guilty plea to third-degree assault for attacking his girlfriend's father in 2010 and a 2012 arrest for a domestic abuse charge. Voters don't always rule out candidates for such matters, however, and that leaves him as the only other newcomer besides Beltrán with a statistical case that's at least comparable to players already enshrined.
Who has the best shot among the holdovers?
Three returning candidate topped the 50% threshold last year, namely Rolen (63.2% in his fifth year), Helton (52% in his fourth year), and Wagner (51% in his seventh year). That threshold is significant because every candidate who has ever reached it except Bonds, Clemens, and Schilling has eventually been elected. Rolen, Helton, and Wagner don't have that trio's baggage, so it's fair to say that those guys appear to be on a path towards election.
Rolen, who had the biggest annual gains of any candidate in each of the past two cycles, is obviously in the best shape of the bunch, and is within reach of election this year. As The Athletic's Jayson Stark pointed out in the wake of the results back in January, his path towards 75% bears a strong resemblance to that of Mike Mussina, who was elected in 2019 after receiving 63.5% the year before.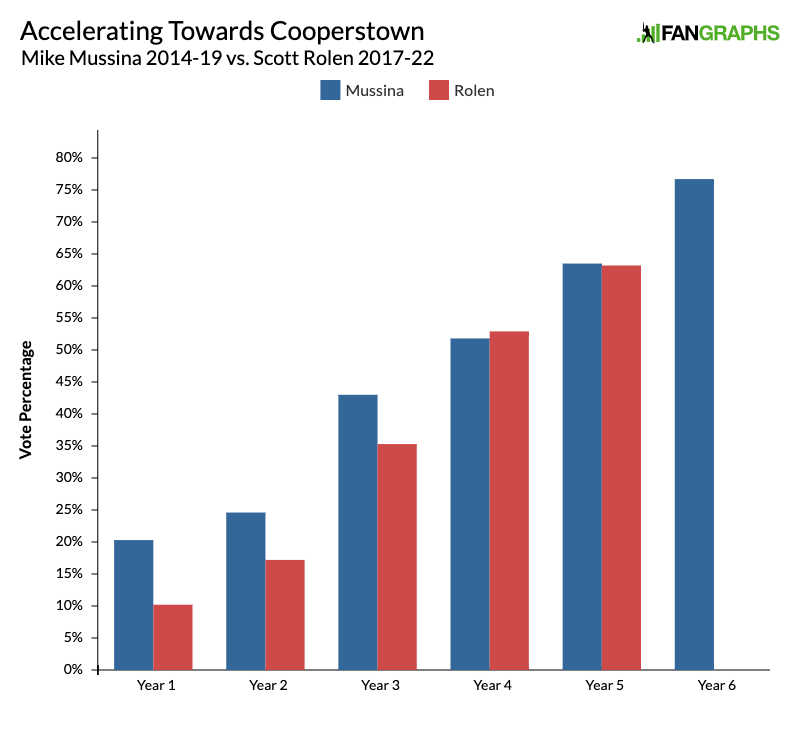 However, Rolen's election this year is hardly a slam dunk, which raises the possibility that the BBWAA voters could pitch a shutout for the second time in three years (2021 was the other), and third in 11 years (including 2013). Since the voters returned to annual balloting in 1966, candidates have received between 61% and 65% and still had eligibility remaining 22 times. Of those, seven were elected in the next year, while 12 needed two years, two needed three years, and one needed four years. If I limit the results to candidates who landed in that range within their first five years, the breakdown is four out of 11 elected in the following year (Mussina, Barry Larkin, Eddie Mathews, and Ryne Sandberg), with the other seven needing two years.
With shares just a hair or two lower than Rolen in 2021 (52.9%), Helton and Wagner are long-shots for this year given that the largest one-year gains resulting in election were 24.2% by Larkin in 2012 (from 62.1%) and 22% by Larry Walker in '20 (from 54.6%). Both would have to surpass Walker, which may not be impossible, but seems improbable.
Meanwhile, both Jones (41.4%) and Sheffield (40.6%) are looking to cross the 50% threshold. For the former, now in his sixth year of eligibility, that would be a sign that he can still be elected via the writers' ballot, though for the latter, in his ninth year of eligibility, it's more about setting himself up for a shot via the Contemporary committee. Of the recent players elected in their 10th and final year of eligibility, Sheffield is well ahead of Walker, who received only 34.1% in year eight before receiving the second-largest two-year bump in modern voting history, but behind Tim Raines (55% in year eight) and Edgar Martinez at (58.6%).
What about the players linked to PEDs?
So far, nobody suspended by Major League Baseball either for testing positive or incurring a non-analytic positive (i.e., identified as a user via a league investigation such as Biogenesis) since testing began in 2004 has been elected. The twice-suspended Ramirez is puttering along, having received 28.9% in his sixth year of eligibility last year, and A-Rod debuted with just 34.3%, which is about two points below Bonds and 3.4 points below Clemens in 2013. Both members of that gruesome twosome were connected to PED usage from a time before testing and penalties were in place, so they're in a different boat.
That's also true for Sheffield, whose name surfaced in the BALCO investigation because he briefly trained with Bonds; that's been a drag on his support — we are talking about a nine-time All-Star with 509 home runs and a 140 OPS+ here — and may yet prove to be an impediment to election. As for Ortiz, he made voting history last year, as the first player who reportedly failed the supposedly-anonymous 2003 survey test (a group that also includes Ramirez, Sosa, and A-Rod) and then gained entry. He broke out of that group thanks to Manfred, who basically exonerated him during his farewell tour, a courtesy he did not extend to Sosa.
As long as I'm tracking it, it's worth noting that Peralta, a three-time All-Star shortstop, was one of 13 players suspended by Major League Baseball in connection with Biogenesis. He drew a 50-game suspension in 2013.
Who's about to fall off the ballot?
Kent is in his final year of eligibility; he received just 32.7% last year, 0.3% above what he received in 2021. Particularly with the top of the ballot cleared out, it wouldn't be a surprise to see him get a bump in the order of what Fred McGriff (+16.6% in 2019) and Alan Trammell (+15.8% in 2016) received in their final years, though both were starting from the mid-20s, not the low 30s. While that's too little too late to get Kent anywhere on the writers' ballot, recall that Trammell was elected by the Modern Baseball Era Committee two years later and that McGriff is probably the favorite on this year's Contemporary ballot. Kent is just 21st among second basemen via JAWS, but his 377 homers and reputation as a big RBI guy are a better fit for Committee votes.
Lower down, Hunter (5.3%) and Buehrle (5.8%) cleared the cutoff by just one and three votes, respectively, and Abreu (8.6%) and Rollins (9.4%) were in single-digit territory. Voters may decide their candidacies are lost causes and drop them, but then again, with more space on the ballot after last year's clean out, they may pick up some votes as well.
Who is this year's Grady Sizemore?
While the official rules make anybody who played at least 10 seasons in the majors and has been retired for five seasons eligible — anybody who's not on baseball's ineligible list, that is, or has not already exhausted his eligibility — not everybody who meets those requirements actually lands on the ballot. That's because there's a stage that involves some subjective choices via the BBWAA Screening Committee, the six-member panel that determines the final slate; sometimes a player with a notable career but no shot at election, a player for whom just being included on the ballot is the real honor, slips through the cracks. In 2021 it was Sizemore, who through his age-25 season had made three All-Star teams and won two Gold Gloves but would thereafter become so beset by injuries that he played just 419 more games spread out over seven seasons, with a two-year absence in between; even so, his 27.8 career WAR was higher than both Nick Swisher and Michael Cuddyer, who did make the cut. Last year it was Michael Bourn, a two-time All-Star with 341 career steals but just 22.8 WAR. Other who have similarly missed the cut include Shannon Stewart (2014), Chan Ho Park (2016), Javier Vazquez (2017), and Mark Ellis (2019). This year, the dubious honor goes to Aaron Hill, a two-time Silver Slugger and one-time All-Star second baseman who accumulated 1,501 hits. His 24.4 WAR doesn't hold a candle to Ellis' 33.5; this is hardly an egregious oversight.
Do you get to vote?
Yes! As I joined the BBWAA in December 2010, the '20 season marked my 10th in the organization, and so I've had the honor twice already. As I did in the years before I got my ballot, I went through my entire process of reviewing all of the serious candidates before the deadline (some of the one-and-dones slipped into January, and that may happen again because it's more fun to Remember Some Guys who won't make it to Cooperstown than to rush through them), and the exercise formerly known as "My Virtual Ballot" has become "My Ballot" https://blogs.fangraphs.com/jay-jaffes-2021-hall-of-fame-ballot/. Here's me filling out my first one:
For real:https://t.co/ZR4lfaxMcxhttps://t.co/fVwOUpBnor pic.twitter.com/Gm3vkfoIGq

— Jay Jaffe (@jay_jaffe) December 29, 2020
I'm not the only one at FanGraphs with a ballot. David Laurila, who like me first obtained his BBWAA card as a member of Baseball Prospectus in December 2010, is in his third year of voting as well. Meanwhile, Effectively Wild's Ben Lindbergh received his first ballot last year, but chose not to vote given his feelings regarding the character clause.
Anyway, while this cycle won't be the most fun we've had doing this — the fun of watching the 10th-year candidates boosted by JAWS and other advanced statistics make it across the 75% threshold has been the real highlight — the departure of Bonds et al., and the thinning of the crop of candidates should lower the temperature around this year's discussions. Here at FanGraphs, we'll have our annual crowdsource ballot soon, as well as my coverage of each and every candidate. Stay tuned!