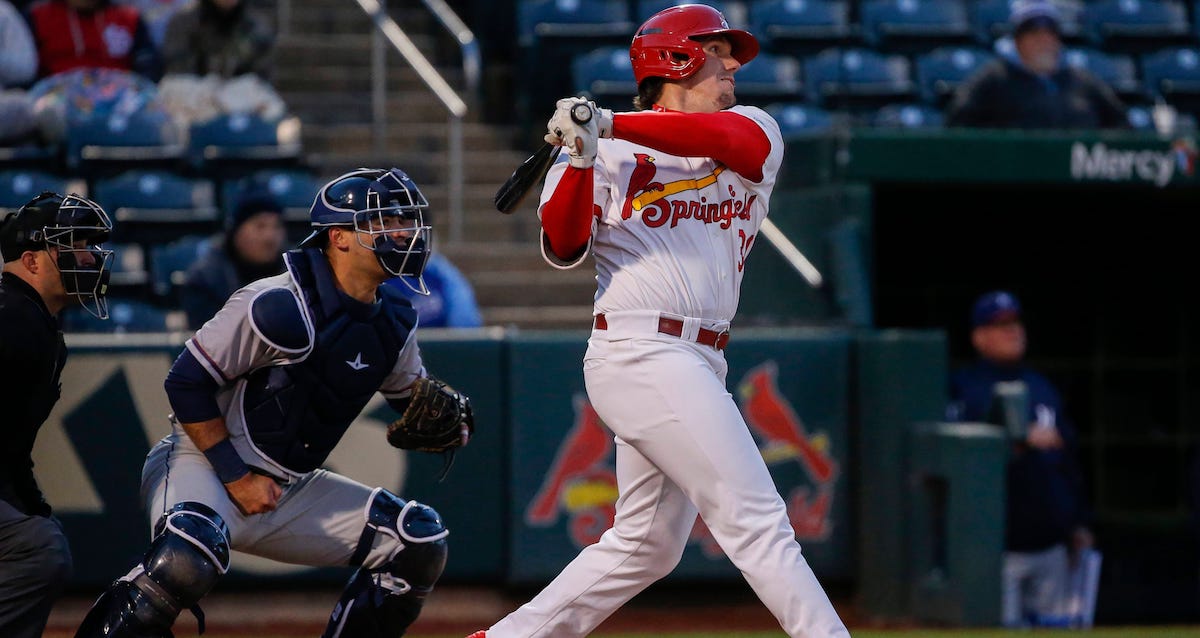 This season, Eric and Tess Taruskin will each have a minor league roundup post that runs during the week, with the earlier post recapping some of the weekend's action. You can read previous installments of our prospect notes here.
Nick Loftin, CF, Kansas City Royals
Level & Affiliate: Double-A NW Arkansas Age: 23 Org Rank: TBD FV: 45
Weekend Line: 4-for-9, 2B, HR, SB
Notes
Loftin, who was drafted as a shortstop, was first listed as an outfielder on the Royals' 2022 winter minicamp roster and has begun a transition to center field, playing there exclusively so far in 2022. It's a logical move given the glut of middle infielders ahead of him in the org, and it's worth noting that the Royals timed it so Loftin would have two seasons of play prior to his 40-man deadline day to make the move. While Loftin still needs some technical polish (for instance, he has a tendency to backpedal rather than turn his hips and run, and he doesn't look comfortable with at-'em balls) and often looks like a recent conversion guy out there, his gap-to-gap range is very exciting, and he has the pure speed to be an above-average or better center field defender with reps.
Much more polished is Loftin's bat. He's extremely tough to beat with velocity and squares up fastballs with regularity, spraying them into both gaps. He keeps things incredibly simple at the plate, which is part of why he has made such consistent contact, but one can imagine him making more athletic use of his lower half and adding more power eventually. Loftin is also a very wiry, pretty skinny guy. He's 23, so maybe the cement on his body is dry, but between his frame still having room for mass and his swing perhaps housing dormant power, there are a few potential avenues for him to add thump. Right now he profiles as a contact-oriented center fielder, a profile that's currently pretty scarce across baseball. Myles Straw is a more extreme contemporary example.
Chandler Redmond, 1B, St. Louis Cardinals
Level & Affiliate: Double-A Springfield Age: 25 Org Rank: TBD FV: 35+
Weekend Line: 6-for-12, 2B, HR
Notes
Redmond is a former 32nd round senior sign out of Gardner Webb who owns a .269/.361/.502 career line in pro ball. His peak exit velos in 2021 were in the same ballpark as those of Jordan Walker and Nolan Gorman, and his 30% barrel rate comfortably led the entire system, but Redmond also struck out roughly a third of the time as an old-for-the-level player. While his strikeout rate in 2022 is a very manageable 20% so far, there's been no obvious mechanical or approach change to support that shift being sustainable. Though they've tried him at several other positions in the past, including second base, the Cardinals have deployed the 230-pound Redmond exclusively at first base and DH so far this season. There have been 1B/DH types who strike out about a third of the time, hit about .210 and reach base at about a .300 clip, but hit for enough power to be Lucas Duda or Brandon Moss, or even post some of the middle-of-the-road Chris Davis years. More likely, Redmond is in a Quad-A limbo and is possibly a candidate for pro ball abroad.
Zach McCambley, RHP, Miami Marlins
Level & Affiliate: Double-A Pensacola Age: 23 Org Rank: TBD FV: 40
Weekend Line: 6 IP, 4 H, 0 R, 1 BB, 8 K
Notes
McCambley has now had two consecutive quality starts after surrendering 21 total runs in his four April outings. His best pitch remains his sweeping, low-80s breaking ball, which has 2-to-8 shape. This is an especially effective backdoor pitch, and McCambley hardly ever leaves it vulnerable and hanging, almost always dotting the corner with it or finishing it below the zone. His fastball is more of a sinker than a bat-misser, vulnerable in the zone and not a great natural complement to his breaker. While he repeats his delivery with the consistency befitting a starter, limitations around his fastball utility might mean a bulk relief role is a better fit for McCambley, who can pitch backward (and very heavily) off his plus curveball.
Raimon Gomez, RHP, New York Mets
Level & Affiliate: Low-A St. Lucie Age: 20 Org Rank: TBD FV: 35+
Weekend Line: 2 IP, 0 H, 0 R, 1 BB, 3 K
Notes
The hard-throwing Gomez has only made three appearances so far this season, all within the last two weeks. He's been sitting 94-96 mph and has peaked at 99, while bending in a slider in the 84-88 mph range that is above-average due more to its velocity than its raw movement. Some of the few changeups he's thrown have had encouraging vertical drop, enough that Gomez looks like a potential three-pitch prospect on paper. Even though his frame is relatively maxed out, he is also super loose and has a lightning-quick arm. His feel for throwing strikes, especially quality fastball strikes, is not anywhere close to where it would need to be for Gomez to start, but he only signed last August and had all of 12 innings under his belt entering this season. His workload will likely need to be managed very conservatively, in part because of when he signed and how few innings he threw last year. Because Gomez is so new to pro ball, it's reasonable to be optimistic about big growth in the strike-throwing/command realm, and there's a remote chance he ends up starting eventually since he basically has a five-year dev timeline encompassing his first option year. For now, he's an exciting out-of-nowhere, old-for-the-market international signee whose pro career is just underway.
Edinson Batista, RHP, Houston Astros
Level & Affiliate: Low-A Fayetteville Age: 19 Org Rank: TBD FV: 35+
Weekend Line: 5 IP, 3 H, 1 R, 1 BB, 10 K
Notes
The 19-year-old Batista doesn't have dominant stuff, and he hasn't been consistently performing to quite the level of his weekend line, but he is a projectable youngster keeping his head above water in full-season ball, and has a chance to carve out a backend rotation spot down the line. His low-90s fastball touches 94 mph and plays best at the letters, living more off of angle than explosive movement. Batista also has an average, low-80s slider and a fringe curveball, both of which could add power as he continues to physically mature. His delivery is balanced and consistent enough to project Batista as a starter, though he hasn't shown any early indicators that he's going to have special, role-cementing command. For now, he's a well-rounded developmental starter, probably a lower-variance one likely to mature into a fifth to seventh starter type.