It's true – compared to previous seasons, hitters are struggling against pitchers. The league batting average is the lowest it's been in decades even if you exclude pitchers, the strikeout rate the highest. It's easy to point fingers at the people tasked with making contact, but really, there's no simple defense against a triple-digit heater followed by a wipeout slider.
But sometimes, the hitters fight back. They're world-class athletes after all, and are capable of actions we can only dream of. Hitting a baseball 400 feet for a home run is one such example, but let's go a step further. What about home runs hit off of seemingly impossible pitches? Today, I wanted to look at the four highest home runs hitters have belted out this season, then determine which one is the most impressive. This unfortunately means I had to leave out Jazz Chisholm's homer off Jacob deGrom, as the pitch wasn't high enough, but don't worry, you can read about it here.
With that introduction out of the way, let's meet the candidates alongside their home runs. The first batter up is Willians Astudillo:
Next is Willie Calhoun:
Followed by Shohei Ohtani:
And finally, Dominic Smith:
Finished admiring the majestic blasts? Awesome. Here's how this works. Evaluation will take place across five criteria: pitch height, batted ball data, additional pitch data, situational data, and batter height. The hitter(s) who excelled the most in a category will receive a point, and at the end, the player with the most points will be crowned the winner. Let's get started.
Pitch Height
Pitch Height
| Hitter | Pitch Height (ft) |
| --- | --- |
| Willians Astudillo | 4.24 |
| Willie Calhoun | 4.04 |
| Shohei Ohtani | 4.19 |
| Dominic Smith | 4.07 |
SOURCE: Baseball Savant
That's an easy point for La Tortuga there. Not only is this the highest pitch hit for a home run this season, but it's also the highest since September 2019, when Josh Naylor attacked a pitch that was 4.4 feet off the ground. The difference between his and Ohtani's doesn't seem massive, but baseball comes down to the minute – had Astudillo swung a tad under, he might have whiffed or hit a weaker fly ball instead. Plus, home run pitches closer to the mean are even more clustered, so 0.05 feet is actually significant! Let's move on.
Batted Ball Data
Batted Ball Data
| Hitter | EV (mph) | LA (deg) | Distance (ft) |
| --- | --- | --- | --- |
| Willians Astudillo | 95.7 | 28 | 376 |
| Willie Calhoun | 104.2 | 25 | 418 |
| Shohei Ohtani | 105.9 | 27 | 431 |
| Dominic Smith | 101.8 | 30 | 390 |
SOURCE: Baseball Savant
This round goes to Ohtani at first glance, having recorded the greatest exit velocity and hit distance of the four. The decision also seems easier when you consider that the expected wOBA on his batted ball was a whopping 1.838. Per Baseball Savant, it would have been a home run in all 30 ballparks.
But there's a factor xwOBA doesn't incorporate by design, and that's spray angle. Here's a tweet from Alex Chamberlain showing why it's relevant for our purposes:
semi-related, but something about which @ckurcon and i bantered (before he got HiReD bY a TeAm)…

90th percentile EV vs. spray angle

there is clearly a limit to human strength going oppo; exerting uncommon power to the opposite field should be heeded with additional enthusiasm https://t.co/p6btYWhACD pic.twitter.com/ZAkLeUTsev

— Alex Chamberlain (@DolphHauldhagen) May 19, 2021
As the graph demonstrates, it becomes exceedingly difficult for batters to exert strength on balls sent the other way. The batted balls numbers for Dominic Smith are middling, but he's the only hitter of the bunch to go oppo. Even excluding pitch height, there have been just 179 homers hit 100-plus mph to the opposite side this season, compared to 827 of them to the pull side. To reconcile these two facts, I've decided to award points to both Ohtani and Smith for the sheer power they demonstrated, albeit in contrasting ways.
Additional Pitch Data
Pitch Data
| Hitter | Velo (mph) | H Mov (ft) | V Mov (ft) |
| --- | --- | --- | --- |
| Willians Astudillo | 92.8 | -0.78 | 1.65 |
| Willie Calhoun | 97.5 | -0.65 | 1.67 |
| Shohei Ohtani | 93.6 | 0.48 | 1.20 |
| Dominic Smith | 92.3 | -0.38 | 1.71 |
SOURCE: Baseball Savant
All were four-seam fastballs.
First things first, I think we can rule out Ohtani. Vertical break is what gives four-seam fastballs the illusion of rise, and 1.2 feet just isn't going to cut it. The remaining hitters all teed off fastballs with similar vertical break, so this category will come down to velocity and horizontal break. Here, we have another conundrum. There's mixed evidence surrounding whether pitch speed significantly impacts exit velocity, most of it involving physics I don't fully understand. Some could say Liam Hendriks' 97.5 mph aided Calhoun, but to others, that made his home run all the more admirable.
For now, I'd say sending such a fastball over the wall is a cause for celebration. While it lacks the horizontal movement of Astudillo's home run pitch and falls slightly short in the vertical break department, no other pitch is even close in terms of velocity. As a result, Willie Calhoun rightfully earns his first point of the competition.
Situational Data
Situational Data
| Hitter | Home/Away | Count | WPA |
| --- | --- | --- | --- |
| Willians Astudillo | Home | 1-2 | 0.126 |
| Willie Calhoun | Away | 1-1 | 0.355 |
| Shohei Ohtani | Home | 1-2 | 0.122 |
| Dominic Smith | Away | 1-1 | 0.194 |
SOURCE: Baseball Savant
If we're going to get into the real nitty-gritty of whose home run is worthy of first place, we need to examine the context in which they were hit. The count matters, since it dictates the approach of hitters and pitchers alike. For the most part, with two strikes, batters are looking to defend. One additional strike, and their chance is over. Standing on the mound, the pitcher has the opposite goal in mind – he wants the batter to chase, so he'll most likely aim outside the zone.
This creates an intriguing dynamic. You'd think hitters could just take the pitch, but the risk outweighs the reward: A ball only gets you to a slightly less dangerous count. And often, pitchers will disrupt the status quo by hitting the zone. There's a lot of game theory to consider, and usually, hitters are at a disadvantage. They've mustered a paltry .177 wOBA in 1-2 counts so far this season, much lower than their overall average of .310 wOBA. With this in mind, we should give props to Astudillo and Ohtani for overcoming the odds.
However, Calhoun also deserves a mention. Picture his situation: Down one-nothing in the ninth as the away team, he's up against Liam Hendriks, one of the league's best closers. There's torrential downpour, making this already unpleasant experience worse. Despite everything, he yanks a fastball at his hands to tie up the game. According to Win Probability Added, Calhoun increased the Rangers' chance to win by 35.5 percentage points.
The White Sox prevailed thanks to a Nick Madrigal walk-off single, but that doesn't take away from Calhoun's valiant effort. All three hitters mentioned in this section will earn a point.
Batter Height
There's something about Ohtani's slender, yet muscular frame that makes his every action pleasing to watch. He wields his bat like a sword, and he rounds the bases like a gazelle. It's great. In this home run derby, though, it won't work in his favor. I know there are massive error bars when it comes to player height and weight, but Ohtani is listed as 6-foot-4 on Baseball-Reference. It's arguably much easier for him to hit a high pitch. Here's a table that lists batter height, pitch height, then the result from subtracting the two:
Batter Height
| Hitter | Batter height (ft) | Pitch Height (ft) | Diff. |
| --- | --- | --- | --- |
| Willians Astudillo | 5.9 | 4.24 | 1.66 |
| Willie Calhoun | 5.8 | 4.04 | 1.76 |
| Shohei Ohtani | 6.4 | 4.19 | 2.21 |
| Dominic Smith | 6.0 | 4.07 | 1.93 |
Using this metric, Astudillo comes out on top. He's 5-foot-9, and he basically hit a pitch that was at eye level. Seriously, juxtapose him with Ohtani, and you get a better sense of how ridiculous it is that he made good contact let alone that he sent a ball 376 feet: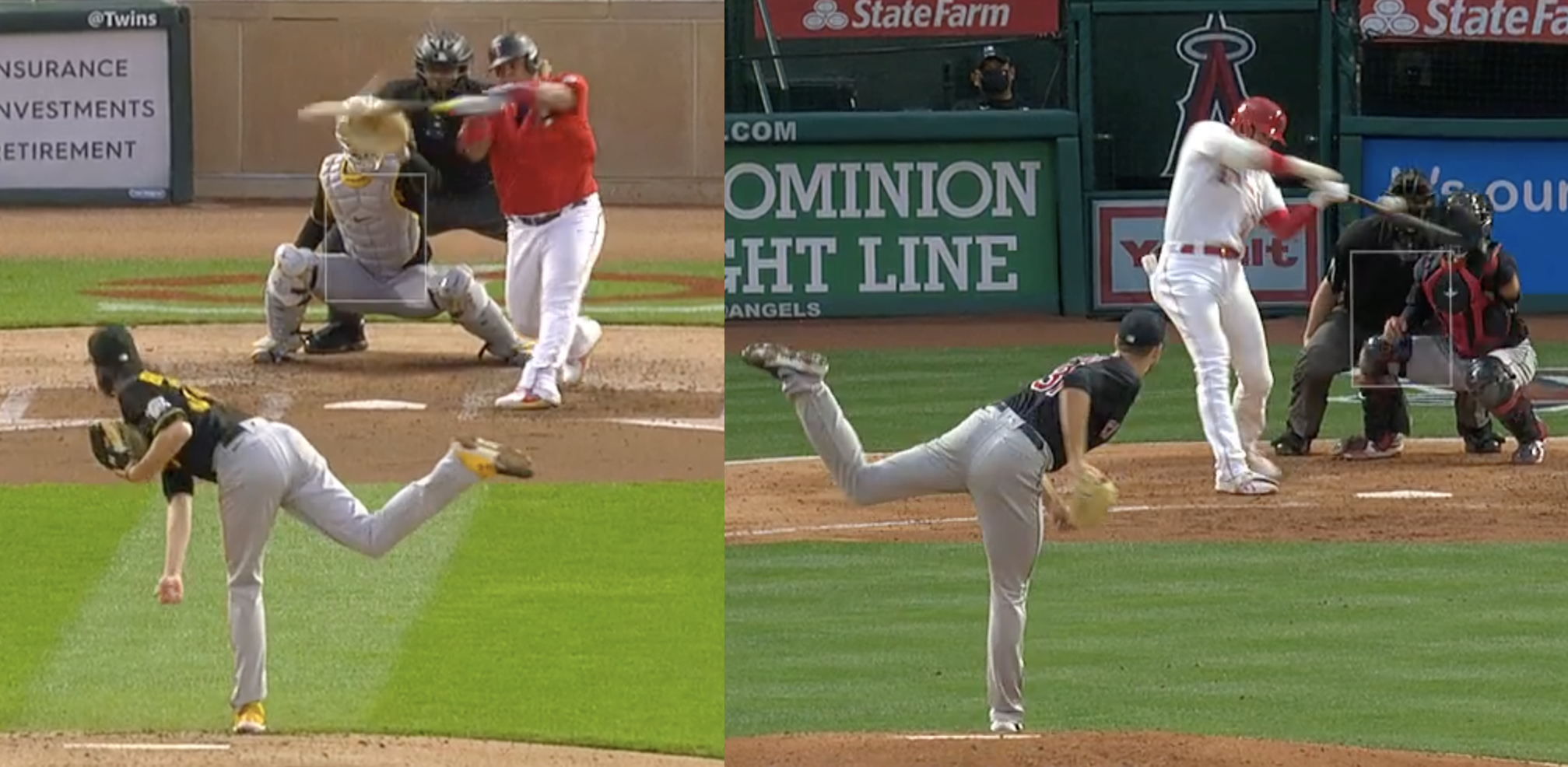 Astudillo's vertical bat angle is as flat as it can be. Why does that matter? In general, a flatter bat angle will give hitters trouble reaching pitches that are up or down. Furthermore, it produces a surface area that is more prone to mishits – the top of the barrel leads to pop ups, the bottom of the barrel leads to grounders. A steeper angle would reduce that area, albeit at the cost of additional whiffs. Astudillo needed to make perfect contact to hit one out, and well, he did. The final point absolutely goes to him.
The Results
Drumroll or the hype-builder of your choice, please…
Final Results
| Hitter | Pitch Height | Batted Ball | Pitch Data | Situational | Batter Height | TOTAL |
| --- | --- | --- | --- | --- | --- | --- |
| Willians Astudillo | 1 | 0 | 0 | 1 | 1 | 3 |
| Willie Calhoun | 0 | 0 | 1 | 1 | 0 | 2 |
| Shohei Ohtani | 0 | 1 | 0 | 1 | 0 | 2 |
| Dominic Smith | 0 | 1 | 0 | 0 | 0 | 1 |
Congrats, Willians! Perhaps having the highest pitch gave you a head start. But you also demonstrated your bat-to-ball skills by refusing to waver with two strikes and overcoming physical limitations. And again, kudos to Calhoun, Ohtani, and Smith, who didn't win but nevertheless accomplished a relatively rare feat. Lastly, this is all for fun, but I wonder if outlier-ish batted ball events are a predictor of future skill. That's a topic for a future, more research-oriented piece. For now, let's remind ourselves that in a year where pitchers are in the spotlight, hitters are also capable of defying expectations.