The Fall Classic is here, the 117th World Series, which will end with the Commissioner's Trophy and a stage with room for just one victorious organization. Two supremely talented teams are at the end of an eight-month gauntlet — one that began with the singular, casual, quiet pop of catchers' mitts in Florida and will end in a pressure cooker, with screaming masses and the attention of the sports world, as the AL champion Astros, in their third World Series of the last five years, will face the NL champion Braves in their first since 1999.
It's been a mixed, inconsistent decade for Atlanta in the post-Bobby Cox era. The franchise's 15-year reign over the NL East, which it won every year from 1991 to 2005 except for the strike-shortened '94 season, holds a unique place in the baseball culture. Anyone over 30 saw most of it unfold every day on cable if they wanted to — my ex-brother-in-law grew up in Pennsylvania with Andres Galarraga's number painted in Wite-Out on his fitted cap — thanks to the club's presence on TBS. The Braves' 22-year World Series drought hasn't been entirely hapless, and they have had stretches of contention, making the next six postseasons after their '99 sweep at the hands of the Yankees, even as some of that core aged and/or moved on. Fittingly enough, the final two seasons of their division champions streak ended with postseason losses to the Astros, in both the 2004 (Carlos Beltran's Godtober) and '05 (Clemens, Oswalt, Pettitte) NLDS; so too did their tenure on TBS, which concluded with a 3–0 loss in Houston at the end of the 2007 regular season.
Then came, relatively speaking, a swoon. The Freddie Freeman/Brian McCann/Jason Heyward/Andrelton Simmons core drove the Braves to four consecutive 89-win or better seasons from 2010 to '14, but that group won just two postseason games during that stretch. It was during this time period that Cox retired and a brief descent to the bottom of the division began. The arrival of the current core (Ozzie Albies, Dansby Swanson, Ronald Acuña Jr., etc.) has put them back on top of the NL East for the last four years, and they've slowly crept deeper and deeper into the postseason, culminating in this year's pennant.
Those Astros postseason victories in 2004 and '05 marked the tail end of Houston's "Killer B's" era, dominated by Craig Biggio, Jeff Bagwell, Lance Berkman, and others (Billy Wagner, Moises Alou, Octavio Dotel… these teams were absolutely stacked). Houston finished over .500 ten times in eleven years before losing the NLCS to Albert Pujols and the Cardinals in '04 and the World Series to the White Sox in '05 and slowly beginning a fall from grace, both on and off the field. Jeff Luhnow was hired away from the Cardinals front office to helm an intense rebuild that included three consecutive 100-loss seasons, and the draft picks from that stretch produced Carlos Correa, Lance McCullers Jr., Kyle Tucker, and Alex Bregman … as well as the Brady Aiken controversy that would pale in comparison to what lay ahead for the franchise.
Slowly but surely, the Astros got better. They surrounded a core of homegrown hitters with pitchers whose stuff and approach to pitching hadn't been optimized elsewhere, and a 2017 World Series win marked the start of five consecutive seasons in which they reached the ALCS — a run that was tainted not long after.
There looms the possibility that much of the conversation and media discourse during the next two weeks will revolve around the scandals that each franchise has been party to during the last several years. (It's simultaneously freeing and grotesque that such conversations could have occurred regardless of who had won each LCS.) The Braves had an international signing scandal that earned then-GM John Coppolella a lifetime ban; he ended up throwing away his career for players who, it turns out, aren't very good. They built a controversial new stadium in a controversial location. Carter Stewart's post-draft medical drama was ugly, and it was far from the first time a high school pitcher failed his physical for an Alex Anthopolous-run team. They still do The Chop. And just this year, Marcell Ozuna was arrested midseason for a domestic violence assault.
As for Houston, there is, most obviously, the sign-stealing scandal tied to that 2017 title, which cost Luhnow and manager A.J. Hinch their jobs and still hangs over the team today. Beyond that, there was the Aiken fiasco, which the organization ended up benefitting from, and a few foreign pitchers had their bonuses reduced after their physicals. There was also the 2018 trade for Roberto Osuna, at the time suspended for assaulting a woman, and then-assistant general manager Brandon Taubman taunting female reporters after Houston's ALCS win in 2019 by telling them he was glad the team had acquired him. (Taubman was fired not long after.)
There's no excusing what either team has done in the recent past. It's also worth remembering that some amount of ethical disregard runs through our game's most successful franchises, yet another societal microcosm visible in sport. Both Houston and Boston, for example, were party to sign-stealing scandals which resulted in the loss of draft picks and suspended field/front office personnel, with the once-disgraced Alex Cora fired (and eventually re-hired) by the Red Sox when that came to light. Had it been Los Angeles here instead of Atlanta, maybe we'd be talking about Dodgers GM Andrew Friedman's history of acquiring known bad apples and an international scouting department that was previously at the center of a federal human trafficking investigation.
If nothing else, Astros hitters have proven something this year by having the best offense in baseball while, presumably, not cheating. Their manager, Dusty Baker, is a 72-year-old baseball lifer who has never reached the mountaintop, and there's strong industry desire to see him get a ring. How discussion surrounding the sign stealing (or whatever the controversy of the moment is) will be presented on the broadcast, and whether it brings about renewed public and journalistic interest, will be an interesting subplot to the series.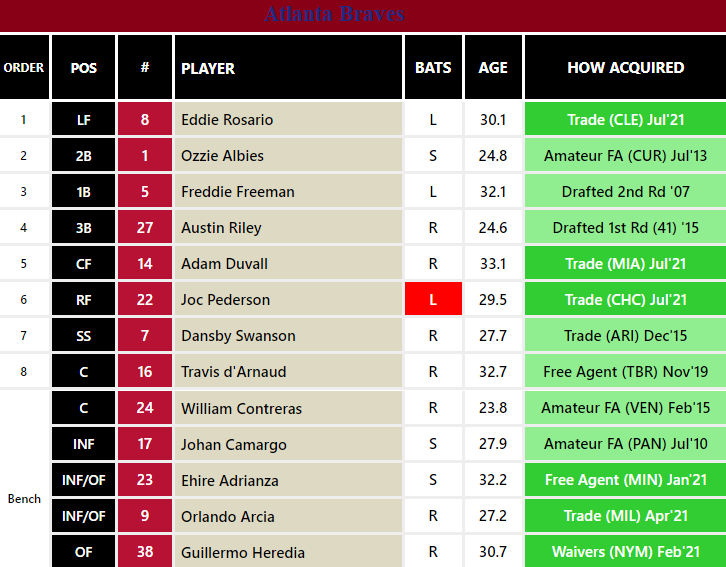 Nothing about Atlanta's 2021 on-paper performance really screams at you. The Braves finished near the middle of the pack in most team categories — both hitting and pitching, both starters and relievers. Acuña was second among Braves hitters in WAR despite playing just half a season. What is remarkable has been how effectively the team was reshaped to give it a shot to withstand key injuries, and the way that a lefty-heavy bullpen seems to be peaking at exactly the right time. While they didn't suffer quite the same amount of injuries as some other clubs this year, the Braves' losses, pound-for-pound, were as severe as anyone else's in baseball (Acuña, Mike Soroka, several weeks of Ian Anderson and Max Fried). Anthopolous, arguably the favorite to win Executive of the Year, had to sew together an outfield around Ozuna's arrest, Cristian Pache's developmental speed bump, and Acuña's torn ACL. Abraham Almonte helped carry the offense for the first few weeks of the season, then trades for Eddie Rosario, Joc Pederson, Jorge Soler, and Adam Duvall around the deadline solidified the group and have had a huge impact on Atlanta's postseason fortune, especially Rosario and Pederson.
The lefty relievers — Tyler Matzek, A.J. Minter, and Will Smith — had a dominant NLCS, combining to allow just two runs in their 16 innings against the Dodgers; Fried was the lone Brave to throw several innings more than either Minter or Matzek during that series. That southpaw trio will be charged with neutralizing ALCS MVP Yordan Alvarez and Tucker late in games.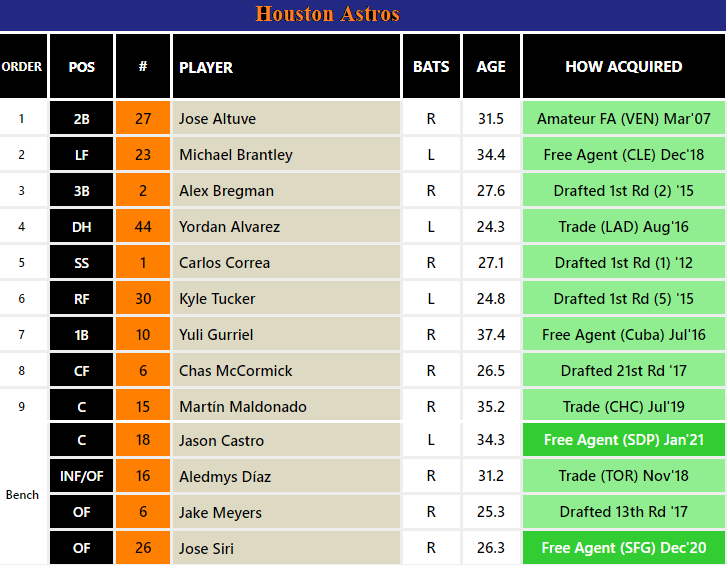 Houston has also dealt with personnel losses, though in different forms than Atlanta. Injuries (McCullers, Justin Verlander) and players lost to free agency have put an emphasis on the core of bats that is still carrying Houston. Like Atlanta, the Astros also have a hot bullpen, one that hasn't allowed a run since Game 3 of the ALCS. Cristian Javier, who has thrown 7.2 scoreless postseason innings, may be a series-altering, multi-inning lynchpin for Houston, whose starters have had a tough time going deep into games, especially with McCullers' forearm injury keeping him off the roster and thinning Houston's rotation.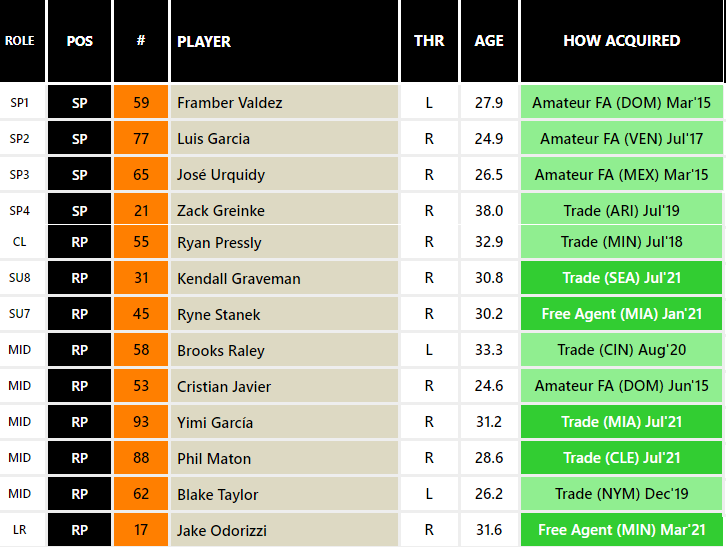 While Atlanta has become a more matchup-centric team since their deadline acquisitions, Houston runs a deep lineup of everyday guys who are unlikely to come off the field during any part of the World Series. As of this writing, it's still unknown whether rookie Jake Meyers, a logical platoon partner for Chas McCormick in center field, will be healthy enough to make the Astros' World Series roster. But aside from the occasional left-right interplay among center fielders and the occasional situation in which it's advantageous to pinch-hit with Aledmys Díaz, Baker has few impactful levers to pull on the offensive side of the ball.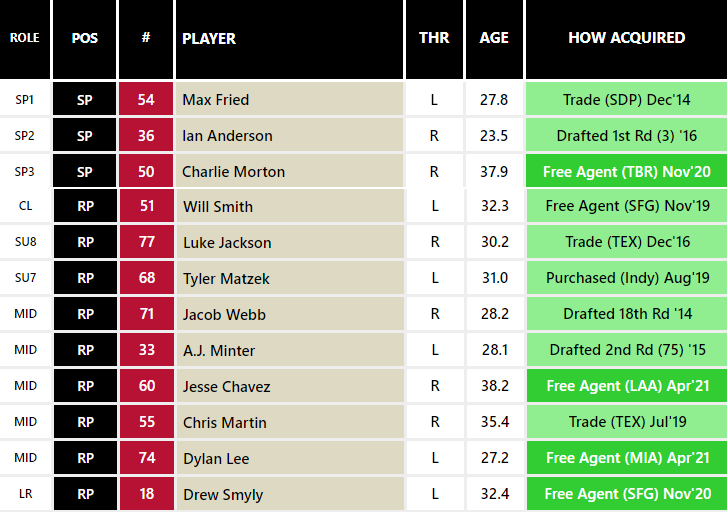 Even without McCullers, both teams have something resembling a traditional postseason pitching staff available for this series. Sinker/curveball lefty Framber Valdez, one of several Astros pitchers who signed later than the typical international amateur player, will take the ball opposite former Astro Charlie Morton in Game 1. The opposite occurs in Game 2, when Fried, who was under Houston's consideration for the draft pick that became Correa, toes the rubber for the Braves. He is projected to face the seemingly compromised Luis Garcia, who has had a couple rough, short outings amid knee discomfort but tossed 5 2/3 innings of scoreless one-hit ball in the ALCS finale.
From my perspective, this World Series matchup feels apt, as the teams participating in it come from the parts of the country (the deep Southeast and Gulf Coast areas) where an outsized portion of the amateur talent is being cultivated. Atlanta, Houston, and every baseball diamond in between the two have been hotbeds for prospects, and it's a section of the country that simply seems to care about baseball more than most. Hopefully we have an exciting World Series that aims focus at the game itself and the talent and hard work of those who play it.