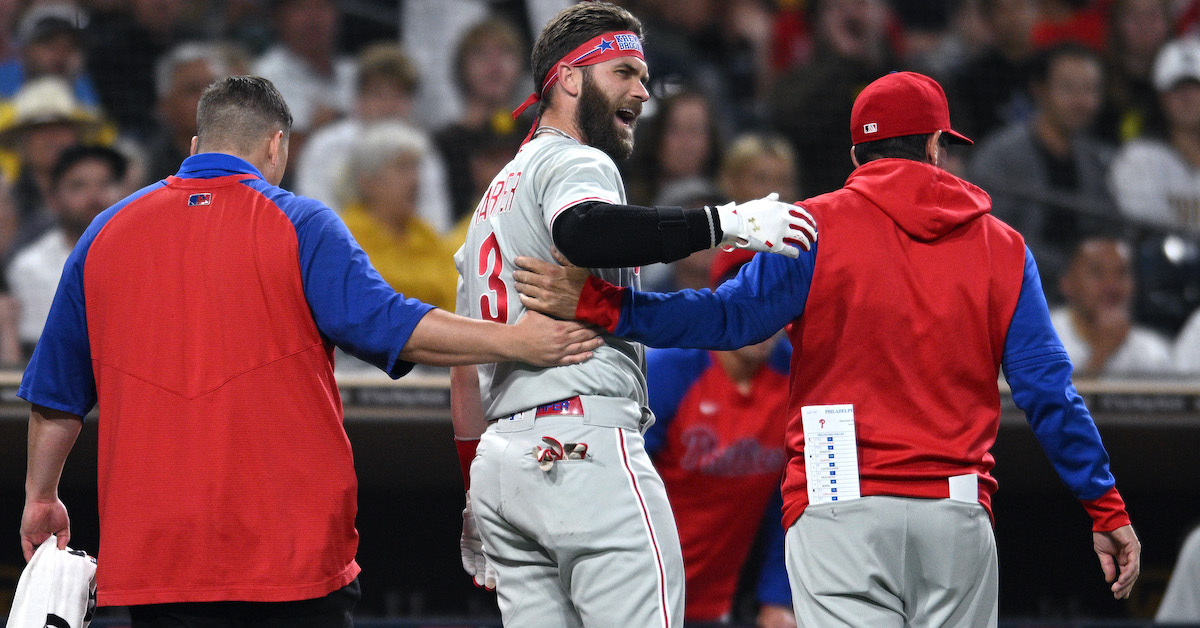 Since firing manager Joe Girardi on June 3, the Phillies have made significant strides toward climbing back into the playoff hunt, but on Saturday night, their chances took a significant hit. In the fourth inning of their game with the Padres in San Diego, Bryce Harper was hit by a 97-mph Blake Snell fastball, fracturing his left thumb and knocking him out of the lineup indefinitely.
When Harper was hit, his hands were so near his head that initially it appeared he got hit in the face. Even after it was clear that it had not, it was apparent that his injury was a significant one:
"I kind of wish it would have hit me in the face," Harper told reporters afterward, conveniently forgetting many a career-altering beaning. "I don't break bones in my face. I can take 98 to the face, but I can't take 97 to the thumb."
The 29-year-old Harper, the National League's reigning Most Valuable Player, was already playing through a torn ulnar collateral ligament in his right elbow, an injury that was diagnosed in mid-May, after which he received an injection of platelet-rich plasma. The tear is apparently traceable to an April 11 throw from right field that had limited Harper to designated hitter duty since April 17. Last week, he missed three games due to an infected blister at the base of his left index finger.
Despite the elbow injury, Harper has thrived. He's hitting .318/.385/.599 with 15 homers, with both his slugging percentage and 166 wRC+ ranking second in the NL — the latter mark just four points below last year's major league-leading figure — and his 2.7 WAR ninth. This month, as the team has gone 18–6 (17–6 since firing Girardi, including wins on Saturday and Sunday over the Padres), Harper hit .359/.455/.641 (201 wRC+), practically carrying the offense. But at this writing, he's the third of the NL's top 10 players in WAR to be sidelined by an injury, joining Manny Machado (sprained left ankle) and Mookie Betts (cracked rib) in the virtual infirmary.
While the move to DH kept Harper in the lineup, it exacerbated the Phillies' already obvious defensive woes, as both Kyle Schwarber and Nick Castellanos, the team's two big-money free agents from this past winter, had to play the outfield at the same time in order to keep their bats in the lineup. As it is, the team entered Sunday tied for eighth in the NL in defensive efficiency (.688, four points below league average) but second-to-last in both Defensive Runs Saved (-26) and in Fielding Runs Prevented (-21). Castellanos (-12 DRS, -6 RAA) and Schwarber (-2 DRS, -4 RAA) have both played their parts in deflating those numbers, with the former also hitting for just a 93 wRC+ this year (.252/.306/.387), making the tradeoff even worse. The team's defensive situation has been further exacerbated by the loss of Jean Segura, the most defensively adept infielder in a group that also includes Rhys Hoskins, Didi Gregorius, and Alec Bohm, a trio that has combined for -10 DRS and -11 RAA. He'll be out for 10–12 weeks due to a broken right ring finger that required surgery.
None of the second basemen who have replaced Segura — Bryson Stott, Johan Camargo, and Yairo Muñoz — have been productive. In fact, besides Harper, only Hoskins (172 wRC+ in 99 PA) and Schwarber (183 wRC+ in 104 PA) have provided significantly better-than-average offense while playing regularly in June. The efforts of those three sluggers have still been enough to push the Phillies' wRC+ for the month to 112, up 14 points over their mark through May. Even so, the team's turnaround has had as much to do with improved run prevention:
Phillies by Month
| Month | W-L | RS/G | AVG | OBP | SLG | wRC+ | RA | SP ERA | SP FIP | RP ERA | RP FIP |
| --- | --- | --- | --- | --- | --- | --- | --- | --- | --- | --- | --- |
| April | 11-11 | 4.55 | .244 | .318 | .400 | 100 | 4.00 | 3.94 | 3.81 | 3.83 | 3.74 |
| May | 10-18 | 4.43 | .244 | .305 | .402 | 96 | 4.86 | 3.95 | 3.18 | 4.55 | 4.19 |
| June | 18-6 | 5.33 | .247 | .325 | .433 | 112 | 3.88 | 3.15 | 3.49 | 3.99 | 3.72 |
As to how long Harper could be out, the Phillies will gain further clarity after he is evaluated in Philadelphia, perhaps as early as Monday. Via the Philadelphia Inquirer's Alex Coffey, "Harper said that he will see a doctor who specializes in thumb injuries when he is back in Philadelphia. He will see a second specialist if he needs to. [President of baseball operations Dave] Dombrowski said it's too early to say whether it will require surgery."
MLBcom's Todd Zoleski cited the estimated recovery times of four to six weeks for three players who recently broke their thumbs, namely Harper's teammate J.T. Realmuto (February), the Reds' Tyler Stephenson (earlier this month) and the Giants' Brandon Belt (last September). Baseball Prospectus' Recovery Dashboard lists 13 position players who suffered thumb fractures between 2016 and '21, reporting a mean absence of 35 days and a median absence of 18 days. However, the data is subject to a distortion caused by late-season injuries from which there was no return that year, including that of Belt. Without those, the mean and median are both 39 days, fitting right into that four-to-six-week range; surgery would probably put Harper's absence in the 10–12-week range, as with Segura.
With Harper out, the good news is that the team can return to DHing one of the aforementioned corner outfielders, but the bad news is that there don't happen to be any extra MVP-caliber sluggers just lying around. Mickey Moniak, who was called up from Triple-A Lehigh Valley to take Harper's roster spot, has only the uniform and the status of being a former No. 1 pick in the draft in common with Harper; he's hit just .139/.244/.181 with a 39.3% strikeout rate in 84 PA in the majors over the past three seasons. On Sunday, Matt Vierling started in right field and went 2-for-4 with a double, but he's hit just .239/.297/.370 (86 wRC+) this year. Depending upon Harper's prognosis, it's possible that Dombrowski could trade for a stronger bat, but the Phillies' farm system is among the weakest in the game, and strip-mining it for a long shot would be counterproductive.
Still, the loss is a huge blow to the team's playoff hopes. Last week, Dan Szymborski crunched the numbers and found that according to ZiPS, Harper was the NL's fifth-most irreplaceable player, though just an eyelash out of third; if he were to miss the remainder of the season, the team's Playoff Odds would drop by 8.4%. Here's what Szymborski had to say:
Remember, the Phillies basically needed to sign Nick Castellanos and Kyle Schwarber because their outfield options were bleak, and this issue didn't magically fix itself since April. Any outfield injury likely leads to a lot more Matt Vierling, who is a lot closer to his 2022 line than last season's small sample .324/.364/.479 line. ZiPS does not see Mickey Moniak as even a decent emergency plan, leaving Philadelphia's best option being a trade for someone like Tommy Pham, something complicated by the fact that the organization has had a lot of failures lately in player development.
Other pending free agent outfielders who might be available in trade include the Royals' Andrew Benintendi, the Diamondbacks' David Peralta, the Athletics' Chad Pinder, and the White Sox's AJ Pollock. None of them are game-changers, and again, it's not as though the Phillies' system has the kind of prospects to bring back game-changers.
Looking more directly at the team's Playoff Odds, here's the change from where they stood after Friday's loss (Harper's final full game) to where they are now:
Phillies Change in Playoff Odds
| Date | W | L | W% | GB | Win Div | Clinch Bye | Clinch WC | Make Playoffs | Win WS |
| --- | --- | --- | --- | --- | --- | --- | --- | --- | --- |
| June 24 | 37 | 35 | .514 | 9 | 2.4% | 2.0% | 29.8% | 32.3% | 2.3% |
| June 26 | 39 | 35 | .527 | 8 | 2.2% | 1.8% | 29.8% | 32.1% | 1.6% |
| Change | | | | | -0.2% | -0.2% | 0.0% | -0.2% | -0.7% |
Winning two games in a row, trimming a game off the division lead, and pulling to within one game of the third NL Wild Card spot masks the bigger blow: the team's odds of winning the World Series dropped by about 30%. Dial back to June 18, when the Phillies were a season-high five games over .500 (36–31), and they've lost 12.8 points in playoff odds (from 44.9%) and 1.3 points in World Series odds (from 2.9%) — and that's while playing the Nationals and Rangers as well as the Padres.
One need only look back to last July, when the Braves lost Ronald Acuña Jr. to a season-ending torn ACL and continued to meander around .500 for the remainder of the month before getting hot, making the playoffs, and winning the World Series, to imagine that a happy outcome is still possible for the Phillies. They are in better shape than the Braves were, in that Harper is likely to return, and they have a strong rotation, but betting on lightning to strike twice is a fool's errand. The team already has a battle ahead of it to overcome its flawed design. Doing so without Harper for a month or two makes it that much more difficult.