During last year's shortened season, Ian Happ led all Chicago Cubs batters with a 130 wRC+ and 1.9 WAR. It was a strong followup to his 2019 breakout season and it looked like Happ had established himself as an integral part of the core of Chicago's roster. Unfortunately, he got off to an extremely slow start this year. He blasted a home run in the third game of the season, but collected just nine other hits the rest of April. Heading into the All-Star break, he was hitting a paltry .183/.296/.330, good for a 74 wRC+. His early-season struggles weren't the main reason behind the Cubs collapse this year, but they certainly didn't help the team's cause.
Happ continued to struggle after the break, collecting just six hits in 16 games during the rest of July. His issues at the plate had forced him into a part-time role, but then the Cubs traded away a bunch of their roster prior to the trade deadline. Suddenly, Happ was thrust into an everyday role in the heart of the Cubs lineup and he responded with one of the best two months stretches of his career: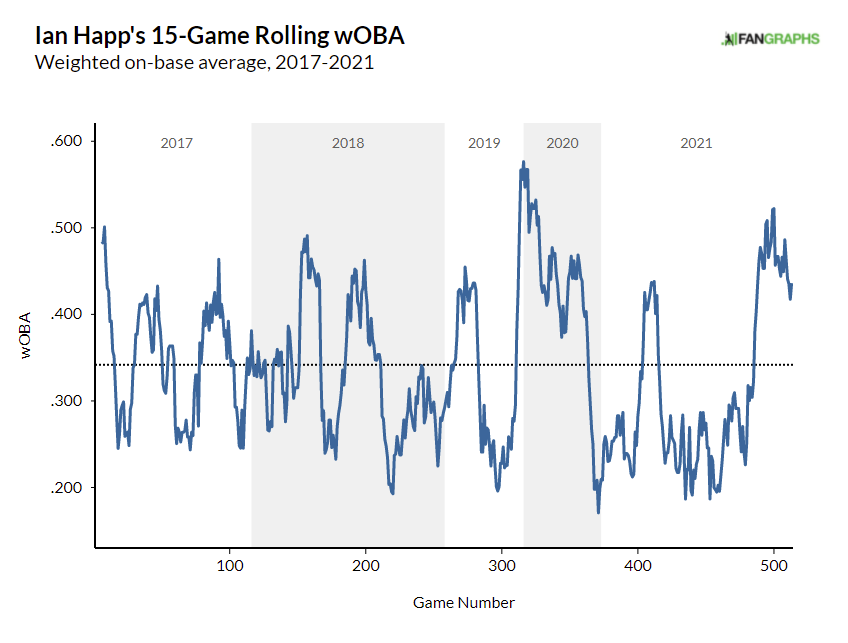 Since the calendar turned to August, Happ has hit 14 home runs and posted a .301/.361/.607 slash line, good for a 153 wRC+. His 186 wRC+ in September is the 11th highest mark among all qualified batters in the majors. This two month stretch of success comes a bit too late for the beleaguered Cubs, but it's a great sign for Happ's development.
During his 2019 breakout season, Happ significantly altered his approach at the plate, becoming much more aggressive to generate contact more often. His strikeout rate fell from 36.1% to 25.0% but he also saw a big drop in his walk rate as well. The next year, his approach swung to the opposite extreme. He became far more patient, satisfied to work the count a bit to get a pitch he could hit later on. So which version of his approach did Happ go with this season?
Ian Happ, Swing%, Various Splits
| Split | 2019 Swing% | 2020 Swing% | 2021 1H Swing% | 2021 2H Swing% |
| --- | --- | --- | --- | --- |
| First Pitch | 39.5% | 24.5% | 26.6% | 29.5% |
| 2 Strikes | 62.3% | 61.0% | 57.2% | 58.4% |
| 3 Balls | 52.7% | 48.9% | 56.5% | 60.9% |
| In-Zone | 74.6% | 64.4% | 63.2% | 68.1% |
| Out-of-Zone | 30.0% | 24.2% | 22.2% | 23.5% |
| Fastballs | 49.0% | 41.1% | 41.9% | 40.0% |
| Offspeed | 53.7% | 40.5% | 44.7% | 47.0% |
| Breaking | 58.8% | 50.4% | 42.4% | 56.5% |
Happ's approach looks much closer to that of his passive 2020 campaign than his aggression-fueled breakout season. There are a few key differences however. He was likely a little too passive last year, allowing far too many hittable pitches to go by early in the count. It ended up working out for him anyway, but the process didn't necessarily support the results. He's been a bit more aggressive this year and his swing rates have jumped up even further after the All-Star break. In particular, Happ has swung at pitches thrown in the zone at the highest rate since the 2019 season during his late-season hot streak. He's also swinging much more often in three ball counts. The result has been a strikeout rate that's stayed right around 29% throughout the entire season but a walk rate that's fallen from 12.6% in the first half to 9.0% in the second half.
During this recent stretch, Happ has also started swinging at far more of the breaking pitches he's seeing. For his career, he's posted a .519 wOBA on contact against breaking pitches, a fantastic mark against the pitch types that usually give batters fits. But during the first half of this year, his swing rate against sliders and curveballs fell to the lowest point of his career despite putting up a .464 wOBA on contact against them. His wOBA on contact has fallen to .422 against breaking balls in the second half, but he's put nearly twice as many in play during that period.
Here's what Happ told Sahadev Sharma of The Athletic in early September about the adjustments he's had to make at the plate this year:
"A lot of times it's a mentality of when to put the ball in play, when to swing at strikes and trying to see the ball before you make these decisions. Guys are throwing 95-plus with a secondary pitch that for 30-50 feet looks a lot like the other ones. So trying to make good decisions and at the same time trying to be out front sometimes don't work together perfectly. So it's a balance of understanding the pitcher and trying to pick your spots in situations or guess the pitches and being OK with that."
Even as he's continued to hone his approach at the plate, Happ has enjoyed some fantastic contact quality during the second half of the season. That should be obvious considering the results he's put up, but it's put into stark relief when compared to the contact quality he put up in the first half:
Ian Happ Batted Ball Peripherals
| Year | ISO | Avg Exit Velocity | Barrel% | Hard Hit% | xwOBAcon |
| --- | --- | --- | --- | --- | --- |
| 2019 | .300 | 89.8 | 13.7% | 38.2% | .419 |
| 2020 | .247 | 91.1 | 10.3% | 48.5% | .448 |
| 2021 1H | .148 | 88.5 | 9.1% | 40.9% | .353 |
| 2021 2H | .276 | 89.9 | 12.8% | 42.6% | .434 |
Happ has consistently put up elite contact quality marks throughout his career, but saw all those metrics take a steep dive during the first four months of the season. A big reason why he's seeing more positive results when he makes contact is that he's gone back to elevating his batted balls. In the first half of the season, his groundball rate was 49.3%, which would have been a career-high mark. It's dropped to 41.4% since the All-Star break, much more in line with his career norms.
It seems like the key for Happ is an approach that allows him to put enough balls in play to take advantage of his excellent contact quality. Indeed, his contact rate has been elevated to just under 70% this year after it suffered through a six point drop last year. With a strikeout rate that's well above average, it seems like he will always have some swing-and-miss in his profile. The trick will be to offset those strikeouts with plenty of hard hits when he does make contact. He threaded that needle in 2019 and '20 but the contact quality fell off earlier this year leading to his prolonged slump.
With just two more years of team control left, Happ likely isn't a part of the Cubs long-term plans. It's hard to tell how quickly they'll want (or be able) to cycle out of this rebuilding phase that was kicked off when Kris Bryant, Anthony Rizzo, and Javier Báez were all traded away this summer. Even if they try to build a competitive roster sooner rather than later, it's probably too late for Happ to play a major role on the next great Cubs team. That means the success he's seen in the second half of this year and whatever he accomplishes next year could be an extended audition for a potential move in the future. Through the first half of this season, it looked like Happ had greatly harmed his value to the Cubs and potential trade partners. Now that he's honed his approach and rejuvenated his contact quality, he's well positioned to continue building on the breakout he enjoyed two years ago.