We have a hard time making ourselves feel it when probability offers good news. Going into Saturday's NLCS Game 6, our ZiPS postseason game-by-game odds gave the Braves a 71.4% chance of advancing to the World Series. They had largely outplayed the Dodgers. Max Muncy and Justin Turner were still sidelined, and Joe Kelly had just joined them. Max Scherzer had been scratched with arm fatigue, leaving Walker Buehler to start on short rest. Game 7 might mean a bullpen game for Los Angeles, if there were a Game 7 at all. The Dodgers were up against it; the Braves, at worst, had another shot.
That is what we knew; feeling it was another matter. After all, the Dodgers had won 18 more regular-season games than the Braves, and in a harder division. They were riding a seven-game win streak in postseason elimination games, including an 11–2 drubbing in Game 5 to stay alive. Atlanta had dealt with injuries of its own, and this series had so far followed 2020's pattern, causing an itchy bit of worry in the back of Braves fans' minds as they remembered going up three-games-to-one in last year's NLCS only to have Los Angeles claw its way back in Game 5 and take the next two. Ian Anderson, the Braves' Game 6 starter, had only managed three innings in Game 2; Atlanta won, but he'd walked three and allowed two runs, and then there were all those bad first innings to think of. What if Eddie Rosario's bat cooled? What if Chris Taylor's didn't?
It can all leave you looking for the place where the math proves faulty and the bottom falls out, and Game 6 offered a few spots where it looked like it might, with two worth highlighting.
Making the Worst of Admittedly Bad Options
In the top of the fourth, with the Braves up 1–0 on the back of a first-inning Austin Riley RBI double, the Dodgers put two on as Trea Turner and Will Smith reached on a walk and a single with one out. Anderson got Taylor to swing over a changeup low in the zone, but then in stepped Cody Bellinger. His regular-season struggles are well-documented, but a recent adjustment had him looking more like his old self, albeit with less pop; through 11 postseason games, he had hit .355/.429/.484. His resurgence continued, as he slapped a changeup into left field to beat the shift and tie the game:
Here, surely, was the turn. The odds were still slightly in the Braves' favor, but against a shift-busting Bellinger, what are probabilities and pearls really worth?
The power of Atlanta's various talismans wasn't the only factor at play; Dave Roberts' choices, past and future, also loomed large. With Scherzer unable to start, the Dodgers were left to pick from a few less-than-ideal options: Buehler on three days rest; another bullpen game; or David Price, who had put together a middling season split between starting and relief and was initially left off the NLCS roster. Of course, those choices spirited in Roberts' earlier ones, chief among them the decision to use Scherzer and Julio Urías in relief earlier this postseason. Buehler was the best of the bad options, and through the bottom half of the fourth, it looked like the gamble might have worked. He started that frame by getting Joc Pederson swinging — his fourth strikeout of the night — and inducing a Dansby Swanson flyout. But he had labored all night, surrendering a lot of hard contact; of the nine balls Atlanta had put in play through three innings, six were hit with an exit velocity of at least 95 mph, and Swanson's out added another.
When No. 8 hitter Travis d'Arnaud worked a walk, Brian Snitker had a choice to make of his own. Anderson had only thrown 66 pitches, but he had been more good than dominant, and Atlanta's manager saw a chance to pull ahead, calling on Ehire Adrianza to pinch-hit for his starter. He doubled on another well-struck ball, bringing up Rosario with runners on second and third.
It was here that Roberts' decisions shifted for the worse. Entering the night, Rosario had hit .471/.514/.735 this October. His numbers in the NLCS were even better: .571/.609/1.000. With the Braves' lineup about to turn over, Alex Vesia had been warming, presumably in anticipation for this matchup. Yet Buehler was left in to face Rosario for a third time.
Rosario battled back after falling behind 0–2, and a flurry of sinkers and cutters later, he deposited a three-run home run into the right-field seats: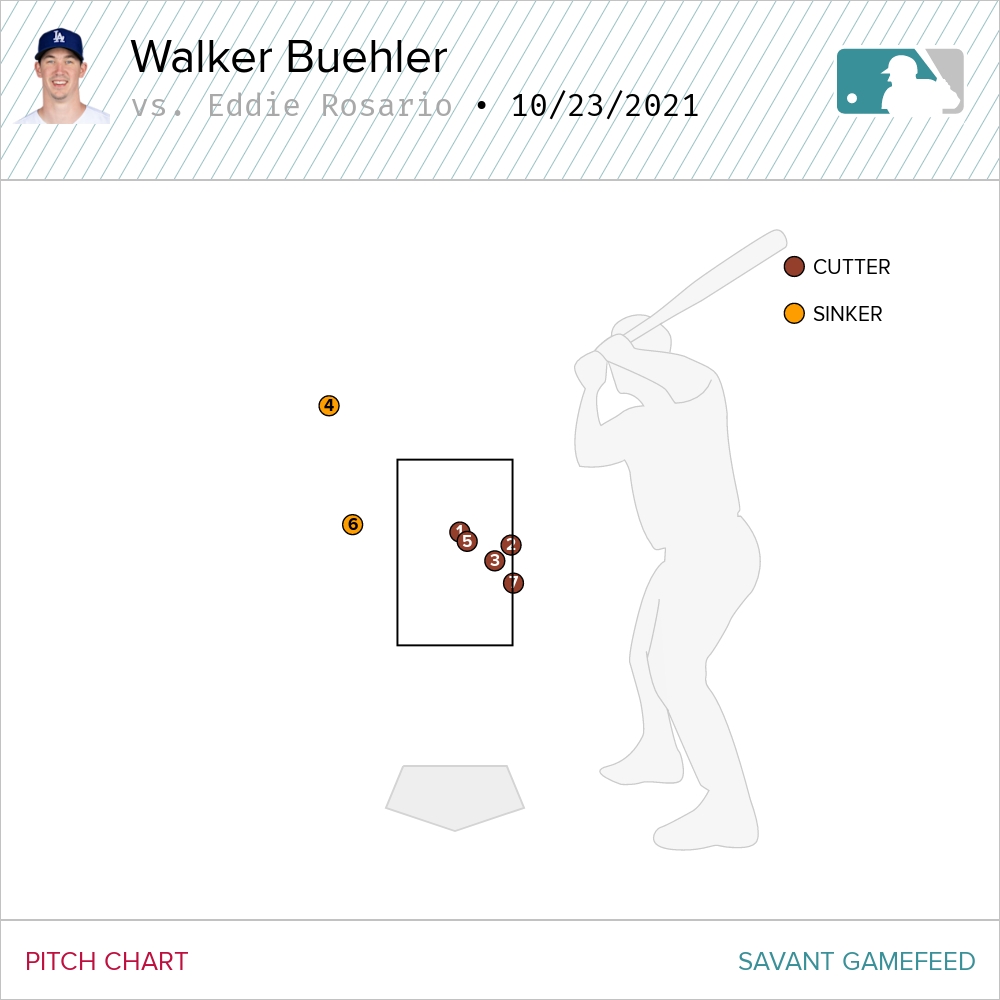 It was the cherry on top of a postseason performance that earned him NLCS MVP honors.
Much has been made of how teams have deployed their starters this postseason, with the primary concern being one of pitchers pulled too soon, leaving bullpens exhausted. But on Saturday night, it was a starter left too long that proved decisive, and an early exit that proved savvy. Roberts didn't have a lot of good choices, but that doesn't mean some weren't better than others.
Tyler Matzek, AirHog No Longer
Inspiring stories move us, but they have a way of smuggling in doubt.
In the top of the seventh, Luke Jackson came on in relief of A.J. Minter, who had struck out four across two superlative innings after Anderson's exit. It went south fast: Taylor doubled to lead off the inning on a ball that almost left the yard, Bellinger walked, and AJ Pollock laced an RBI double down the left-field line to bring Taylor home and put two runners in scoring position with no outs. Snitker had seen enough; you have to kill the Dodgers all the way dead, after all, or risk being on the other wrong end of a big inning. He needed someone steady, someone sure. He needed Tyler Matzek.
That Matzek was a choice here, let alone the obvious one, is astounding. The former first-round pick of the Rockies had seen his career derailed by unplayable control. After being outrighted off Colorado's 40-man at the end of the 2016 season, he tried to catch on with the White Sox and Mariners in '17 and '18 but couldn't stick. He ended up pitching for the Texas AirHogs of the American Association that latter year, and after another spring training stint, this time with the Diamondbacks, didn't work out in '19, he returned to independent ball, where he made an arm slot adjustment that proved fruitful. After signing with Atlanta in mid-August of 2019, some promising work in the minors that summer and at the alternate site last year earned him a shot with the big league club. He pitched to a 2.79 ERA and 1.92 FIP in 29 regular-season innings in 2020, tacking on 8.2 frames of 1.04 ERA, 2.50 FIP ball in October.
Matzek's good work continued into 2021 and especially into the postseason; pitching in eight of Atlanta's nine playoff games, he'd thrown 8.1 innings with a 2.16 ERA and 1.49 FIP to go with 13 strikeouts, an average leverage index of 1.45 (anything above 1.00 is high pressure), and Championship Win Probability Added of 7.56%. He had been stellar, and a great story to boot. But sometimes great stories end with an undoing. He had gone from the yips to effectively wild, but he still issued his fair share of walks in 2021. The Dodgers' lineup was thinned but still dangerous, and Matzek had allowed Los Angeles' first run in last year's Game 6. A bit of doubt tickled.
It needn't have. Matzek got Albert Pujols swinging. That freaking slider. One away. He then got Steven Souza Jr. looking (we can debate whether, even with the platoon advantage, Souza was a better choice than Gavin Lux). Two away. Finally, he struck out Mookie Betts swinging to end the inning. Matzek would return for the eighth, needing only six pitches, five of them sliders, to dispatch Corey Seager, Turner, and Smith.
Will Smith would take care of the rest, with Taylor and Bellinger striking out and Pollock grounding out to end the game (and the Dodgers' season) and send the Braves to their first World Series since 1999.
Stories like Matzek's inspire because of the overcoming they entail, but having showed themselves capable of faltering, we tend to be unsurprised when their subjects eventually come up short. This was always in there, this ability to dip into wildness, into failure. We brace ourselves when the hope for a happy ending comes up against someone else's potential to triumph. But we don't always have to. Sometimes we can relax and watch a good slider do its work.
…
The postseason is an odd time for reconciling what we think with what we feel. It was always likely that the Braves would win, that the cumulative effects of the Dodgers' pitching plan would assert themselves, that even a lineup as deep as Los Angeles' would struggle without its best hitter. But these games have a way of compressing advantages and giving good players their moment. When it was all said and done, though, the Braves' good players got to have their say, too. Atlanta's performance in last year's NLCS and in the first 110 games of this season didn't matter any more than the Dodgers' 106 wins. And when Freddie Freeman caught Pollock's groundout, you could feel it, all the way down to your toes.