Usually, it's the other way around. The Rockies take a chance on a pitcher, who's then whisked away to a cold, harsh biome that warps the movement on his pitches. There's speculation about whether he can adapt and maintain a standard of excellence set at a more friendly elevation. The season unfolds, producing success stories like Austin Gomber, or more unfortunate ones like Wade Davis.
But it's rarer for a pitcher to survive Coors Field, reach free agency, and head to a new team. Jon Gray, a Coors veteran, is this offseason's exception. He wasn't spectacular during his time in Colorado, but he put up a solid 4.54 ERA and 3.92 FIP across six full seasons (including 2020) that consisted of 788.2 innings. All in all, adjusting for his home environment, Gray has been a slightly above-average (108 ERA+) pitcher. That's harder than one might think, a fact the Rangers perhaps appreciated. Part of a huge splash that also includes Marcus Semien and Corey Seager, the Rangers signed Gray to a four-year contract worth $56 million, as reported by ESPN's Jeff Passan.
Looking at our Depth Charts, the Rangers were in desperate need of a durable starting pitcher. Before landing Gray, Dane Dunning was pegged as the team's de facto ace; the remainder of the rotation consisted of rookie pitchers, none of whom are particularly notable. Of those expected to join the Rangers' rotation in 2022, Gray is projected to have the highest number of innings as well as the highest strikeout rate. By signing him, the Rangers gain a starter who can at the very least provide innings and also comes with intriguing upside.
I say upside because with a few adjustments, it's reasonable to expect that Gray can improve on his current arsenal. Heck, even if he doesn't do much, he ought to benefit from the lower altitude. With the exception of his slider, Gray's four-seam fastball, curveball, and changeup were all hampered by the Denver air. According to this article from Baseball Cloud, pitchers on average lost around three inches of fastball ride and two inches of curveball drop at Coors Field, both significant amounts. Sliders, which aren't as reliant on spin, don't undergo much change, which is likely why Gray's own slider elicited a hefty number of whiffs even in his former home. And already, Gray has shown he might be open to refining himself. Throughout last season, he sneakily added roughly six inches (!) of vertical drop to his curveball, managing somehow to tack on a ton of spin. Though Gray's actual usage of the pitch reached a career-low, it's possibly a encouraging sign that Gray hasn't reached his final form.
The hard part, of course, is how Gray navigates a tamer playing environment. That may sound oxymoronic, but it's true. Due to a constant flip-flopping of environments, Gray had to deal with differing movements on his pitches each week, which likely also hurt his control. The lesser known but more devious component of the Coors effect is exactly that: depriving pitchers of normalcy. You would expect that under such conditions, pitchers would have a hard time formulating a strategy, or even a general approach. The Rockies themselves haven't done much to address this issue; if you've ever seen or heard Eno Sarris mention Location+, you probably know the Rockies as a whole rank towards the bottom in that metric.
Which is why when I look at Jon Gray, what draws my attention is where his pitches have been located — specifically, his four-seam fastball. Now, Gray's fastball isn't elite by velocity, nor is it an elite pitch by movement, even after accounting for Coors. But living at the letters is generally a good idea, especially if you're in possession of two plus breaking balls like Gray. Maybe pitching at Coors made him reluctant to aim up in the zone, which might have made him vulnerable to the long ball, but now's as good a time as any to add some confidence. Check out where Gray located his four-seamer last season with two strikes: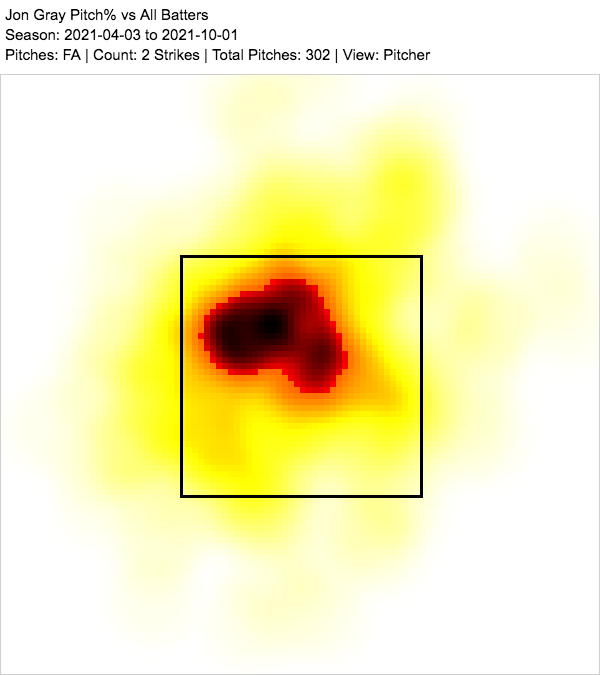 It's not as if he's aiming for the center, sure, but I don't think Gray is tapping into his full potential. Added vertical contrast between his pitches might be the key to unlocking additional whiffs, and if he's going to use his curveball more frequently, it's almost a requirement — a big, relatively slow breaking ball needs to play off a fastball for it to deceive. How Gray will go about optimizing himself is up to him and the Rangers, and they perhaps already had a few ideas in mind.
It's puzzling, though, that the Rockies decided to let Gray go without much of a fight, missing a critical trade deadline and foregoing the chance to present a qualifying offer. Replacing someone of Gray's caliber is simply not an easy task; as Ben Clemens mentioned in our roundup of the top 50 free agents, Gray is one of the few Rockies pitchers with better home splits than road. All this, despite the fact that Gray had expressed interest in re-signing with Colorado, and… well, the list goes on.
But enough about the Rockies — the deal is done, and Jon Gray is now a Texas Ranger. The Rangers are still a couple frantic, jaw-dropping winters away from contending, but that doesn't mean they can't start putting the pieces together. They solved their second base problem with Semien, then added firepower to the shortstop and third base positions with their gargantuan signing of Seager. The news of the Gray deal fell in between those two juggernauts, but don't let that make you underestimate his value; if anything, he should act as the formidable bridge between the Rangers' currently desolate rotation and the more plentiful one they no doubt hope for in the future.
Meanwhile, having escaped a pitcher's graveyard, Gray the individual has the chance to spread his wings. The curveball is good. The slider is great! The fastball itself might not be fixable but its location certainly is. And best of all, he's going to gain a few extra inches of movement for free. This is a solid signing overall, one with a clear purpose and a reasonable price tag.