There are tons of great hitters in the game today. Vladimir Guerrero Jr. is having the breakout season presaged by his pedigree and minor league success. Shohei Ohtani has 45 home runs and somehow also pitches. Fernando Tatis Jr. has a .618 slugging percentage and plays shortstop. I haven't even mentioned the old guard of "best hitters" — Mookie Betts, Bryce Harper, and ringleader Mike Trout.
They're all great — and they're all worse than the best overall hitter on the planet, Juan Soto. Soto is comical. He put on a rookie performance for the ages, and has done nothing but improve since then. The Ted Williams comps he's drawn aren't given out lightly. All those wonderful hitters — and Wander Franco, and whoever else you want to name — are looking up at him.
Normally, I'd try to write a "here's how he does it" article. That doesn't work with Soto. How does he do it? My best guess is that he's a time-traveling wizard from the future who set his sights on being the best hitter he could be. Since I'm not an expert in either time travel or wizardry, you'll have to settle for three vignettes about Soto's unparalleled excellence.
The Rest of the Fastballs
If you live on Baseball Twitter, you might have seen some wild charts showing how Juan Soto laughs at high fastballs. There's this one, the chart of all the swings he's made at bad pitches (in the "chase" and "waste" zone) this year, courtesy of David Adler:
Juan Soto has seen 796 chase/waste pitches this season (more than a baseball out of the zone). He's swung at 39 of them. 4.9%.

Salvador Perez has seen 848. He's swung at 282 of them. 33.3%.

Soto swings at 1 in every 20. Salvy swings at 1 in every 3.
They'll both get MVP votes. pic.twitter.com/hdLEmpiy2X

— David Adler (@_dadler) September 22, 2021
He hasn't taken a single bad swing up high in the zone, which leads to another fun one. Here are all the fastballs Soto has seen above the top of the strike zone, also courtesy of Adler:
Good point: Try a high fastball approach with Juan Soto, he just won't swing. 174 high fastballs … ZERO swings. https://t.co/76G2tTKuvm pic.twitter.com/wnNNpngyoL

— David Adler (@_dadler) September 23, 2021
Just, lol. I know that's not a professional way to write about it, but what are you supposed to say? The high fastball is supposed to be the pitch that turned the tide in favor of pitchers, but don't tell Soto that. He watches it go by and laughs.
Marveling at his great skill against fastballs above the zone makes it seem like Soto's best skill is taking pitches outside the strike zone, which sounds kind of boring. Soto's best skill is taking pitches outside the strike zone — but he's also great at everything else fastball-related. You could post impressive patience numbers on high pitches by simply not swinging. So let's take the next cut down, fastballs that Baseball Savant classifies as in the shadow zone but also in the regulation strike zone — pitchers' pitches, in other words, that dot the edge of the plate: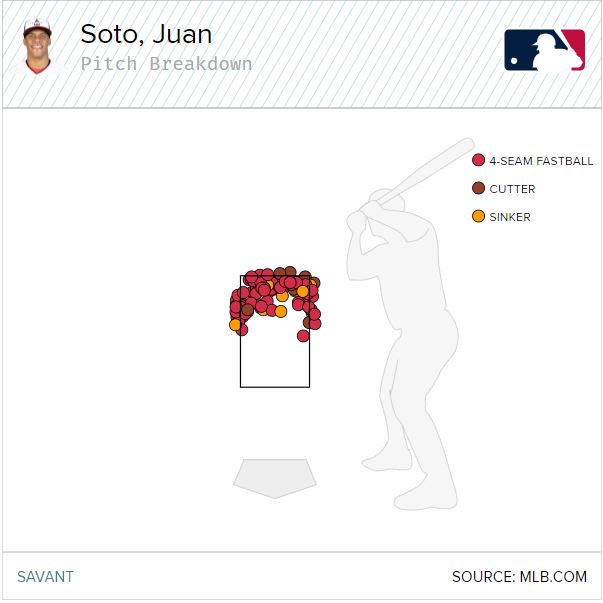 There, too, Soto is selective — but far less so, swinging at 53% of the pitches he sees (the league average is 67.5%). He goes from phenomenally patient to only slightly below average, such is his understanding of when it's time to let it fly.
Only, that misstates it. When Soto sees one of these borderline fastballs with two strikes, he swings — literally 100% of the time so far this year. They're still tough pitches to hit, so he's sparing with fewer than two strikes, preferring to take a strike — but don't try to throw anything by him up high with two strikes. Miss, and he'll take it. Hit the zone, and he'll swing — a miserable situation for anyone trying to get him out.
By the way, if you miss low and leave the ball over the middle of the plate, watch out. On fastballs over the heart of the plate, he swings 72% of the time (average is 74%). And you don't want that, because he might be the best fastball hitter in the league when the bat leaves his shoulders, in addition to having the best plate discipline.
Only Brandon Crawford has produced more runs over average when he swings at fastballs down the middle. Only eight batters produce more barrels per swing — Soto is in a dead statistical heat with Guerrero. He ranks seventh in hard-hit balls per swing. 23% of his swings have produced base hits, which is third in the league behind Guerrero and Nick Castellanos.
Those guys are all free swingers. Challenge them, and they'll beat you — but they can be had if you get them to chase. Not Soto, which explains why he's the best fastball hitter in the league — by run value on fastballs, by run value per fastball seen, by wOBA on at-bats ending in fastballs, however you want to look at it. The takes are cool — but the swings bring the rain.
Come Out and Play
Maybe you've heard — Soto walks a lot. Excluding intentional walks, he draws a free pass in 18.5% of his plate appearances, the best mark in the majors. You've probably seen Soto's quote about it. "Whenever they want to play, I play," Soto told Jessica Camerato. "When they don't want to play, I just take my walk."
If you're an opposing pitcher, it's pretty clear when you shouldn't want to play — when there are runners on but first base is open. This isn't rocket science — Soto's batting .324 and does all those absurd things I just talked about to fastballs. His walks must be hollow ones, the type that the defense is okay surrendering, right?
Well, no. As Mike Petriello noted, Soto draws walks at an equal rate no matter who bats behind him. Perhaps more impressively, he draws walks at an equal rate whether he's in one of those hollow-walk situations or not. With runners in scoring position and first base open, Soto walks 19% of the time. In all other situations, he walks 18.4% of the time. There's basically no difference, even though the pitchers surely don't want to play.
The league, naturally enough, doesn't look like that at all. With runners in scoring position and first base open, all batters walk 10.3% of the time. In all other situations, they walk 8% of the time. Pitchers aren't dumb — they really, truly don't want to play when hits mean runs. Soto, despite his declaration, simply forces them to play.
They're doing everything they can! They avoid the zone — he sees pitches in the strike zone only 44.3% of the time in obvious walk situations, as opposed to 48% the rest of the time. Even when Soto gets ahead in the count, pitchers don't give in — they throw him a strike only 46.6% of the time. In all other situations (bases empty, or a runner on first), that number stands at 52.1%. In other words, they're going out of their way to avoid him.
Soto just won't let them. As we've already covered, he's normally judicious with his swings. He has the lowest swing rate in all of baseball, and the 14th-lowest zone swing rate — he's pretty good at telling balls from strikes, but he also doesn't swing at many strikes. With ducks on the pond, that all changes. In obvious walk situations, he swings at a whopping 72.2% of pitches in the strike zone — against 58.6% in all other situations. That 13.6 percentage point increase dwarfs what most batters do — they only increase by 4.2 points. In fact, Soto swings more frequently at strikes than league average in obvious walk situations. Far from refusing to play if opposing pitchers don't want to, he's hitting a new gear of aggression.
Of course, as I already mentioned, Soto is a time-traveling wizard, which gives him some advantages over regular human beings. Despite wildly dialing up his assertiveness on pitches in the zone, he doesn't chase more. Throw him a ball, and he swings only 12.3% of the time, which is actually less frequently than he does overall. Not only that, but he'll shuffle afterwards, really rubbing it in your face. I wouldn't wish facing Juan Soto with runners aboard on my worst enemy.
All Fields
You know the drill: put the ball in the air, pull it, and prosper. Batters simply hit the ball harder when they pull it, which leads to more production. That's not to say that every batter should pull the ball more when they put it in the air, but hitters who naturally pull the ball tend to have good power numbers. Ohtani is a great example of this: he has pulled nearly 39% of the batted balls he's put in the air this year, and produced a 1.036 wOBA on those pulled balls. Here are the top five home run hitters in baseball this year:
Power Hitters Love Pulling
| Player | Air Pull% | Air Pull wOBA |
| --- | --- | --- |
| Vladimir Guerrero Jr. | 25.6% | .900 |
| Salvador Perez | 34.4% | .869 |
| Shohei Ohtani | 38.8% | 1.036 |
| Marcus Semien | 42.0% | .882 |
| Fernando Tatis Jr. | 37.8% | .980 |
Guerrero is less pull-happy than the rest, but the overall trend seems clear: these prodigious home run hitters do it by getting the bat out front and lifting. Indeed, 58% of their home runs on the year have been pulled. Among that group, only Guerrero has pulled less than half of his dingers (43.4%).
Soto has pulled less than a third of his home runs. He rarely pulls the ball when he puts it in the air — only 20.2% of the time, which is in the 7th percentile league-wide. Exactly one player who pulls their air contact less frequently than Soto has 20 home runs on the season — Justin Turner with 25. It's just hard to rack up huge home run tables if you aren't pulling it. Unless, of course, you're Soto — his 29 home runs are a work of spray art: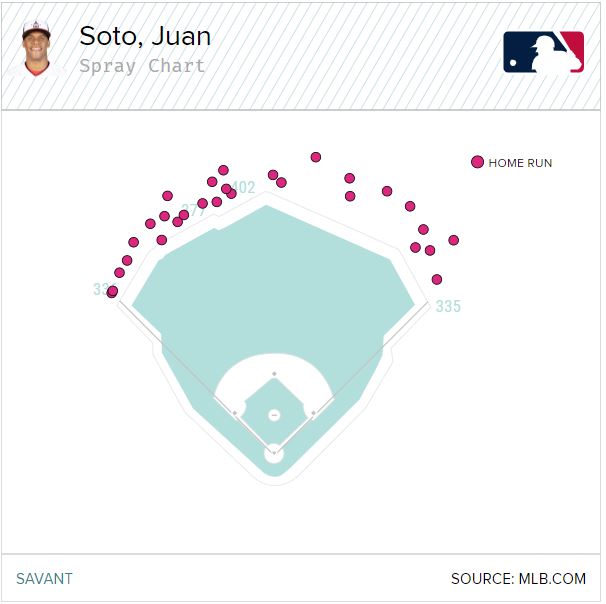 Given that, it might surprise you to learn that Soto is ninth in baseball when it comes to average exit velocity on balls hit in the air. He's 19th in home runs per ball in the air and ninth in barrel rate. He has dead pull power numbers, but he does it while spraying the ball to all fields like a gap-to-gap doubles hitter.
How? Well, he's third in exit velocity on non-pulled air balls, behind Tatis and Aaron Judge. His 96.1 mph average would be 14th… on the pulled air balls list, ahead of sluggers like Kyle Schwarber, Yordan Alvarez, and Joey Gallo. Meanwhile, he's stinging his pulled fly balls too, to the tune of 97 mph. He simply hits everything hard, harder than most batters hit anything.
You could do the same thing with other power statistics. He's 12th in barrels and seventh in home runs per ball in the air. He's second in wOBA and second in xwOBA. When Soto hits the ball in the air, he absolutely clobbers it, regardless of direction. And in fact, those wOBA and xwOBA marks suggest something else interesting: Soto almost never pops up. He's in the bottom 15% of the major leagues when it comes to pop up rate on air balls, and no one who pops up less frequently than him hits the ball harder.
All of this implies he gets the ball in the air, though. He doesn't get to his prodigious air power very often. No one with more home runs than Soto has a higher groundball/fly ball ratio, and it's not even close. He checks in at 1.85; second-best is Javier Baez at 1.34. That's all that's holding Soto back from adding even more homers — and in the second half, he's down to a 1.53 GB/FB mark, which has led to 18 bombs.
Think about how impressive Soto's contact quality is. He's posted the second-best wRC+ in baseball this year, and he's doing it with the batted ball tendencies of DJ LeMahieu. His monumental power means that if he could adopt batted ball tendencies that better suit his style — the leap Guerrero has made this year — he could still have another level.
I could go on and on with Soto. Every facet of his game is amazing, and you can't spend 30 minutes looking at his statistics without finding something else earth-shaking. He hardly seems real — the ideal hitter, seemingly dropped fully formed into the major leagues at age 19. And yet, he could still be better. I never thought I would say that about someone who is already, in my estimation, the best hitter in baseball.
All statistics current as of Sunday, September 26.