The Nationals can't seem to buy a break. After the start of their season was delayed by a COVID-19 outbreak that sent nine players to the injured list, they've gone just 5-9, sliding into last place in the NL East and posting the league's second-worst record and run differential (-22). A rotation that was supposed to be one of the majors' best has instead been the worst, with Patrick Corbin looking for answers, Jon Lester set back multiple times, and Stephen Strasburg now sidelined due to shoulder inflammation.
As a unit, the Nationals' rotation has the majors' highest ERA (5.34), FIP (5.36), and home run rate (1.91 per nine), as well as the lowest WAR (-0.4). Those numbers look even worse without Max Scherzer: 7.80 ERA, 6.58 FIP, 2.7 HR/9, -0.7 WAR. Throw in lousy work by the bullpen (4.18 ERA, 4.64 FIP, -0.2 WAR) and a moribund offense that has scored just 3.64 runs per game (11th in the NL) while being shut out three times (tied for the major league high) and you have a recipe for yet another cold start by Washington.
Forced to wait five days by an outbreak that postponed their entire season-opening series against the Mets, the Nationals hit a high note in their first game of 2021, overcoming a rocky Scherzer start to come from behind and beat the Braves in their April 6 season opener on a walk-off RBI single by Juan Soto. From there, however, they proceeded to lose five straight to the Braves and Dodgers before rebounding to take two out of three from the Cardinals in St. Louis, and split a four-game series against Arizona.
An offense that has scored just 3.64 runs per game (11th in the NL) has been a concern, but the bigger one has been the ineffectiveness of both Strasburg and Corbin, the other two-thirds of a trio that propelled the team to its 2019 World Series win as well as the number five ranking among rotations in our preseason Positional Power Rankings.
Strasburg, who was limited to two starts last season due to a bout of carpal tunnel neuritis that required surgery, battled a minor left calf issue in mid-March, but seemed to allay some concerns with his brilliant regular season debut, during which he allowed just one hit and two walks in six shutout innings against the Braves in the nightcap of an April 7 doubleheader. Unfortunately, that outing went for naught as his teammates failed to score a single run against Huascar Ynoa and company, one of three times the Nationals were shut out in a four-game span. When Strasburg took the hill again on April 13 against the Cardinals, he struggled with his velocity and control, matching his career high with five walks, serving up three homers, and getting battered for eight runs in four innings.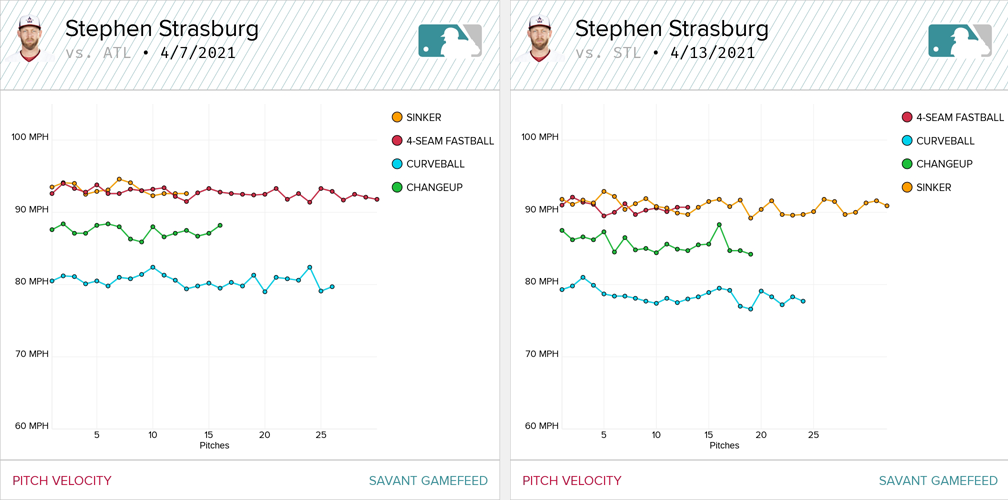 Stephen Strasburg's Declining Fastball Velocity
| Date | 4-Seam Avg | 4-Seam Max | Sinker Avg. | Sinker Max |
| --- | --- | --- | --- | --- |
| 2017 | 95.4 | 98.4 | 95.0 | 98.0 |
| 2018 | 94.6 | 98.1 | 93.9 | 97.0 |
| 2019 | 93.9 | 96.6 | 93.7 | 96.5 |
| 4/7/21 | 92.7 | 94.0 | 93.2 | 94.6 |
| 4/13/21 | 90.6 | 92.1 | 90.9 | 92.9 |
SOURCE: Baseball Savant
From start to start, Strasburg's averages on both his four-seamer and sinker — both of which were well below his 2019 marks, which were already in the midst of a downward trend — dropped by over two miles per hour, and his maximums by nearly that much. For a pitcher who had thrown just 16 sub-90 mph fastballs in his career prior to that start, his total of nine for the night was troubling, a sign something was amiss.
Indeed, between the second and third innings innings, a camera caught the sight of the 32-year-old righty in the tunnel between the dugout and the clubhouse, rubbing his right shoulder and the base of his neck. Manager Dave Martinez sounded more upset by the camera showing the scene than by Strasburg's performance, saying, "Quite honestly, that shot shouldn't have been shown, so I'm a little perturbed about that… there are rules and regulations about that. It's not supposed to go down in the tunnel. It's in black and white."
Neither Martinez nor Strasburg offered any insight into the latter's discomfort, with the pitcher saying, "Whatever you guys want the narrative to be, that's your call." He explained that his loss of velocity had to do with some mechanical adjustments that slowed down his delivery in an effort to improve his control.
Strasburg underwent an MRI, and on Sunday was placed on the Injured List with shoulder inflammation, retroactive to April 14. While he's eligible to be activated this weekend, there's no timetable yet for his return, though Martinez sounded a note of optimism by telling reporters "hopefully soon."
As for Corbin, he was one of the nine players placed on the IL for unspecified reasons on April 6. Thankfully, he didn't get sick, but being sidelined for a week for the purposes of contact tracing disrupted his routine, which probably couldn't have helped. On the heels of a season in which he posted his highest ERA (4.66) and FIP (4.17) since 2016, the 31-year-old lefty has been pummeled by the Dodgers (six runs in 4.1 innings) and Diamondbacks (10 runs and three homers in two innings). Arizona sent nine batters to the plate against Corbin in the first inning, and 10 in the second, but there's no word on the point at which the team believed it had batted around.
Corbin's 21.32 ERA is the worst mark of any pitcher to take a start this year. Having walked more batters than he's struck out while struggling to keep the ball in the park, his 13.68 FIP is the second-worst among all starters. Of great concern is that his fastball velocity took a considerable dip from 2019 to '20 — from 91.8 mph to 90.2 via the four-seamer, with a nearly identical drop for his sinker — in the wake of his career-high 225.1 innings, including the postseason. He's lived at the lower velo this year, and batters have treated his offerings like piñatas, averaging a 95.3 mph exit velocity with a 20% barrel rate and a 52.2% hard-hit rate; his xERA based on his batted ball stats is 13.60, which like his FIP is the second-worst among any pitcher who's taken a start.
Even if we wave off the small samples, last year's picture wasn't pretty, either; the 90.7 mph average exit velocity on Corbin's offerings placed him in the 12th percentile, and his 44.2% hard-hit rate in the 15th percentile, though his 6.5% barrel rate was in the 57th percentile. It all added up to a 5.17 xERA, the fourth-highest among all qualifiers.
If Corbin and the Nationals know what's going on, they haven't let on. "I can't point to one thing, really," said the pitcher after last Thursday's start. "Looked at some video, feel okay, so I'm not quite sure there."
"He wasn't sharp," said Martinez after his Arizona outing, which also included two hit batsmen, his first since May 9, 2019. "It's not like him to hit batters, and his location was bad. I can't really pinpoint anything right now on him. His mechanics look like they're okay, so we're just going to have to dig in a little deeper."
The struggles of Strasburg and Corbin have magnified the absence of Lester, who missed time during spring training to undergo a parathyroidectomy, and who was reportedly one of the Nationals who tested positive for COVID-19. He's had to rebuild his pitch count at the alternate training site, starting with a three-inning, 49-pitch simulated game last Thursday, and is scheduled for a five-inning, 80-pitch sim game on Tuesday, which points towards a return this weekend if all goes well. While that's the good news, the bad news is that the 37-year-old lefty has to reverse a decline that includes last year's 5.16 ERA, 5.14 FIP, and 5.85 xERA, the last of which was the majors' worst among qualifiers.
Elsewhere in the rotation, fifth starter Joe Ross threw 11 shutout innings over his first two starts, facing the Dodgers and Cardinals. The latter saw him again on Monday night, however, and took him to the woodshed, homering four times and pummeling him for 10 runs in 4.1 innings. That made Ross the fourth National to serve up at least three home runs in a start this year along with Scherzer, Strasburg, and Corbin; no other team has more than two such pitchers.
As for Scherzer, since serving up four homers on "Opening Day," he's allowed just one run and five hits in 13 innings while striking out 15. While throwing seven shutout innings and striking out 10 against the Diamondbacks, he passed Cy Young for 22nd on the all-time strikeout list with 2,807.
"It's awesome," said Martinez. "I told him congratulations when he came out, and he kind of looked at me. I said, 'Yeah, you just passed Cy Young.' His response was, 'Yeah, I have three of those on my wall.'"
With Lester and now Strasburg out, the Nationals have turned to Erick Fedde to fill out their rotation. The 28-year-old righty was tagged for six runs in 1.2 innings in the opener of that April 7 doubleheader against Atlanta but has since allowed just one run apiece in each of his two starts. Given his career 5.13 ERA and 5.40 FIP, the former first-round pick doesn't offer much reassurance as a rotation patch. More novel if not necessarily better is Paolo Espino, a 34-year-old Panamanian righty who entered the season with 30 major league innings spread across the Brewers, Rangers, and Nationals, including six for Washington last year; he allowed two runs in 4.1 innings against the Diamondbacks on Sunday in place of Strasburg.
The good news is that so far, none of the outages in the Nationals' rotation appear to be long-term ones. The bad news is that if Corbin and Strasburg can't recover form, it could be another long season of playing out the string in Washington.