This past offseason, the Toronto Blue Jays spent a ton of money to upgrade their lineup, bringing in George Springer and Marcus Semien for a combined total of $168 million. Of course, $150 million of that total is owed to Springer over the next six seasons; Semien signed a one-year deal after finding the market for his services to be rather slow and cold. Two months into the season, it's been Semien who has been the more valuable acquisition for the Jays, however. Springer has been sidelined for all but four games with a nagging quad issue that has yet to be resolved. Meanwhile, Semien leads all qualified second basemen with 2.6 WAR, a mark that places him seventh overall among all qualified batters.
For Semien, his success this year has been a huge payoff on the risk he took by signing that one-year offer. After a breakout 2019, he struggled to maintain that new level of production the year after. With real questions about his true talent level at the plate lingering over him, he decided to take a one-year offer to rebuild his value in 2021.
As Mike Petriello recently notes, the offensive downturn Semien suffered through in 2020 may be a bit misleading. Through the first 14 games of the 2020 season, he posted a 45 wRC+, but because of the truncated season, those 14 games represented around a quarter of the total games played last year, giving them an outsized effect on his overall line.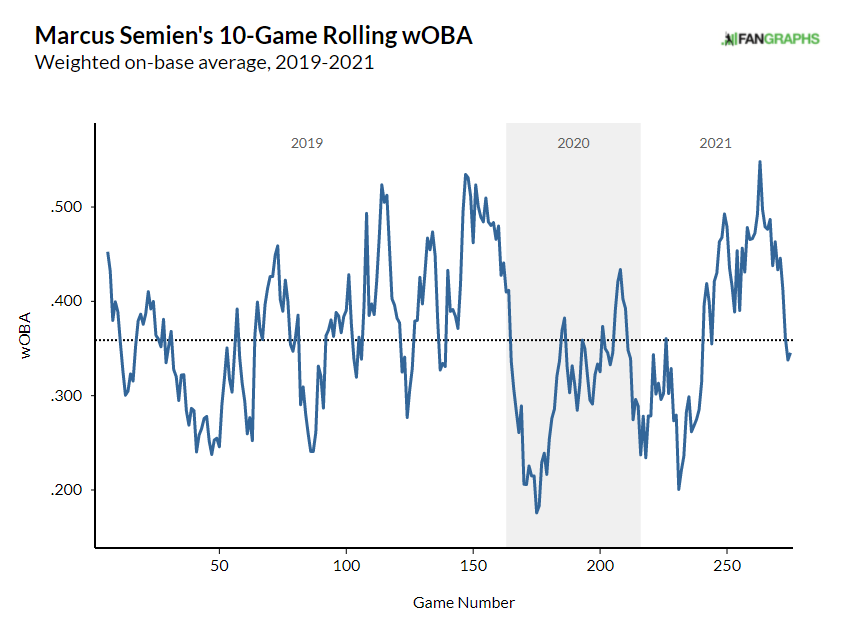 Through the rest of the regular season, Semien had a 117 wRC+, and added a 220 wRC+ in seven postseason games. This year, he got off to a similar, if not as drastic, slow start. Through 17 games, he had posted a 63 wRC+. Since then, he's been on an absolute tear, putting up a 172 wRC+ in 41 games. If Vladimir Guerrero Jr. wasn't crushing every thing he sees, Semien would easily be the best hitter in the Blue Jays lineup.
If we compare his breakout 2019 season with a truncated section of games from 2020 — removing the first 14 games and adding his postseason stats — and his 2021 line, we see that his offensive production has stayed relatively stable over the last three years.
Marcus Semien, Offensive Production
| Year | PA | K% | BB% | ISO | Hard Hit% | Barrel% | wRC+ |
| --- | --- | --- | --- | --- | --- | --- | --- |
| 2019 | 703 | 13.70% | 11.60% | 0.237 | 37.20% | 7.40% | 138 |
| 2020* | 202 | 15.35% | 13.37% | 0.223 | 31.30% | 6.90% | 133 |
| 2021 | 269 | 24.50% | 9.30% | 0.223 | 42.20% | 8.10% | 139 |
*2020 stats have had the first 14 games of the season removed and include postseason stats
It's easy to play around with rather arbitrary stretches of play from last year to make Semien's numbers look good. Those first 14 games did occur; they aren't simply meaningless noise. But looking at his numbers without those 14 games shows us that Semien's contact quality has stayed pretty consistent since his breakout two years ago.
Even though his overall production has stayed consistent through the three periods above, the way he's gotten to those results this year has been a little different. He's posted career highs in hard hit rate and barrel rate in 2021 and is pulling the ball at the highest rate since his call-up in Chicago in 2013. But his plate discipline, which was such a big part of his breakout season in 2019, has taken a serious step back. His strikeout rate has jumped over 11 points compared to what it was two years ago. In many ways his plate discipline metrics look a lot like they did earlier in his career prior to his breakout.
Back in 2019, Semien's career year was fueled in part by a significant drop in his chase rate and a career-high contact rate. His chase rate dropped even further last year but his contact rate fell back towards his career norms. This year, both of those metrics have slipped back towards their pre-breakout state.
Marcus Semien, Plate Discipline
| Year | O-Swing% | Z-Swing% | Z-Contact% | Contact% | SwStr% |
| --- | --- | --- | --- | --- | --- |
| 2013-2018 | 23.20% | 62.90% | 85.90% | 78.50% | 9.40% |
| 2019 | 19.00% | 64.10% | 89.10% | 82.70% | 7.20% |
| 2020 | 17.60% | 69.10% | 84.20% | 78.80% | 9.30% |
| 2021 | 21.10% | 66.30% | 83.20% | 76.20% | 10.40% |
Semien's contact rate and swinging strike rate are both the highest they've been since that first cup of coffee in Chicago. Both are still better than league average and the gains he's made in contact quality have offset some of these strikeout issues, but it's certainly a concern that bears monitoring.
How does this resurgent season help build his case for his second go-around in free agency? It's a bit of a mixed bag. He's certainty proven that the newfound power he displayed during his breakout was for real. But his rising strikeout rate and his over-reliance on pulling the ball to generate that power point to an approach that might not be so sustainable. Make no mistake, Semien is well on his way towards signing a massive contract if he continues to hit like he has, but there are some warning signs that could present some hurdles towards attaining that payday.
To get a sense of what Semien's market might be, it's perhaps useful to note that much of the rest of the vaunted upcoming free agent shortstop class has underperformed or suffered injury in 2021.
2022 Free Agent Shortstops
Semien is the oldest of this bunch, and the track records of success are a bit longer for the other four big name shortstops headed towards free agency, but Semien has arguably outperformed all of them this year. Corey Seager has been sidelined with a broken hand for most of May and won't return until July at the earliest. But even before he was hurt, his defense at short had taken a significant step back and he was mired in a month-long slump at the plate. Javier Báez has regained the power he lost last year but his plate approach has continued to deteriorate. Trevor Story's power has waned this year, though he's still one of the best defensive shortstops in the game. Carlos Correa has been fantastic this year and has the best argument (other than Semien) for being the top impending free agent shortstop in this upcoming class.
Semien has the added benefit of proving he can play either up-the-middle infield position with good to elite defense. His defensive reputation as a shortstop was mixed at best. To his credit, it does appear that he made significant strides in that regard in recent years. This year at second base, he's been one of the best defensive infielders in baseball. He's been the best defensive second baseman in the American League per DRS (+5) and OAA (+4) and second best per UZR (2.0), though the standard warnings about defensive metrics in relatively small samples apply.
The class of second basemen set to become free agents is astonishingly thin. Cesar Hernandez, Jonathan Schoop, and Jonathan Villar are the biggest names on the market — a huge step down from the star studded list of names at shortstop. If a team wanted to upgrade their production at the keystone this upcoming offseason, Marcus Semien is essentially the lone premier option. That opens his market up considerably, ensuring he doesn't have to compete with those four other shortstops if he's open to continuing to man second base into the future.
His offensive resurgence and positional versatility should make for a much more lucrative trip through free agency this offseason. His strikeout rate is a real concern, and may keep his offensive ceiling lower than his results to-date may indicate, but even if his production at the plate slips a little, he's still proven himself to be an elite contributor at both shortstop and second base. That's something no other free agent can claim.