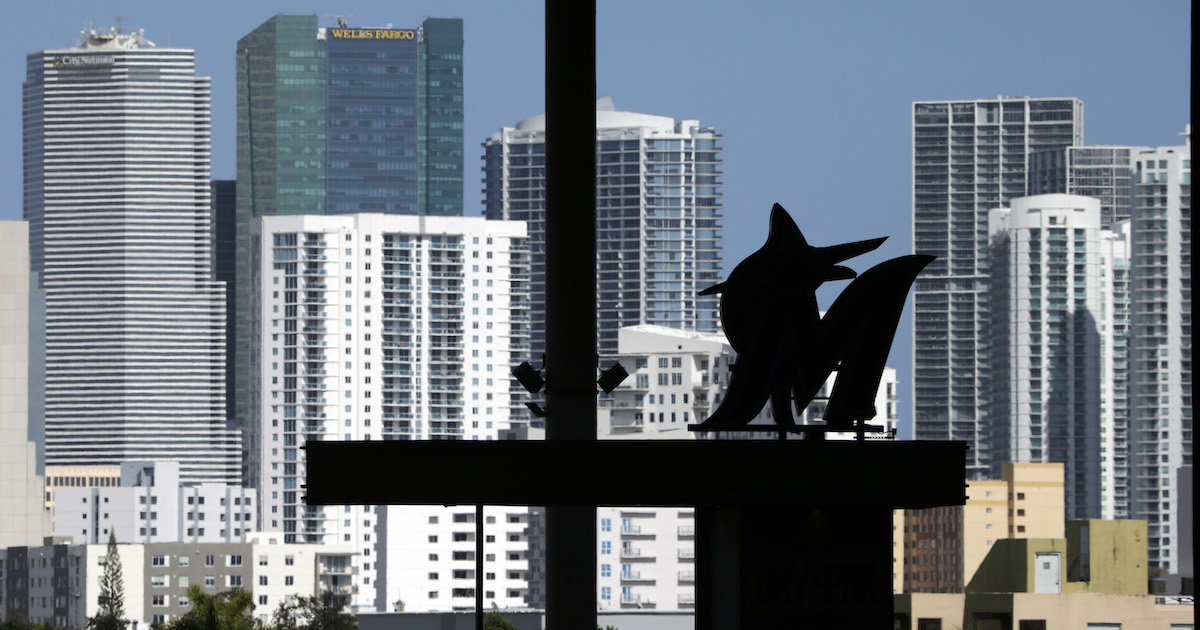 Below is an analysis of the prospects in the farm system of the Miami Marlins. Scouting reports were compiled with information provided by industry sources as well as my own observations. This is the second year we're delineating between two anticipated relief roles, the abbreviations for which you'll see in the "position" column below: MIRP for multi-inning relief pitchers, and SIRP for single-inning relief pitchers.
A quick overview of what FV (Future Value) means can be found here. A much deeper overview can be found here.
All of the numbered prospects below also appear on The Board, a resource the site offers featuring sortable scouting information for every organization. It has more details than this article and integrates every team's list so readers can compare prospects across farm systems. It can be found here.
Reading Options
Position Filter
All
All
C
2B
SS
CF
RF
SP
SIRP
MIRP
Other Prospects of Note
Grouped by type and listed in order of preference within each category.
Water-Carrying Hit Tools
Troy Johnston, 1B
Kyler Castillo, LF
Paul McIntosh, C
José Devers, 2B
Victor Mesa Jr., CF
Diowill Burgos, 1B
Johnston might turn into a Yadiel Hernandez type of bench bat. He has uncanny timing and feel for contact, but his raw power is several grades below what's typical at first base. He's crushing Double-A (he's always performed on paper) and needs to be promoted. Castillo was a 2021 undrafted free agent, a squat, short-levered outfielder with great baseball instincts. McIntosh, 24, is another undrafted free agent with good timing and bat-to-ball ability that he's put to good use at Pensacola, where he had an OPS a shade over 1.000 just before publication. He is very rough on defense, especially from a throwing and blocking standpoint. It's bad enough to consider him highly unlikely to catch, but he's hitting too well at Double-A in his first full season to write off entirely. Devers has struggled with injury. You could conceivably make an age-related adjustment to Mesa's 2022 performance, but unlike the 35+ FV prospects who I kept alive in the main section of the list despite their issues, I don't see a plus tool here. I think Burgos can hit a little bit, but for whatever reason, the org has been reticent to promote him and he's still on the complex at age 21.
Depth Relievers
Tyler Mitzel, RHP
Jefry Yan, LHP
Chandler Jozwiak, LHP
Mitzel, 26, has been up to 96 mph and has a good changeup. He is pitching well at High-A. Yan was found pitching in a men's league in Phoenix, where he was up to 96 mph. He sits in the mid-90s and will flash a plus breaking ball but is very wild. Jozwiak was an ultra-consistent college reliever at Texas A&M who is sitting about 90 mph with a plus slider.
Developmental College Pitchers
Holt Jones Jr., RHP
Justin Fall, LHP
Brandon White, RHP
Jones is a very well-built 6-foot-8 righty who was up to 97 mph at Kentucky (he transferred from Clemson). He barely pitched in college, averaging just 20 annual innings in four years. He needs to find a better breaking ball, but might end up throwing really hard. Fall is a lefty with a two-seam/slider combo who also might have developmental meat on the bone after he spent time at a JUCO and then with an ASU program that is way behind when it comes to pitch design. White, a Day Three pick out of Washington State, blew out in front of me during extended spring training. The 6-foot-8 righty was 93-95 mph with a good curveball for a few innings before his velo dropped into the mid-80s and he walked off the mound.
Recent College Draftees
Will Banfield, C
Dalvy Rosario, SS
Cristhian Rodriguez, 3B
Tanner Allen, LF
Banfield, who signed an over-slot deal to turn pro rather than head to Vanderbilt, has a plus arm and some power. Frame and athletic projection are huge aspects of both Rosario's and and Rodriguez's profiles; they're young (21 and 20, respectively) and they're good defensive infielders, but they aren't hitting. Allen is one of the most prolific SEC hitters of all time, but is also struggling mightily from a bat-to-ball perspective in A-ball.
System Overview
The Marlins' big league rotation could soon rival their group from the 2003 World Series team, with Sandy Alcantara and Pablo López already in place, and Eury Pérez and Max Meyer on the way. The intermittent struggles of Trevor Rogers and Jesús Luzardo (who has pitched better in 2022), and Braxton Garrett's career narrative, should act as a reminder that growing pains and attrition are likely to occur as this dream rotation unfolds.
While they've drafted, signed, and acquired all of these pitchers, which is evidence of competence on its own, the Marlins aren't developing internal pitching depth at the rate the teams that consistently contend seem to be able to. It has left their big league bullpen thin and forced them to trade interesting pieces to patch those holes. The Dylan Floro trade is the best example of this, while the Louis Head swap is the most recent. Ideally, they'd be home-growing middle relievers, or otherwise acquiring them at the cost of a roster spot via waivers, rather than trading prospects who stand a chance to be better than who the team is acquiring, and who would have more roster flexibility if they develop into viable big leaguers. I buy that these moves are being made out of perceived necessity and with an awareness that this approach isn't ideal, but if that's true, it's still an indication of other deficiencies in the org that these trades are trying to mask. You need a huge amount of pitching depth to actually win the whole thing and this group feels top heavy, much like a lot of recent Philly clubs.
The collection of electric up-the-middle players in this system is very impressive, though the artery of hit tool risk running through it is scary, with echoes of the same underlying issues that made the Christian Yelich trade turn out so badly. Miami's system looks like Texas' did five years ago (and like Miami's did five years ago), with huge tools and strikeout issues running through it. Texas pivoted while Miami has not. Fixation on athletic projection isn't crazy — part of what makes Shohei Ohtani, Mike Trout, Fernando Tatis Jr., Manny Machado and others as good as they are is their size, bodily strength and athleticism all wrapped into one, while their feel to hit is what separates them from guys like Monte Harrison, who I was all-in on and who is every bit as fast, strong, and athletic as everyone in that group. Targeting huge-framed athletes gives you a more bites at this sort of high-upside apple, but it also tends to come with higher variance.