Killian Hayes was in Germany and felt a little, well, scared. He had just signed a pro deal to play for Ratiopharm Ulm, and had to move from his small town in France, Cholet, to a new country. He was alone.
Hayes didn't have any family in Germany, didn't speak the language, and had to live on his own in an apartment. For an 18- year-old kid, his biggest concern was figuring out what he was going to eat every day.
Omelettes became one of his go-to meals. An egg, mix in with somered peppers, tomatoes, ham or turkey and a little bit of onions, but not too much though— he's not a huge fan of them.
He had to learn to take care of himself since the age of sixteen, back in France. A year ago, Hayes wasn't even old enough to drive himself because the legal driving age is 18, so he either hopped on the bus or asked teammates to help him out. Now, here he was in Germany, having to figure it all out, again.
He brought that same mindset to the court, where he had to prove himself to both head coach Jaka Lakovic, and his teammates. Respect is earned, never granted.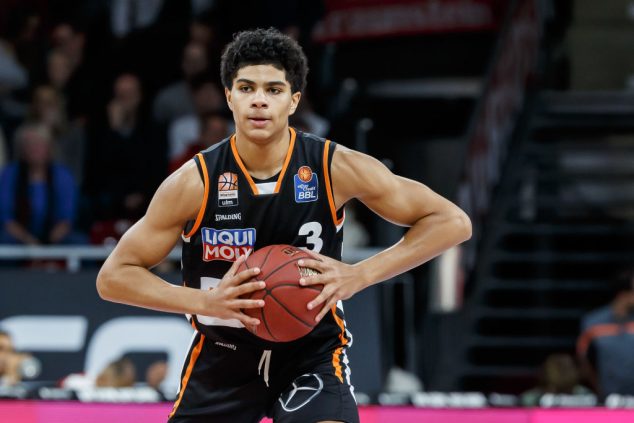 "When you're 18 coming to a new team that nobody knows, you got to show up that first day of practice and just practice hard and show everybody what you're about," he says when asked about the moment. "As a point guard, you got to gain everyone's respect."
He further explains: "Everything [Lakovic] said, I would do. Full court pressure, I would go full court pressure the whole game.  I was just trying to stay on the court, to prove to the coach that I'm somebody he can rely on. The point guard has to be the coach on the court, so that's what I would be."
It's a circumstance that won't differ much from the NBA. In a few weeks, Hayes will be a youngin' yet again, on a new team, in a new city, having to prove himself yet again.
Hayes, who is calling from Orlando just a week before the draft, says he knows a thing or two about proving himself in a grown man's league.
"I know I'm ready for the NBA and I've been preparing for this for life, so now it's going to be a new chapter in my life opening up."
The question that remains, though, is whether France's elite point guard can make waves across the Atlantic.
—
Hayes says he had early talks with his father, DeRon, about either going pro or going to high school in the States. His father knew that a career overseas could prove beneficial after a standout career at Penn State, so he took his talents over to France, where he met Hayes' mother, Sandrine.
Hayes was born in Florida while his father was playing in the American Basketball Association, but grew up in France once his father returned to the Pro A. A young Hayes would spend summers in Lakeland, and then return back to France, where soccer was one of the more popular sports.
Still, Hayes had hoop dreams of his own. He loved Dwyane Wade, and France's own Tony Parker.
"When you talk about French basketball you gotta talk about Tony Parker. Everything he did in the NBA and in France with the national team, you gotta respect him. Someone I really looked at when I was younger was Dwayne Wade and Derrick Rose but, Tony still has a really big impact on France."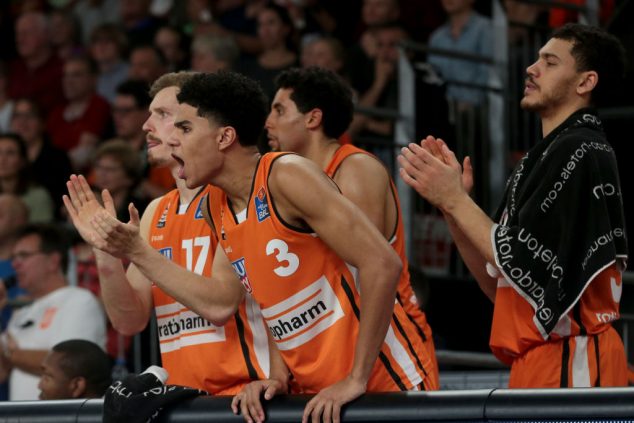 When it came time to decide where Hayes was going to play in high school, a young Killian wanted to play in the States, where the elite prospects were. DeRon thought otherwise.
"Going pro was always a part of my plan, my big picture," Hayes says. "My dad, we talked about maybe going to high school but, he told me being a professional at 15 years old is unique and you can get a lot more of an experience from."
Hayes listened to his pops, and shined at the Jordan Brand Classic International Game in 2017, where he earned MVP honors there, and at the FIBA Europe U16 Championship the following year. The lefty helped lead France to a gold-medal victory, averaging 16.6 points, 7 boards and 5.1 assists a game.
Then he signed a pro-deal at 16 with Pro A Cholet.
His rookie season was far from easy, though. As the team struggled, so did he. Appearing in only nine games, Hayes averaged only 2.2 points.
"It was hard," Hayes says when looking back. "It wasn't what I expected it to be, it was a struggling season and I really struggled. But it was a big learning experience."
He learned quickly that this wasn't school yard games and he wasn't playing with high schoolers. In a pro league, he had to hold his own: 
"The coach, he was really cut throat and if you messed up—if you're playing in high school and you turn the ball over, nobody cares. But, if you're a pro and you turn the ball over, you'll go back on the bench. Learning that, and the physicality of it, the team, growing and trying to figure out my body and grow into it— and there's people that played ten years professionally and they're going at me. It was a big learning experience for me."
His confidence developed, as did his game. Going into the next season, he found a better rhythm on the court, averaging 7.1 points and 3.1 assists, but was left unsatisfied. Mock drafts had him projected with the 27th pick. He knew he was a lottery pick.
"That was really tough on me," he says. "I [felt like] I needed to prove that that's not where I belong, I need to work hard and play good so that my ranking could go up. I wanted to be a lottery pick, I wanted to be in the top 10 so I had a lot of work to do."
After signing with Ulm in Germany, he knew he wanted to make a name for himself on a new team, and to have it be recognized in the States.
 "I feel like in Europe, a lot of people know who I am, but in America, you see guys like LaMelo or RJ Hampton, Cole Anthony, everybody knows who they are. I feel like I got to really show who I am as a person and definitely on the court, what I can do."
Hayes has been preparing for this moment since he was a young pro in France, then in Germany, and now as a projected lottery pick. While quarantining with his family back in Lakeland, he took no days off.
He's been working out with his trainer two or three times a day: Mondays might be back and shoulders, biceps another day, legs the following day.
In March, he weighed 197-198 pounds, and now he's up to 215. He feels more explosive, more agile.
He and his dad hooped together, too. They bought a hoop from DICK'S Sporting Goods and put it in the backyard. Some days, they'd play 1-on-1, other days he and his cousin, EJ, would play king of the court.
When he wasn't training, he and the fam were spending lots of quality time together. Hayes even became a whole barber during quarantine, giving his dad and cousin fades when they needed it.
Hayes knows that hearing his name called is an accomplishment for the entire family, especially his father.
"My dad, it was his dream to be in the NBA and get drafted, so being able to make his dream come true through me, is definitely a blessing. It's going to be new for the both of us. Coming into the draft, it's not a guarantee but we kind of know where I could land. We're just all going to be there and enjoy the moment."
That same dream has now become a reality— the Detroit Pistons drafted Hayes as the No.7 pick in the 2020 NBA Draft. With training camp only weeks away, Hayes doesn't have a casual, c'est la vie type of attitude during this big moment. He's ready to get to work and knows nothing will be guaranteed.
His nickname is fitting. After people in the States would struggle to say it properly, he'd have them call him "Kill."
"I want to kill everybody that's in front of me," Killian Hayes, aka Kill, says. "If it's a crossover or something like that, it definitely feels good in the moment. I remember I hit one guy up and he fell. That definitely felt good, but then you just got to move on. You can't stay stuck on that play forever, it goes quick. I'm quick to move on."
—
Deyscha Smith is an Associate Editor at SLAM. Follow her on Twitter @deyschasmith.
Photos via Getty Images. 
298