It's been leading up to this all week. The endless rumors, speculation, and fake Twitter accounts paved the way for two earth-shattering transactions. I'm talking, of course, about the Red Sox sending Aldo Ramirez to the Nationals in exchange for Kyle Schwarber, and San Diego shipping Mason Thompson and Jordy Barley to Washington in exchange for Daniel Hudson.
I kid, but we can't let the Dodgers hog the spotlight, can we? Besides, as far as trades go, these are as straightforward and sensible as they can get. Up first are the Red Sox, who will try to make the most out of two months with Kyle Schwarber. The 28-year-old slugger went on an absolute tear a month ago but has missed time since with a hamstring injury. That means the team will have to wait before it can use his services, but that's a small sacrifice when considering the potential benefits.
Immediately, Schwarber provides the Red Sox with a left-handed, middle-of-the-order bat. Our Depth Charts have him pegged at left field and first base – the former option establishes some stability in a scrambled outfield, while the latter offers a temporary respite from the clutches of Bobby Dalbec, whom Jay Jaffe highlighted as a replacement-level killer in his recent series.
In theory, the skewed dimensions of Fenway both aid and hinder Schwarber. Using our site's Park Factors, we see that the park has consistently suppressed home runs from lefties while enabling doubles. But it won't dramatically alter Schwarber's value, and while he does strike out a fair amount, it's not because he's swinging at bad pitches. As Eno Sarris pointed out, Schwarber is one of the few hitters with elite barrel and chase rates. Here's that visualized, with him as the point in red: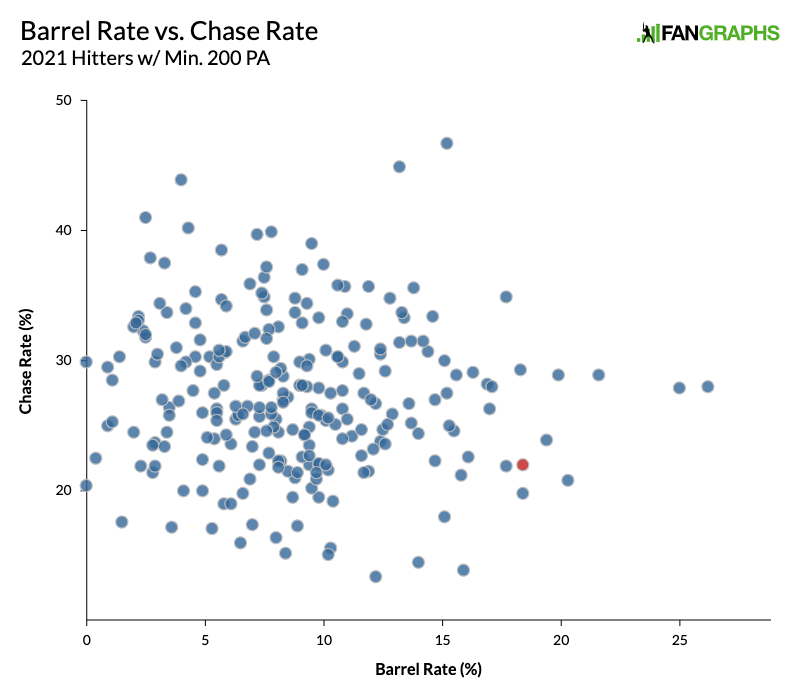 I also wonder if the Red Sox are willing to modify Schwarber's approach. His swing rate in early counts (0-and-0, 0-and-1, 1-and-0) is below the league average; by contrast, the Red Sox have a penchant for attacking early – not against all pitches, but rather would-be strikes. It's a method of selective aggression that's powered the team thus far. Schwarber already doesn't chase often, so maybe more swings at early strikes would boost his offensive output and prevent him from falling behind in the count.
Given the nature of Schwarber's contract, headed to the Nationals is a single prospect: Aldo Ramirez, a right-handed pitcher ranked 14th on Eric Longenhagen's preseason Red Sox Prospects List. Ramirez is currently on the IL with elbow tendinitis. Eric informed me that prior to his injury, Ramirez had been performing well after a velocity spike during the fall. Other details to note are an arm slot and hand position conducive to pitching up in the zone, a "fairly advanced arm-side changeup feel," and a command grade that's currently at 35 but that has been assigned a FV of 60. It'll be crucial to monitor whether the gains in velocity are still present when Ramirez recovers. He slots in at eighth in the Nationals system.
Moving over to the West Coast, we have the Padres' acquisition of Daniel Hudson. I know, it's hardly a consolation after missing out on Scherzer – someone I follow on Twitter described the fallout as ordering a filet mignon and getting a salad instead – but Hudson has been quietly awesome. In terms of numbers, his 2.20 ERA, 2.45 FIP, and strikeout rate of 37.8% place him among this season's very best relievers.
To say this is unexpected might be an understatement – at age 33, Hudson's strikeout rate soared from 23.4% in 2019 to 30.4% in '20. The secret involved adding a few inches of ride to his fastball, abandoning his sinker and changeup, and throwing more sliders. In short, he transformed himself into a modern reliever. But when it came to actual results, Hudson's home run and walk rates spiraled out of control in 2020 and contributed to career-low marks. I do think most of that can be blamed on the variance within a 20-inning sample, but I also did notice a particular quirk. Here's Hudson's whiff rate on his slider when he fell behind in the count since 2015: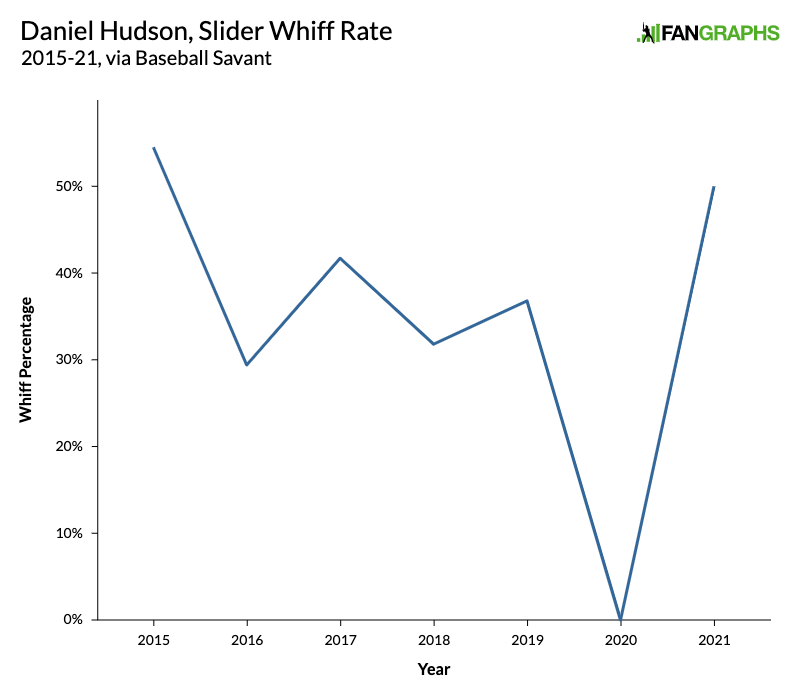 You can easily spot the great crash of 2020. For some inexplicable reason, batters became resistant to Hudson's slider that season, forcing him to rely on his fastball. I'm not sure if this was a contributing factor, but it did inspire Hudson to revise his slider. Unlike previous iterations, the pitch is now released at an 180-degree axis (i.e. as vertically as possible). That's led to a loss in vertical drop but also an uptick in velocity, which perhaps interacts better with his fastball. Though I'm a bit skeptical about Hudson's suppressed walk rate, it seems like his resurgence is no fluke. Note: Hudson is currently on the COVID Injured List, so it will be at least a couple of days before he is activated.
In return, the Nationals will receive two mid-level prospects: Mason Thompson and Jordy Barley. A shortstop signed out of the Dominican Republic in 2016, Barley possesses loud tools but has fallen behind in development due to his on-field mishaps. He's an interesting prospect, though it will take a while to gauge whether he ends up benefiting the Nationals.
Meanwhile, right-handed pitcher Mason Thompson is someone who's been on my radar since his Padres debut. Of the 43 pitches he's thrown so far at the major league level, 41 have been sinkers; the other two are a stray four-seam fastball and changeup. That's because he can absolutely afford to. In addition to hovering around 96-99 mph, his monstrous sinker generates around 60 degrees of axis shift as it reaches home plate. But as Eric Longenhagen noted in his write-up of the Padres' system, command is still an issue for Thompson. Whether he can harness the sinker in tandem with a secondary pitch will be key in deciding his future value. Thompson ranks 21st in his new system, while Barley checks in at 26.
Contenders benefit from a team willing to sell. It's a simple outcome, but one that the uncertainty surrounding this year's deadline threatened to distort. In the end, though, a blockbuster was released, and two additional buyers came out on top. The Red Sox snagged a power lefty bat who could mend a hole at first. The Padres brought in a veteran reliever with two electric pitches and postseason experience. On the selling end, the Nationals netted three prospects with intriguing upside, bolstering a farm system that ranked towards the bottom of most publications' lists. Everyone should be satisfied here.