Earlier this year, I took a look at the worst (and best) bunts of the year. I couldn't help myself. It's simply too much fun to watch the best-laid bunting plans go down in flames, while a perfectly executed bunt is one of the most exciting plays in baseball.
Originally, I planned on waiting until the end of the season to update both lists. I forgot something, though: the end of the season is really busy and fun as it is. Playoff races, individual awards, wondering where the Mets went so wrong. There are already innumerable annual traditions to write about at season's end. Instead, I decided to get a head start on these standout bunts, and circle back if one improbably beats them out for the worst (or best) bunt of the year.
As a reminder, here was the worst bunt of the first third of the season:
That one was really bad, both in execution and outcome. It cost the Cardinals dearly — more than a quarter of a win by WPA. It's not easy to lose so much value in a single play on offense. With that in mind, I'll be answering a bonus question for each bunt in this list: was it worse than José Rondón's ill-fated attempt? Without further ado, let's get bunting.
5. August 6, Jose Altuve, Houston Astros
The situation:
First and third, two outs, bottom of the 11th. The Astros trail by one. It's safe to say that this isn't an obvious bunting situation. The Twins had a truly clunky defense on the field; their corner infielders were Miguel Sanó (at third) and Mitch Garver (at first). That's a first baseman at third and a catcher at first, for those of you keeping score at home, though Sanó still moonlights at third, with 37 innings in total there this year.
The play:
The cost: -.20 WPA
What a strange way to start the series. I'm still not sure if this was a good play by Altuve. I like the idea of applying pressure in an unexpected spot, but the Astros wouldn't win the game if he was safe, and Altuve isn't as fast as he used to be; he's just 9-for-28 on bunt attempts since 2019, and his home-to-first time is tied with 2020 for the worst of his career this year.
That wasn't the best bunt I've ever seen, but give plenty of credit to Sanó. That was a spot where he can't have been expecting a bunt. He was reasonably deep behind third base when the play started: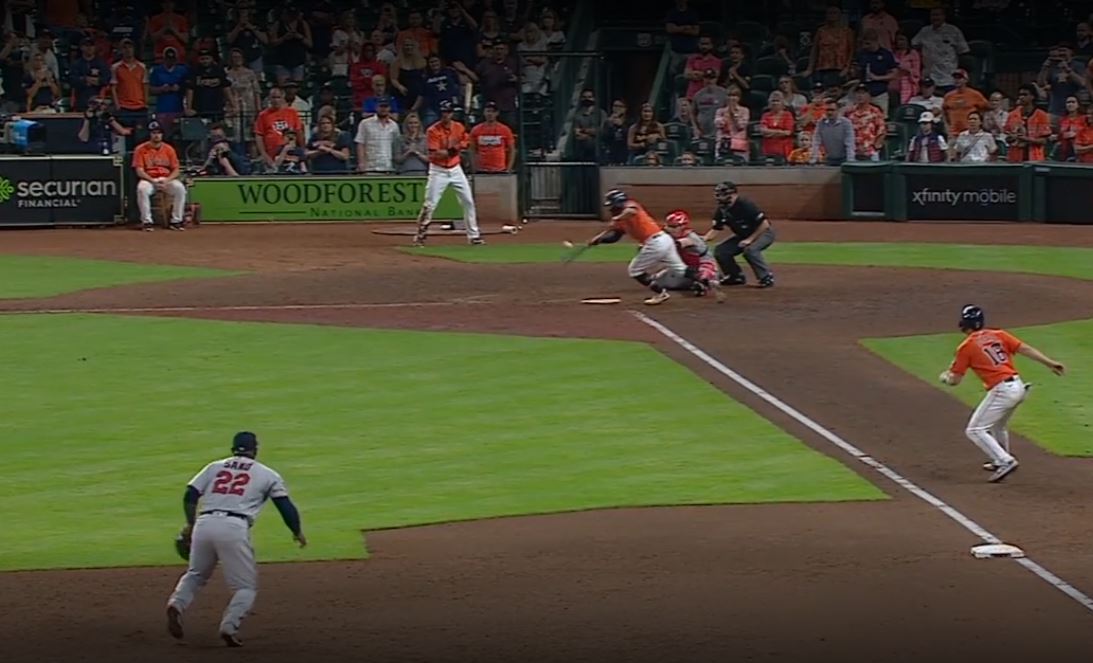 It was do or die right from the start, with not even a prayer of getting the runner at home. Luckily for the Twins, Sanó didn't move off of third base because of a lack of arm strength; he has one of the best infield arms in the majors. It was just a matter of getting to it in time, then picking it up cleanly, both of which he managed. That's a heck of a play, though I still quibble with Altuve's thinking.
Worse than the Cardinals?
Nah. It wasn't great obviously, but this was both a tough situation to start with (you don't win a lot when you're down with two outs in the ninth inning) and a tremendous defensive play. It didn't cost the team two outs — something most of the worst bunts do — and that's enough to make it less egregious in my eyes.
4. June 15, Adam Wainwright, St. Louis Cardinals
The situation:
In a tie game, Paul DeJong reached to start the bottom of the eighth. Mike Shildt doesn't need an excuse to bunt, as we've seen in previous installments of this series. As is customary, Shildt asked a player with no career sacrifice bunts, Lane Thomas, to lay one down. But that says Adam Wainwright up there — because Thomas put down a perfect bunt and reached base. First and second, no one out, the Cardinals went to a pinch hitter: Wainwright.
Wait, what? Despite having used only one pinch hitter in the game so far, the team was in a pickle. Shildt really wanted to bunt. He had an out he was trying to donate, you see, and he wasn't taking no for an answer. Back went the real hitters to the dugout, and up stepped Wainwright to drop one down.
The play:
The cost: -.21 WPA
Despite my bunt-related snark, this is a decent spot to try one. Getting a runner to third with only one out is quite valuable in a tie game. A successful sacrifice here would have set the team up well. The Marlins knew it, and had two infielders wayyyyyy in. All the bluffing in the world doesn't matter when you send a pitcher up to pinch hit. And yeah, that was an awful bunt: DeJong was out by so much that I can't imagine a runner in the game who would be safe there. As an added "bonus," Wainwright isn't exactly fleet of foot; that second out turns this from kind of bad to nightmarish.
Worse than the Cardinals?
That's a confusing statement, but no. It was close, but because the team kept a runner in scoring position in a tie game, it wasn't quite as harmful to the home team's cause. It's hard to lose too much value when you still have a runner in scoring position in a tie game.
3. September 5, Dylan Moore, Seattle Mariners
The situation:
It's a setup you've seen before: Moore came to the plate to start the top of the 10th inning, which meant there was an automatic runner on second base. The top of the inning is generally a bad time to bunt, so the Diamondbacks played Moore straight up. Modern-times straight up, at least; they shifted against him, with the second baseman up the middle and first baseman off the line and deep. If he wanted to bunt, Arizona would give it to him. Spoiler: he wanted to bunt.
The play:
The cost: -.22 WPA
Not great! Moore went with the ever-classic sneak attack bunt. With his blazing speed, he was playing for either of two outcomes: a sacrifice bunt (acceptable, not great), or a bunt single (incredible, break out the trumpets and celebratory banners). Either of those outcomes seemed like a reasonable possibility, with the defense all the way on its heels and in a shift. Push the ball past the pitcher, and his odds looked good: Pavin Smith couldn't field a bunt and cover first, which meant a tough play for second baseman Andrew Young.
Of course, Moore didn't do that. He bunted the ball about five feet, giving Daulton Varsho an easy play. Jarred Kelenic, the runner on second, didn't get much of a secondary lead. Here's where he was with Moore already out of the box: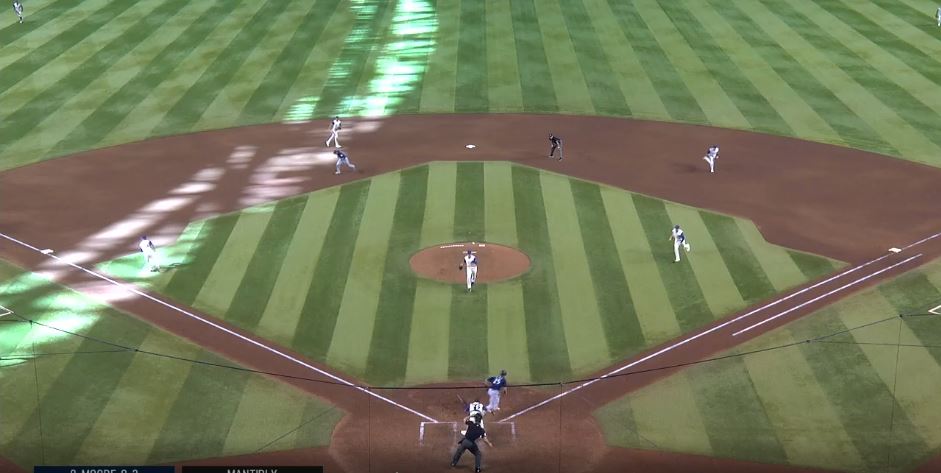 If the bunt had been even a little better, that lead wouldn't have mattered. It's really hard to field a bunt and make a throw to third base; Varsho barely made the throw despite having to travel all of five feet to recover the ball. But he did make the throw, and the Mariners lost an out and some excellent runner positioning. To add insult to injury, Moore was thrown out stealing second base on the next pitch, turning it into a very slow motion double play. Luis Torrens doubled — with the bases empty and two outs, whoops — and the Mariners didn't score in the inning. They scored six runs in the 11th to win, though, so it all ended in smiles.
Worse than the Cardinals?
Nope, as long as you don't count getting caught stealing.
2. July 6, Chris Taylor, Los Angeles Dodgers
The situation:
Taylor, mere days away from being named an All-Star for the first time, came to the plate to lead off the top of the 10th inning. Like Moore in the play above, Taylor is a fast boy, and thought he'd get two bites at the apple (hit or sacrifice) by bunting into an unprepared defense. And honestly, why would the defense be prepared? Will Smith, the runner on second, is a slow boy, and Taylor was, again, about to go to his first All-Star game because of a sterling offensive half. No one was expecting him to give himself up.
The play:
The cost: -.22 WPA
Sure, this is the same situation as above, so these are technically a tie. This one seems worse to me, though, so I'm giving it the edge. Chris Taylor is a much better hitter than Dylan Moore, something WPA doesn't account for. Smith is a slow runner, so he'd be less valuable at third base.
You have to be really sure a bunt will work out to pull the trigger in this situation — a sacrifice isn't even good! It's not terrible, sure, but you don't see managers calling for it in the top of the inning basically ever, and with good reason. Taylor needed to reach base safely to truly come out ahead, but his bunt was much worse than that. By pushing it toward third base, he gave Jorge Alfaro, owner of perhaps the strongest arm among all catchers, a running start. Smith never stood a chance. He did nothing wrong — you're just not going to be safe in that situation if you run like Will Smith, no matter your read on the play.
Worse than the Cardinals?
Not quite.
1. July 4, Roberto Pérez, Cleveland Guardians
The situation:
Honestly, you shouldn't bunt when you're down a run going into the bottom of extra innings. It sets you up to play for a tie, and not in a good way: sacrificing an out decreases your chances of scoring two runs significantly, and you'd vastly prefer to win the game outright in these spots. Cut Pérez a little slack, because he was hitting .131 with a .274 OBP going into this game, but the odds of running into a home run alone make a bunt questionable. Anyway: bottom of the 10th, automatic runner on base, Astros lead by one.
The play:
The cost: -.41 WPA
I believe the technical term for this play is "unmitigated disaster." Pérez was conscious of not tapping the ball directly into the ground, like so many of our previous looks at bad bunts, but there's more than one way to lay down a bad bunt. That wasn't a particularly challenging attempt, either: I know that bunting isn't automatic, but a 92 mph fastball middle-in is about as good as you can expect in terms of an easy pitch to handle. Sometimes a bad bunt comes down to trying to do too much with a tough location, but this was emphatically not that.
Poor Harold Ramirez had a tough decision to make. He took a decent secondary lead, then jammed on the brakes when the ball wasn't obviously down. What are you supposed to do, though? Here's a still of the highest point of the ball's flight towards Raley: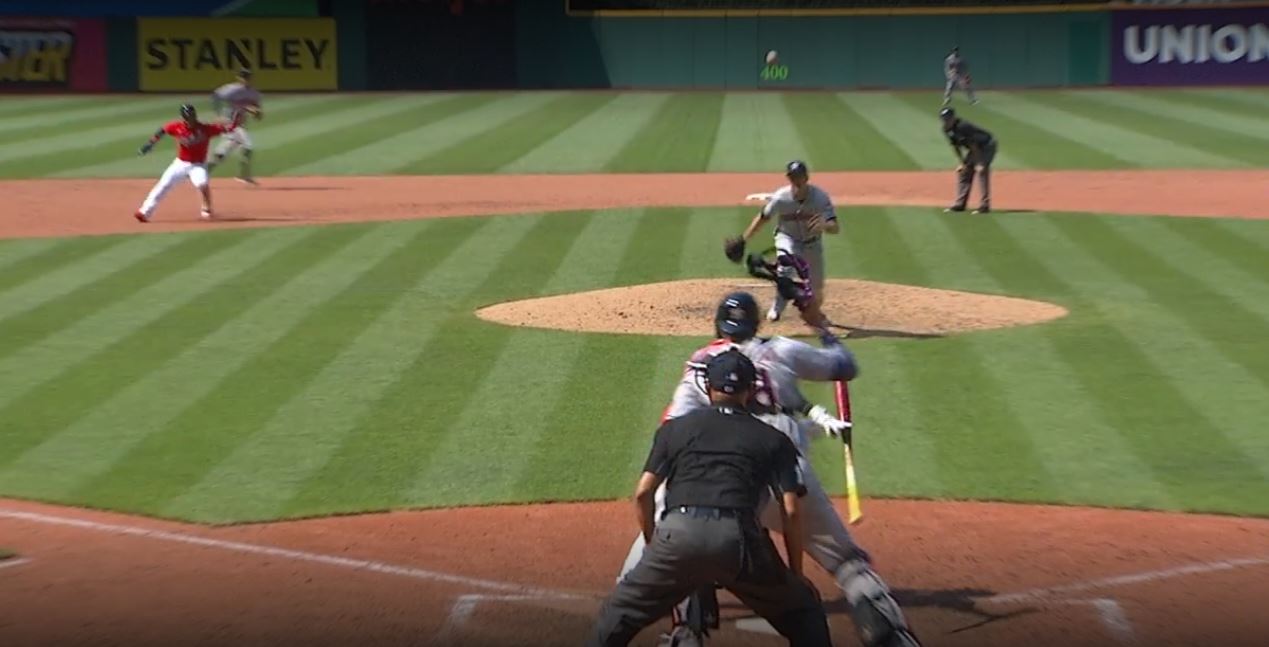 That's not even a pop up; it's more of a bunt lineout to pitcher. By the time Raley was in clear fielding position, Ramirez had barely come to a halt: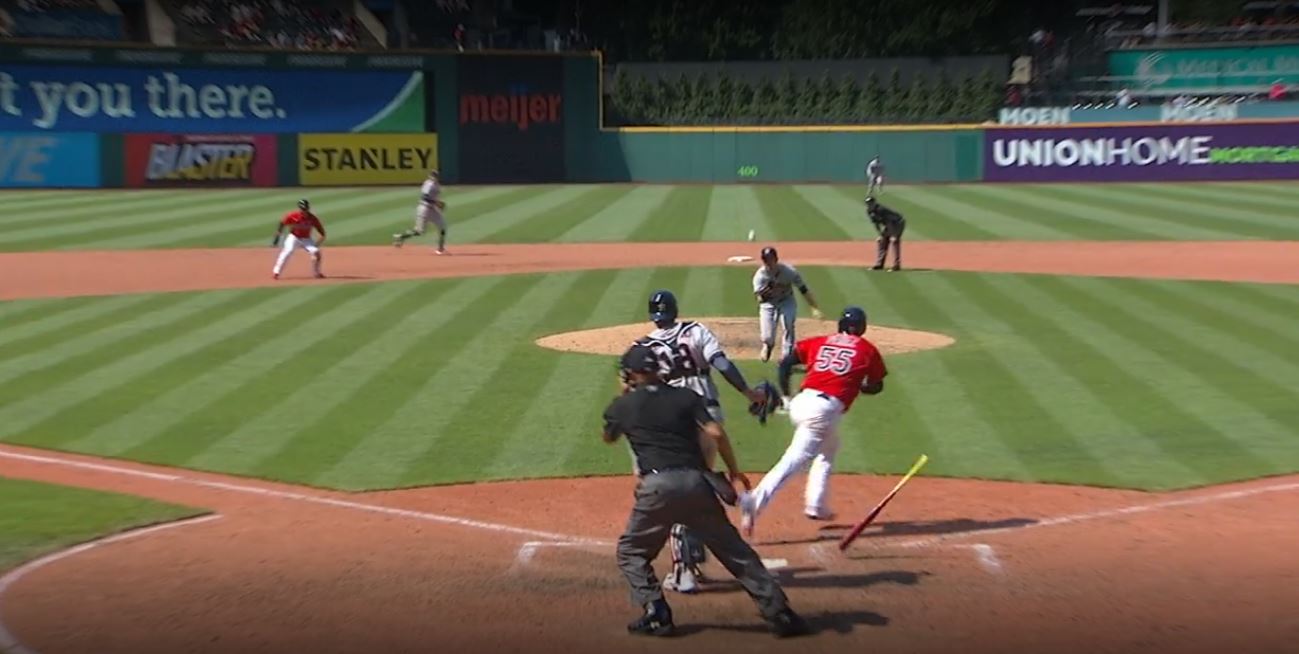 He was dead to rights, despite his best efforts to get back to the bag. Raley made a strong throw, Carlos Correa was in position to receive the throw, and that was that. In fact, Cleveland's best chance was hoping Correa came off the bag too quickly as he celebrated; they challenged, but his foot dragged just long enough. Just like that, the game went from tossup to all but over; two outs, no one on, and Oscar Mercado coming to the plate.
Worse than the Cardinals?
By a ton! This one was far worse, at least in terms of win probability. It might not beat the sheer "wait, how did this go wrong?" of it all, but make no mistake: you might not see a costlier bunt, even if you watched years' worth of games.
In the end, I'm fairly sure we won't see a worse bunt than Pérez's Hindenbergian effort in the three weeks of games left this season. Everyone makes mistakes sometimes. This one, though, was the fourth-costliest plate appearance all season, behind two catch-and-throw-home double plays and a triple play. It's hard to imagine having your worst effort come at a worse time, and for that, Roberto Pérez can stake a claim as the worst bunter of the year.