In news that was buried under the pre-lockout transaction rush, the White Sox brought back 30-year-old utility man Leury García on a three-year deal for $16.5 million. Despite a season slash line of .267/.335/.376, he still put up 2.0 WAR in 126 games, a testament to his defensive prowess.
It's the bat that has been the issue, as you can see in his career 80 wRC+, though his 98 wRC+ in 2021 was a significant step up. The lack of power is the largest hole in García's offense, or at least the clearest area for improvement. There is some measurable power, with a max exit velocity of 109.6 mph that is above league average, but it's largely undone by a 55% ground-ball rate. He lags behind those with similar exit velocity in barrel rate, too.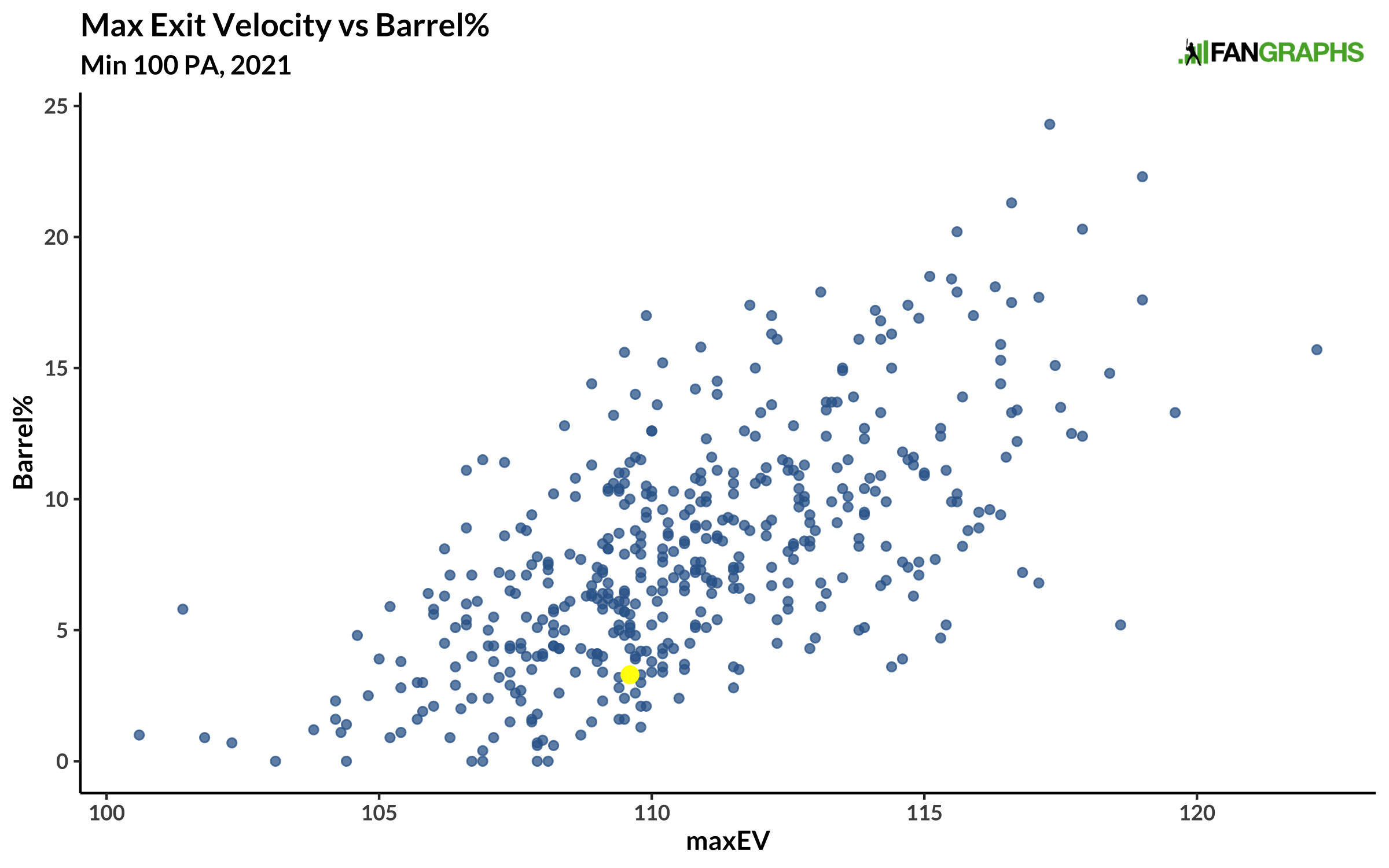 Deficiencies with the bat don't matter so much with García, though, as he is through and through a utility man, and while many players end up playing a bevy of positions, he is firmly in the Chris Taylor tier. Both were the only two players to play at least 60 innings at six different positions in 2021 — the only two with at least 30, in fact.

While these seasons are incredible feats, they're only possible because everyone else was getting injured. Just in 2021, the White Sox lost serious time from Eloy Jiménez, Luis Robert, Adam Engel, and Andrew Vaughn. García's value will mostly derive from simply being available at all times for all positions during the season, and the White Sox would likely be happy if he plays in something less than 126 games.
What makes García special and keeps him in Chicago's fold is that despite never getting enough reps at any one position to grow, he is more than adequate at every position he plays. There is no pretty way to slice up a few hundred innings of defensive metrics for multiple positions, but there's nothing to indicate he's deficient at any spot. By Outs Above Average, his -3 OAA across all positions in 2021 is right in line with Taylor and slightly better than Josh Rojas. García didn't accumulate less than -2 OAA or -2 DRS at any of the six positions he played and was no worse than -0.5 UZR no matter where he stood. His speed — he's in the 84th percentile for sprint speed — translates best to the outfield, but he nonetheless holds his own everywhere.
A year ago, it'd be hard to conceive of the White Sox moving away from Nick Madrigal as their long-term solution at second. That's no longer the case after last year's Craig Kimbrel trade (a swap that may not be over), but in García, Chicago at least has a backup plan for second (and third, and short, etc.). No contending team wants to roll out a Steamer-projected 89 wRC+ at second everyday, but it'd probably be wrong to assume that the White Sox have six different backup players with a projected 89 wRC+. And while it's unlikely that they have some grand plan to alter García's swing to coax some more power out of him, it's well within reason that he can continue to have seasons like 2021 where a high BABIP leads to league-average production.
As of now, the only other second baseman on Chicago's roster besides García is Danny Mendick, so I can't imagine that the White Sox won't do something else there when the lockout ends. And they 100% should, because García's value, as noted, lies in his versatility. For players like Taylor and Enrique Hernández, they help not through star performance (although Taylor certainly can hit like one) but simply by being not as bad as whatever replacement exists within the organization. Are the White Sox sitting on a minor leaguer who can play average second base defense with an average-to-above-average bat? Probably not, or at least, they don't think so. While they wait to develop or acquire that player, they've kept Leury García to serve as that guy — wherever, whenever.