Yordan Alvarez is an imposing figure in the batter's box. The lefty stands 6-foot-5, towering over home plate with his knees bent and bat coiled, simply daring the pitcher to throw him a pitch in the zone while having the patience to spit at pitches not to his liking. With his toothpick-gnawing manager, Dusty Baker, looking on from the dugout, I couldn't help but be reminded of another hitter from Baker's past who led him to his only other World Series appearance back in 2002. No other hitter is quite like Barry Bonds, but Alvarez has been a treat to watch with his impressive blend of patience (18.6% walk rate) and power (.353 ISO). He earned ALCS MVP honors after going 12-for-23 with five extra base hits, and he capped off the series with a massive 4-for-4 night in the decisive Game 6 to knock the Red Sox out of the playoffs and advance to the World Series:
Game 6 was a microcosm of his performance all postseason: roasting extra base hits from line to line, whether he's seeing offspeed pitches at the knees or high-90s fastballs painted on the outside corner. Here's how his performance has staked up against other hitters this October:
Top 2021 Playoff Performers
SOURCE: Baseball Savant
Min. 100 pitches seen
Next up for Alvarez and the Astros is a World Series matchup with the Braves, who have surely spent a good bit of time in their preparation trying to figure out what to do against Houston's thumper. I figured I would do the same by taking a closer look at how he's been succeeding and how the Red Sox failed to contain him.
One of the big keys for Alvarez in the playoffs has been his improved plate discipline compared to the regular season. 2021 actually saw a step back in his walk rate from his first two seasons. In fact, he had a below average walk rate this season after having a 94th-percentile rate in his rookie year. So far in the postseason, though, his patience has returned. He has eight walks in just 10 games, and those walks are coming on top of some clear improvement in his swing decisions. Using Baseball Savant's Attack Zone maps, you can see that Alvarez has done a great job of laying off the pitches that are hardest to hit, while increasing his swing rate on good pitches:
Yordan Alvarez, Plate Discipline
| Time Frame | Swing% | Swing% (Heart) | Swing% (Chase + Waste) |
| --- | --- | --- | --- |
| Regular Season | 43.0% | 65.6% | 20.1% |
| Postseason | 40.4% | 71.4% | 12.9% |
SOURCE: Baseball Savant
Early in the ALCS, the broadcast used a beach ball metaphor to describe how well Enrique Hernández was seeing the ball, and the same could be said for Alvarez with how well he's recognizing pitches to drive. He is seeing about the same number chase and waste pitches as in the regular season, he's just doing a better job of not swinging at them. This discipline has allowed him to get into hitter-friendly counts where he can more easily sit on a specific location or pitch type. His swing decisions have led to some explosive contact, as he has hit an absurd 12 pitches with an exit velocity of 100 mph or greater this postseason, on just 24 batted balls. The following shows all 12 of his 100 mph or greater contact, so that we can get an idea of what types of pitches he is punishing: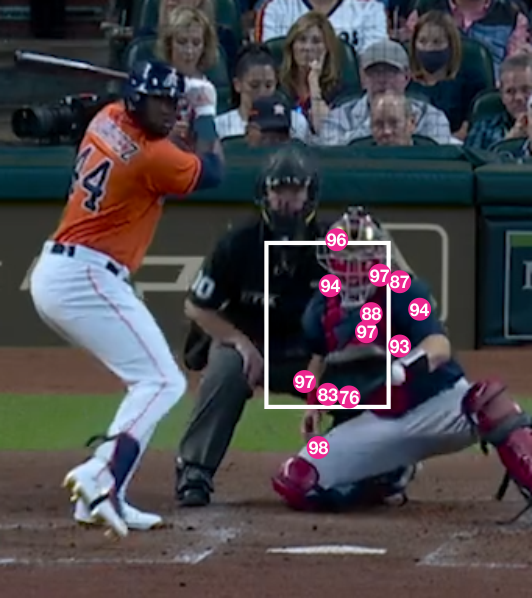 Away, away, away.
It's a fairly stereotypical scouting report for a player of Alvarez's size. He has excelled against pitches farther away from him that allow him to get his long arms extended. Some of those pitches were mistakes, and you may have noticed a number of them were quite off of their intended location, but it's still impressive seeing that kind of hard contact from the top of the strike zone to the bottom while going to all parts of the field. Let's go to the opposite extreme and look at all of the whiffs that Alvarez has had in the postseason. Here's all 14 of them:
If you ever begin to think that a hitter can't be beat, there's no cure quite like looking at a compilation of him whiffing a bunch of times. Here's a tidy recap image: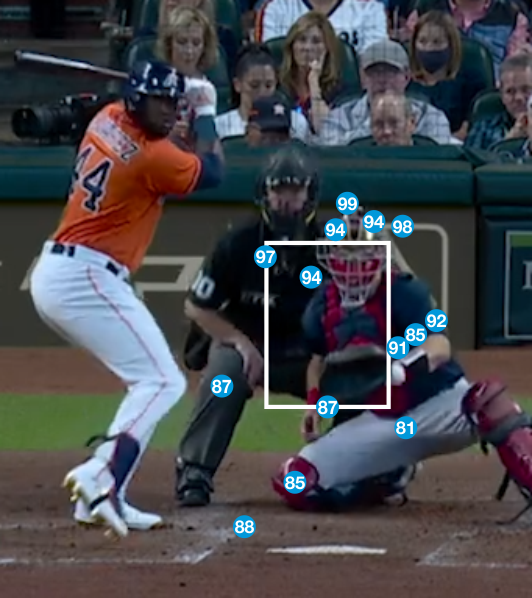 For the most part, Alvarez isn't whiffing in the zone, and getting him to chase is really the key to getting him out. I find the three pitches from Eduardo Rodriguez toward the end of the GIF quite interesting. He was one of the few pitchers who was able to execute a breaking ball low and away off the plate to Alvarez, and he was rewarded with a whiff. That low and away portion off the plate is the corner where Alvarez has had the most trouble laying off; he chased 32.9% of pitches thrown to him there in 2021, good for just a .221 wOBA. Any game plan from a lefty pitcher to Alvarez needs to be built around landing a breaking ball below the knees on the outside part of the plate. That's easier said than done, however, and you've seen what he'll do if the pitch is left up just a bit. And even though it's his worst area when it comes to his swing decisions, he's still laying off two-thirds of pitches there.
When you look beyond the extremes of his whiffs and hard contact to the at-bat by at-bat level, you can see that Boston began attempting to pound Alvarez in on his hands more and more as the series went on. Particularly in Games 4, 5 and 6, the Red Sox repeatedly set up on the inside part of the plate. That's not an easy location to execute, and Chris Sale and Nathan Eovaldi both had trouble hitting the target. Check out this sequence from Sale to Alvarez in Game 5:
All three balls in the at-bat were on pitches up and in. I don't think Sale had the confidence to stay in that location once the count reached 3-1. Alvarez wasn't chasing, and landing a strike up there isn't easy. It shows how locked in Alvarez is that even with all those pitches in — including one that knocked him back — he was still able to cover the outside half of the plate and drive the ball off the wall in left. It was the same story for Sale in his two other at-bats against Alvarez. Aim up and in, miss away for extra bases.
As for Game 6, you already know what Alvarez did, but it's worth a closer look as Eovaldi was also trying to stay up and in against him:
That 97 mph fastball up and in was exactly what Eovaldi wanted to do. On the broadcast, John Smoltz was all over this in the moment: "That's the pitch right there. If he goes up there again, a little bit more inside, he's not going to hit it." The Red Sox agreed with Smoltz, calling for another heater up and in, but the execution wasn't there and the fastball leaked into Alvarez's happy zone.
The thing about this up and in game plan is that it's not exactly a hole for Alvarez. I've mentioned his long arms and that he likes to get extended, and you've seen two whiffs in that area already, but Alvarez actually has really good coverage on inside pitches, even those that are up and in. He had a .442 wOBA on pitches up and in this season (.417 career mark). Check out one of the other times the Red Sox were able to land a good pitch in that area:
That was 95 mph, perfectly placed in on the hands and above the belt, and Alvarez blasted it 114 mph foul. Sure, a strike is a strike, but it can't feel great to have a hitter hit a ball that hard when you execute exactly as you're supposed to. It also shows that he can, and potentially already has, adjusted to this game plan. This was basically the ninth at-bat since the Red Sox started focusing so heavily in that area. The Red Sox weren't able to execute and to Alvarez's credit, he did a great job of laying off the tease pitches in this area.
It will be interesting to see how the Braves approach Alvarez early on in this series. Will they try to establish fastballs up and in? I'm not sure Game 1 starter Charlie Morton has a fastball equipped to do that. His tailing fastball is suited to the outside edge and running off the plate, an area we've seen Alvarez crush. Of course, his nasty curveball builds off of his heater and is a perfect pitch to land right near Alvarez's knees in hopes of him chasing. I think the Braves' ability to contain Alvarez is going to depend on how often they can tease him with pitches low and away. The Red Sox rarely landed pitches there and it's one of the few areas where Alvarez has a history of struggling. Regardless of the game plan, Atlanta's pitchers will have to execute because Alvarez is more than capable of making them pay for location mistakes.